canned pumpkin puree
Category
---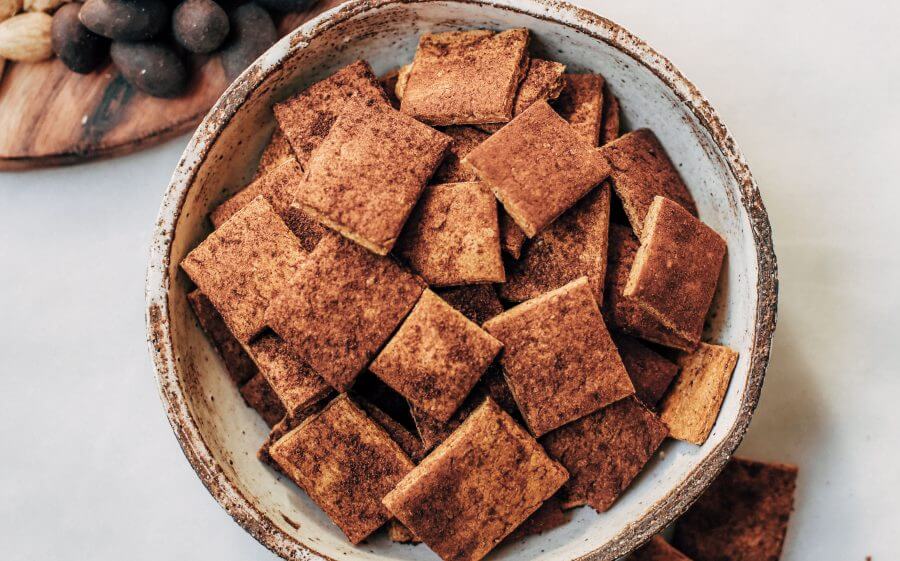 Pumpkin fall spice crackers made with sweet potatoes instead of flour!

Print Recipe Sweet Potato Pumpkin Crackers Pumpkin fall spice crackers made with sweet potatoes instead of flour! These grain free and paleo crackers are full of autumn flavors, nice and crunchy, and are perfect paired with a side of vanilla yogurt dip or served on a cheese board. Ingredients Crackers Side Dish, Snack Votes: 4
Rating: 4.75
You: Rate this recipe! Info Cook Time 35 minutes Prep Time 10 minutes Servings pan MetricUS Imperial Course Side Dish, Snack Votes: 4
Rating: 4.75
You: Rate this recipe! Ingredients Crackers
Preheat oven to 275F. Line a 9" by 13" baking tray with parchment paper.
Combine ingredients for crackers in a food processor until smooth.
Press cracker dough out flat on the parchment paper (you can use a rolling pin or your hands for this). Make crackers 1/16" thick.
In a small bowl whisk together the cinnamon and coconut sugar for the topping (optional). Sprinkle the topping over the cracker dough and spread out into an even layer. Cut dough into 1-1 1/2" squares.
Bake on 275 for 20 mins. Then move oven temp to 350F and bake for 8-10 mins, then remove any crackers that are dark golden brown (these will be the ones around the edge that have finished cooking first). Return rest of crackers to the oven and bake for another 5 minutes until golden.
Nutrition Facts Sweet Potato Pumpkin Crackers Amount Per Serving Calories 410 Calories from Fat 153 % Daily Value* Total Fat 17g 26% Saturated Fat 12g 60% Polyunsaturated Fat 1g Monounsaturated Fat 1g Sodium 495mg 21% Potassium 163mg 5% Total Carbohydrates 65g 22% Dietary Fiber 8g 32% Sugars 16g Protein 3g 6% Vitamin A 193% Vitamin C 24% Calcium 11% Iron 17% * Percent Daily Values are based on a 2000 calorie diet.
Read more