Greek Yogurt Honey Parfaits (With Paleo Option)
---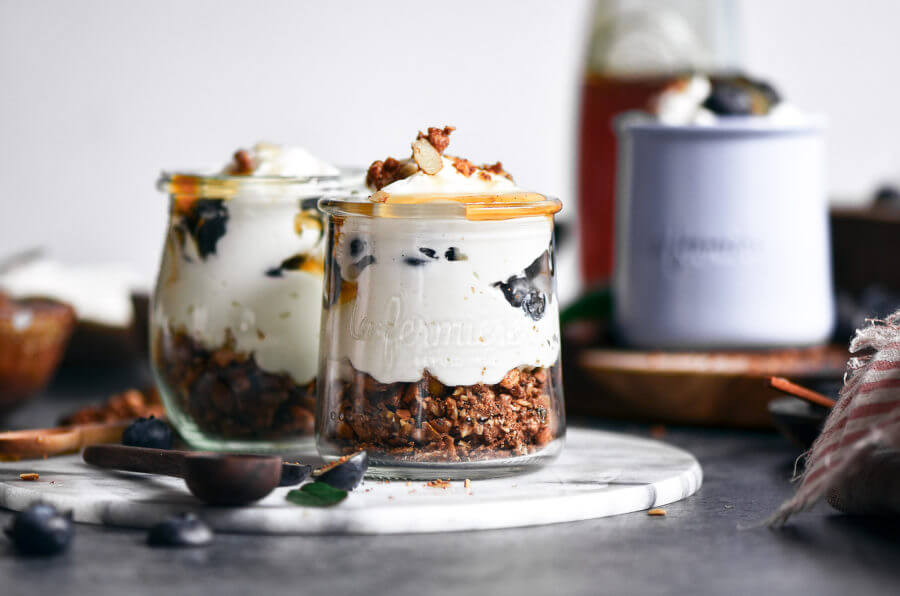 Beautiful grain free granola parfaits. Whipped up with utterly delicious creamy and smooth greek yogurt and drizzles of honey. This recipes features my favorite grain free granola by Purely Elizabeth. And it can also be made paleo with my whole30 granola recipe.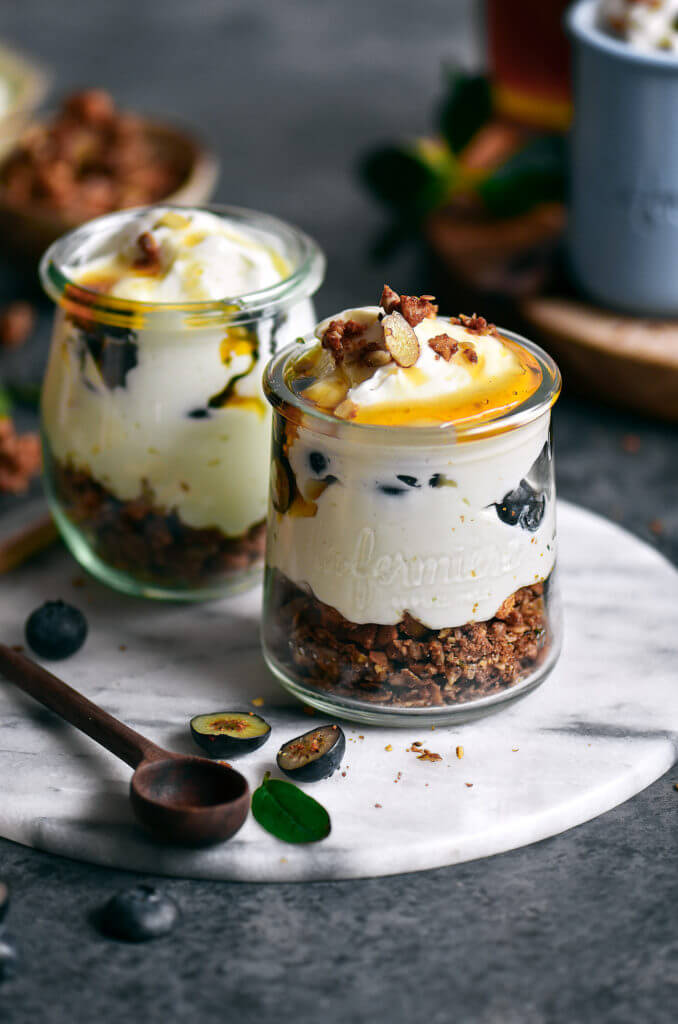 These parfaits stuffed with plump ripe blueberries and the richest creamy yogurt known to man has me swooning. I want to eat all the granola parfaits this morning! Are you ready to dive into a cup of this grain free granola goodness?? Join me… as we eat the blue out of blueberry.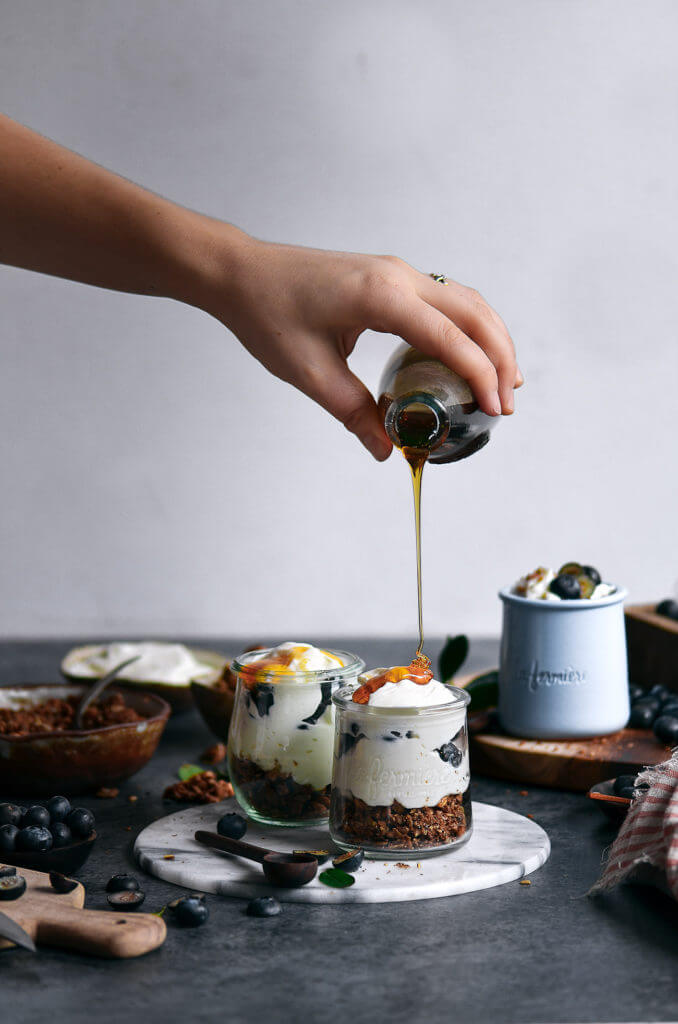 This recipe is made with one of my absolute favorite brands of grain free granola, Purely Elizabeth. Featuring their Banana Grain Free Granola. You guys, you guys… SO good! Snack attack waiting to happen. This crispy crunchy granola stays crunchy in your milk and is filled with wonderful sweet nutty flavor.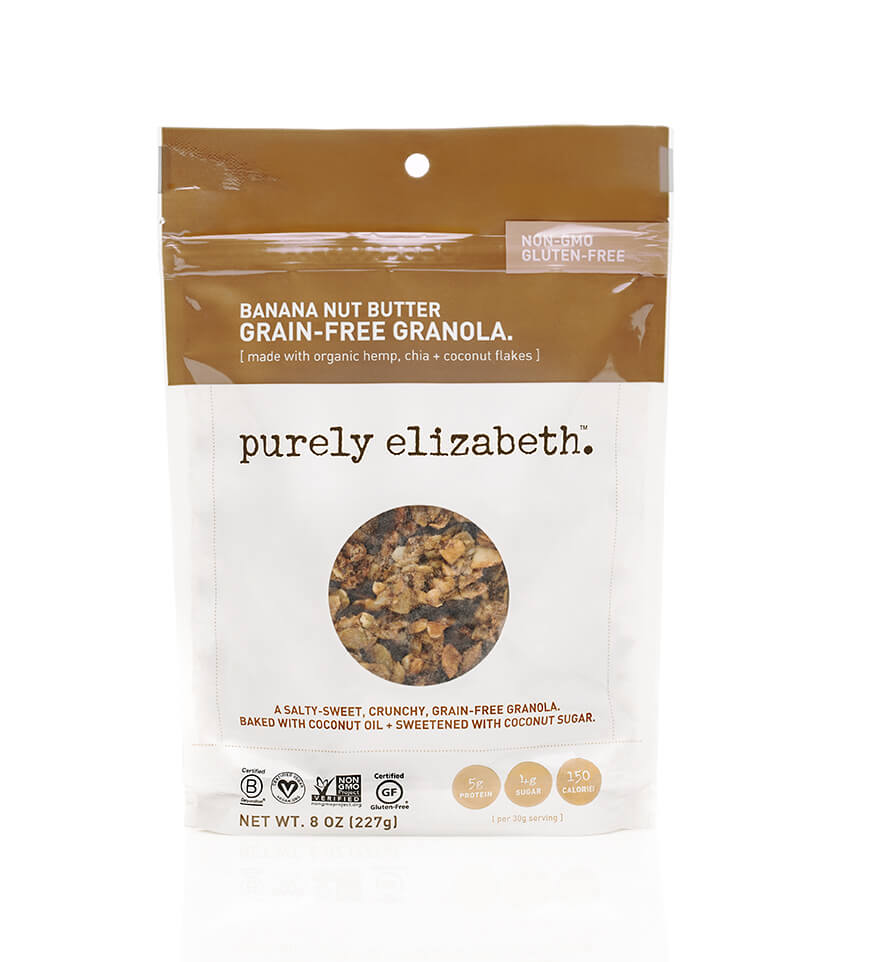 I knew I could have gone in any crazy direction with these parfaits. But my gut was telling me to keep it real and pure. So I decided on simple breakfast parfaits that highlighted the natural and utterly delicious flavors and textures of these wholesome ingredients.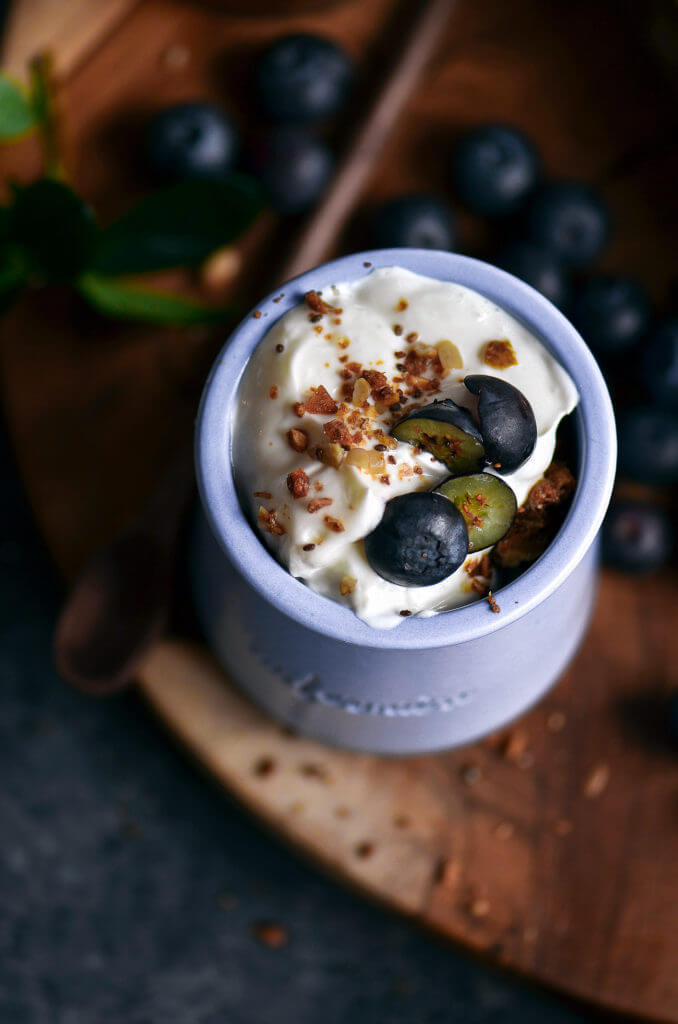 Yogurt and honey needs no spicing up; because it's perfection. And granola- can't go wring with granola! Toss some gorgeous blueberries on there, and my friend, you are fueled for the day!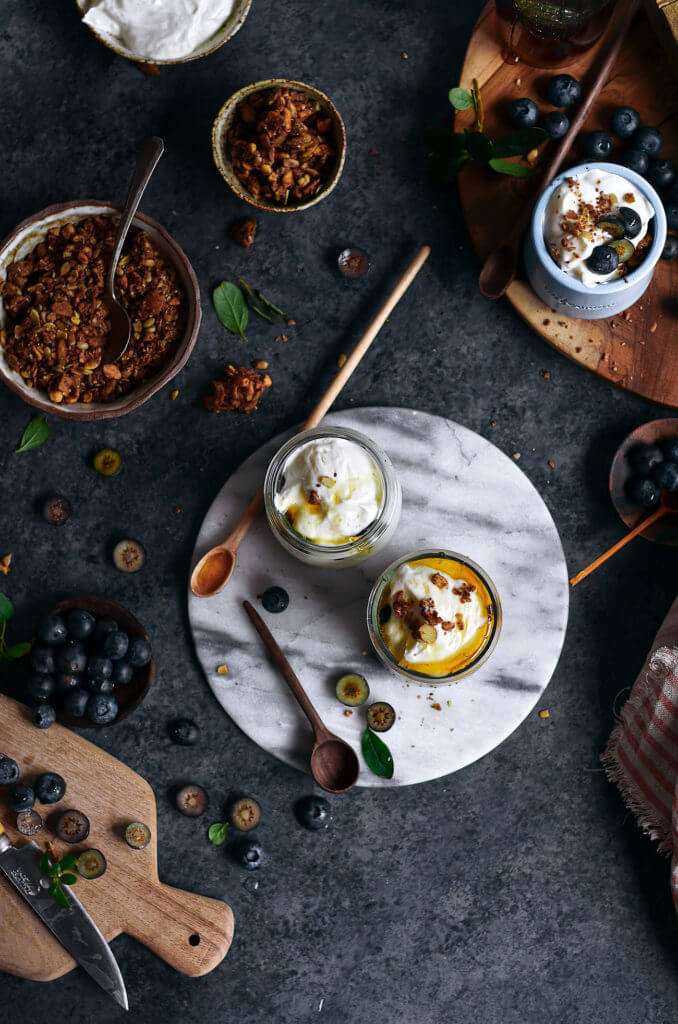 Vintage yogurt pots perfect for parfaits.
But these jars!!!! You guys, these jars!!! How incredibly adorable are these 1950's vintage jars (or more affectionately known as La Fermiére Glass Yogurt Pots). I am eternally in love with these priceless beauties. These unique petite jars take any parfait to a whole other level! Because eating out of something as cute as this just makes everything taste better 😉
The two varieties of the blue and glass jar made such a fun arrangement for todays set up. A huge thank you to Vivi Et Margot for supplying such stellar jars for todays shoot.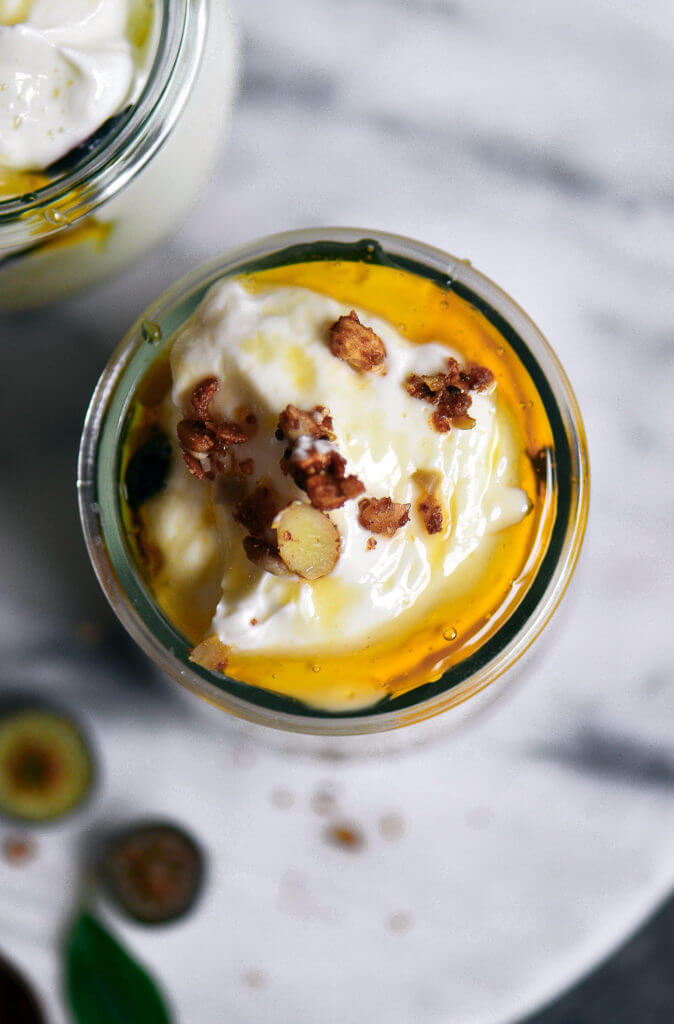 Are you a sucker for lovely vintage French items that make your breakfast look pretty? Vivi Et Margot is one of my favorite suppliers for vintage inspired cookware and tabletop pieces. You all have been asking where I supply my props, so I thought I it would be helpful to give ya the whole low down on todays shoot 🙂 Enjoy!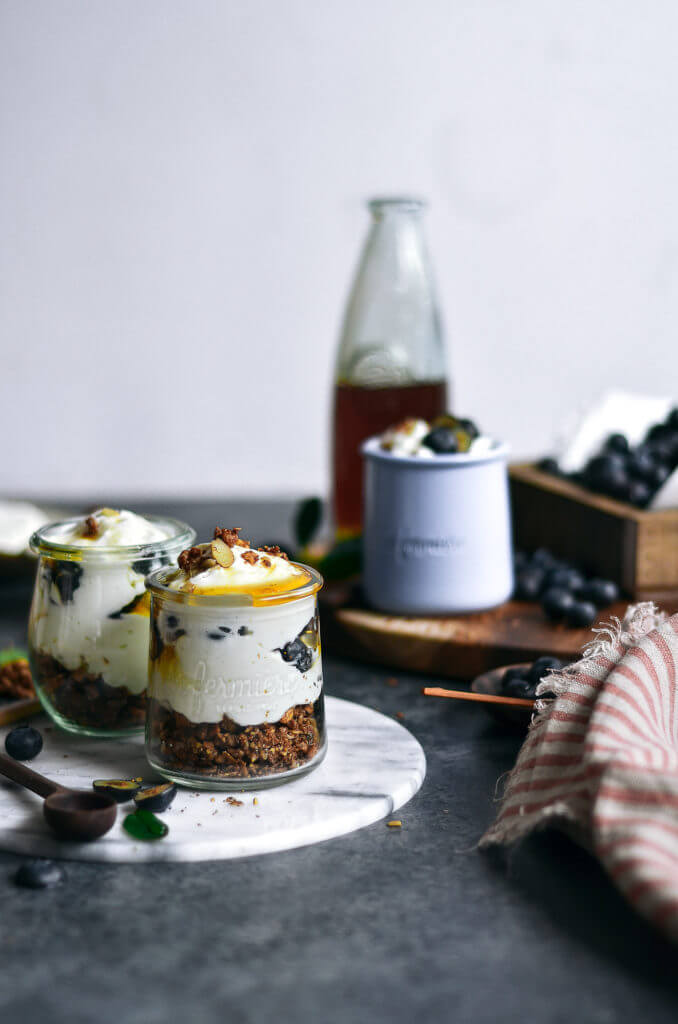 Mmmmm, mmmmm… lip smacking may being: now!
Thanks for inviting my recipes into your kitchen today guys. I feel honored and blessed to share food alongside you! You guys rock! Enjoy these granola yogurt pots.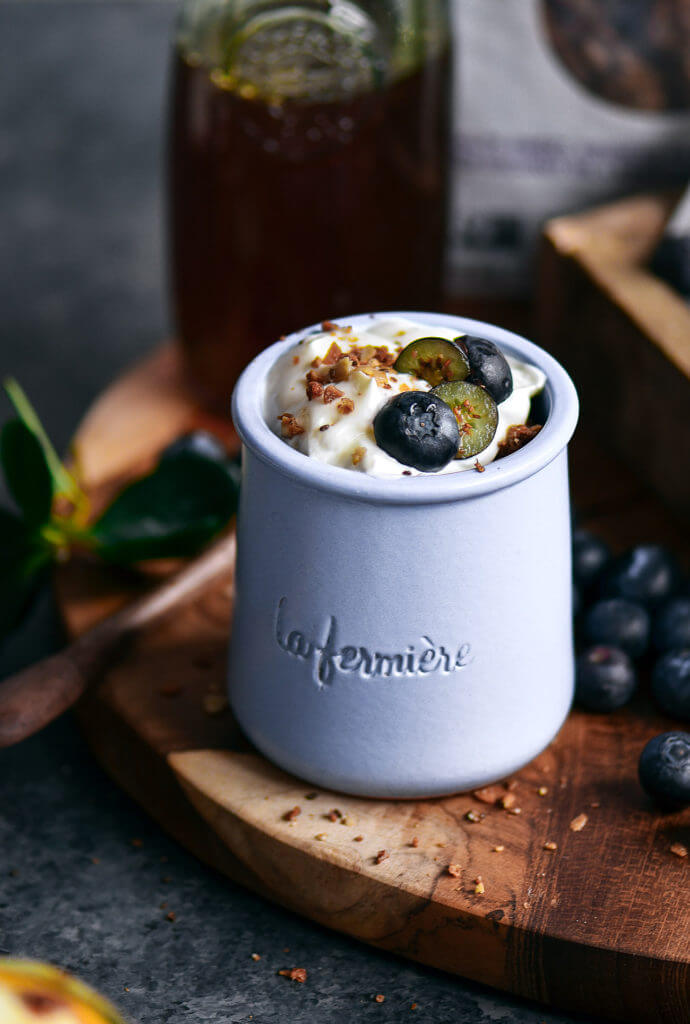 In small jars layer the granola and yogurt. Then top off with blueberries and drizzle with honey.
| | |
| --- | --- |
| There is no Nutrition Label for this recipe yet. | |