---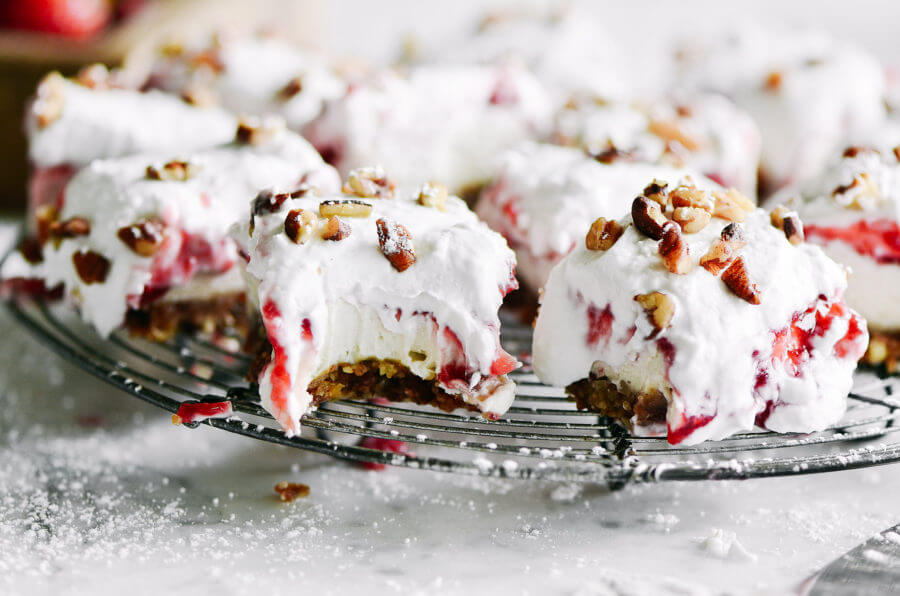 Made in 10 minutes! Heavenly dairy free, raw, and paleo cream cheese bars layered with a 2 ingredient crust, cashew cream cheese, raspberry filling, and whipped cream. Super easy to make in the blender and have 9g protein per square!

Print Recipe Dairy Free Paleo Raspberry Cream Bars Made in 10 minutes! Heavenly dairy free, raw, and paleo cream cheese bars layered with a 2 ingredient crust, cashew cream cheese, raspberry filling, and whipped cream. Super easy to make in the blender and have 9g protein per square! Ingredients Cashew Filling Dessert Votes: 1
Rating: 5
You: Rate this recipe! Info Prep Time 10-15 minutes Servings squares MetricUS Imperial Course Dessert Votes: 1
Rating: 5
You: Rate this recipe! Ingredients Cashew Filling
Combine the ingredients for the cashew filling in the blender. Use the tamper tool to move the cashews around in the blender to ensure even and thorough combining. Blend until completely smooth.
In a food processor combine the ingredients for the crust and pulse until the mixture breaks down and forms small granulars that stick together.
Line a 8" by 4" pyrex pan with parchment paper. Then add the crust mixture, spread it out evenly in the pan, and then press down.
Evenly spread the cashew filling over the crust and smooth down.
Add the raspberry preserves or fresh fruit in over the cashew filling.
To make the coconut whipped cream take a can of chilled full fat canned coconut milk (I use Thai Kitchen brand) and scrape the solid cream off the top. Put the coconut cream in a bowl with the vanilla and stevia then ship with an electric mixer until smooth.
Top the bars off with whipped coconut cream, cashew pieces, and arrowroot powder for powdered sugar effect.
Nutrition Facts Dairy Free Paleo Raspberry Cream Bars Amount Per Serving Calories 421 Calories from Fat 306 % Daily Value* Total Fat 34g 52% Saturated Fat 12g 60% Polyunsaturated Fat 5g Monounsaturated Fat 14g Sodium 12mg 1% Potassium 49mg 1% Total Carbohydrates 25g 8% Dietary Fiber 3g 12% Sugars 12g Protein 9g 18% Vitamin A 0.02% Vitamin C 4% Calcium 3% Iron 15% * Percent Daily Values are based on a 2000 calorie diet.
Read more