Grain Free Paleo Apple Pie Crisp
---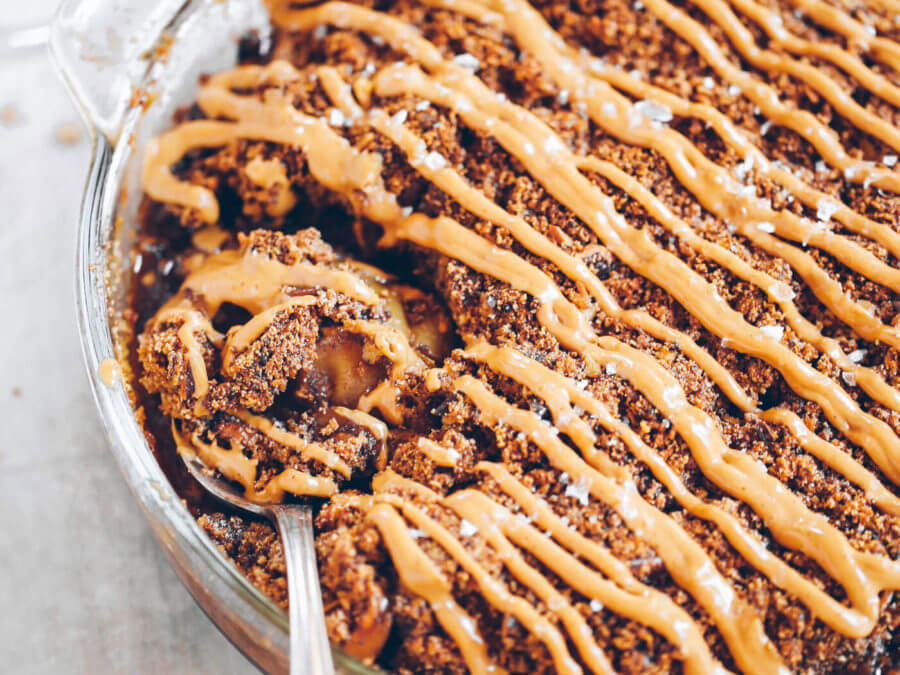 Amazing grain free apple crisp. Paleo, healthy, gluten free, and naturally sweetened. Packed with sweet apples, warm and comforting, easy to make recipe for fall.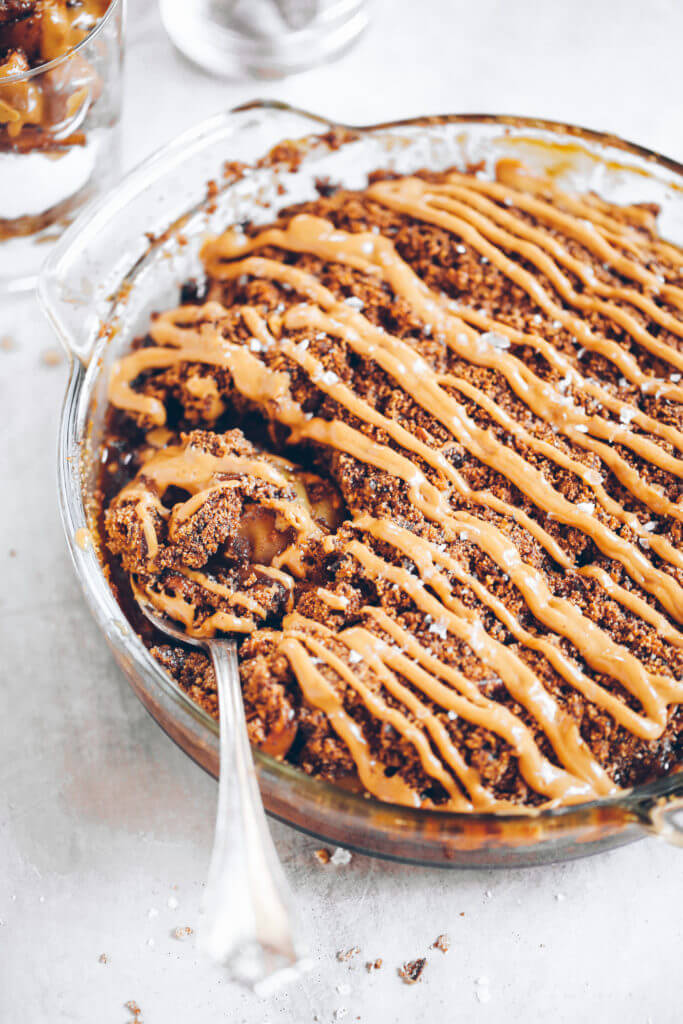 I'm just so content right now, gathering with friends around steaming mugs of tea, apple crisp, and pumpkin spice donut holes. Seriously, the perfect way to end my first way back to work! Tonight I shared "work" (a.k.a. these insane paleo pumpkin donut holes and this apple crisp) with my crew over good conversation and of course loads of laughter! So stoked to be back with all the autumn vibes surrounding me. Breaking out the sweaters and boots…. and sleeping in my beanie and knit wool socks. Yup. Mountain life has captured me.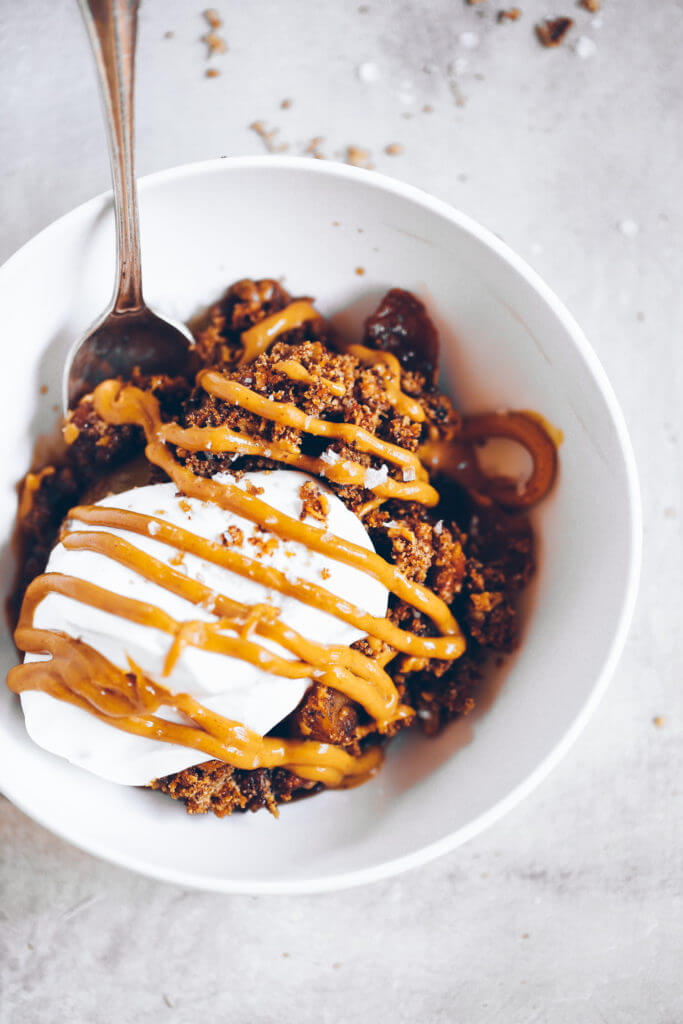 Vacation in 80 degrees was MUCH needed. But I must confess… we did celebrate the change of seasons in Hawaii with a "fall" day. Yup. We put on some moody folk music, searched high and low in Foodland for canned pumpkin and finally landed some for our pumpkin oatmeal cookies; they weren't the prettiest things I have ever made, but they sure tasted good.
We sipped chai tea, made pumpkin smoothies and roasted rosemary veg and chicken for dinner. It was glorious. Felt sorta sack religious though; surrounded by mangos, smoothies, and raw fish… eating pumpkin cookies. But, heck! It was a new experience, living like Washingtonians in the tropics and I totally 100% recommend it.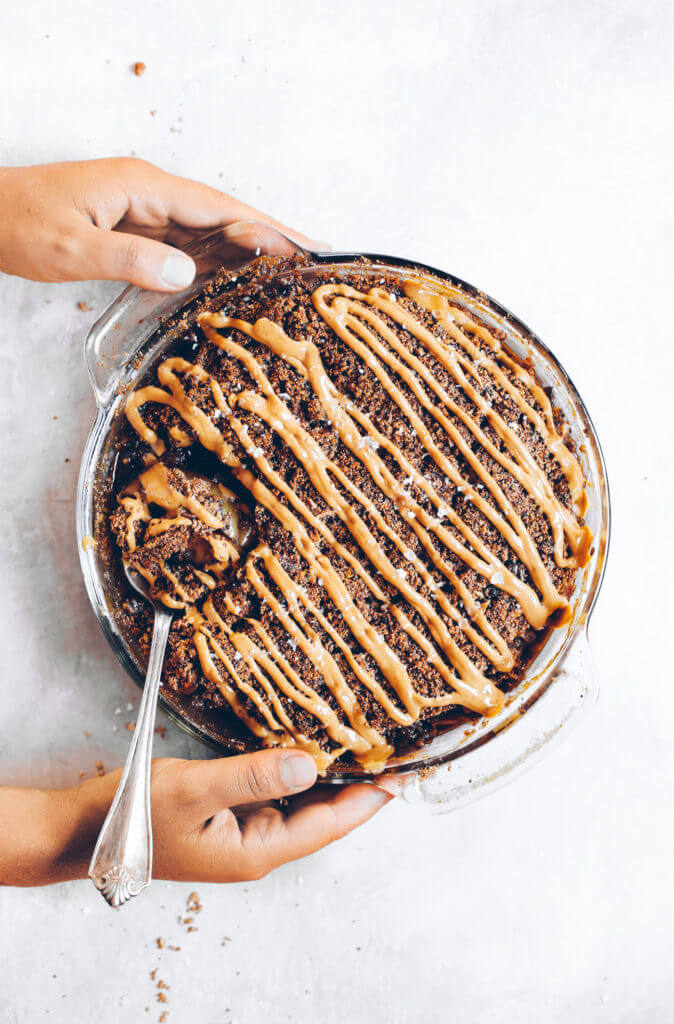 lovin' apple crisp season!
This grain free crisp is warm, comforting, and captures the essence of a crisp fall day! I am soaking in all the autumn things… enjoying long walks in the crisp air, picking apples (thanks to my neighbors tree), making pumpkin recipes for breakfast lunch, and dinner!!! Oh my goodness, so true. I am liking the change to some tasty apple recipes this week!
Recipe notes: For this recipe I used a 10″ deep dish pie pan like this one. And I decided on topping my crisp off with some drizzled nut butter (totally recommend it!). Also, vanilla ice-cream or coconut yogurt is AMAZING paired with this dish!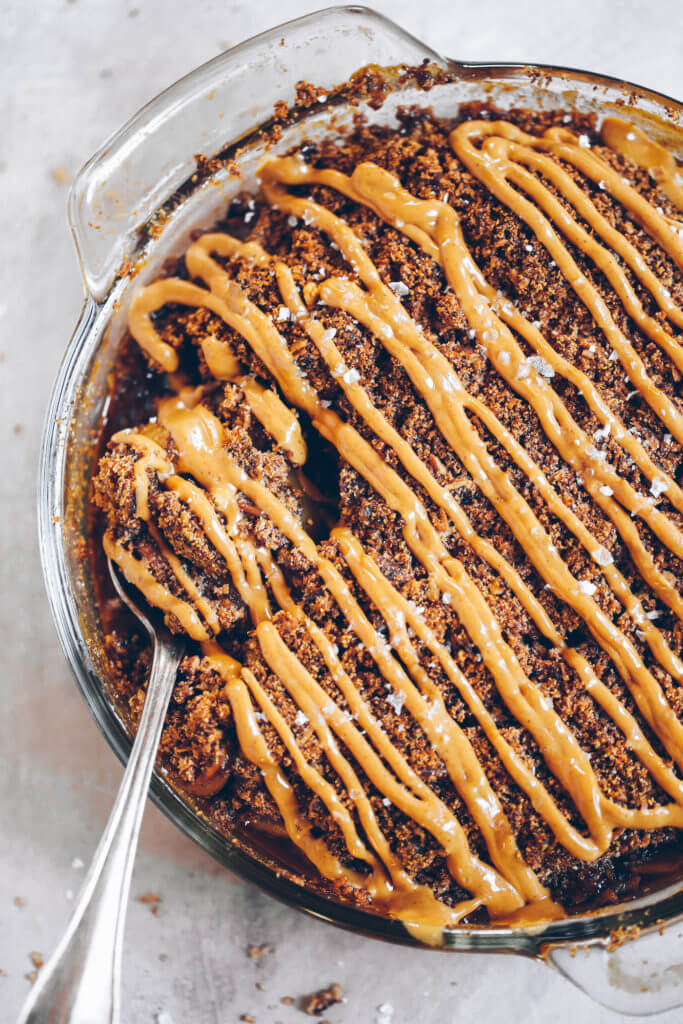 In a large bowl add the apple slices. Toss together with the coconut sugar, coconut oil, arrowroot flour, pumpkin pie spice, and sea salt. Pour the apples into a 10" deep dish pie pan.

Combine all ingredients for the crisp topping then crumble over the apples.

Cover with foil and bake on 350F for 1 hour, then uncover and cook for another 20 minutes.

Optional: drizzle with nut butter and serve with vanilla ice-cream or coconut yogurt!
Nutrition Facts

Grain Free Paleo Apple Pie Crisp

Amount Per Serving

Calories 376

Calories from Fat 243

% Daily Value*

Total Fat 27g 42%

Polyunsaturated Fat 0.04g

Sodium 138mg 6%

Potassium 61mg 2%

Total Carbohydrates 35g 12%

Protein 4g 8%

* Percent Daily Values are based on a 2000 calorie diet.