Raw Vanilla Bean Cherry Cheesecake
---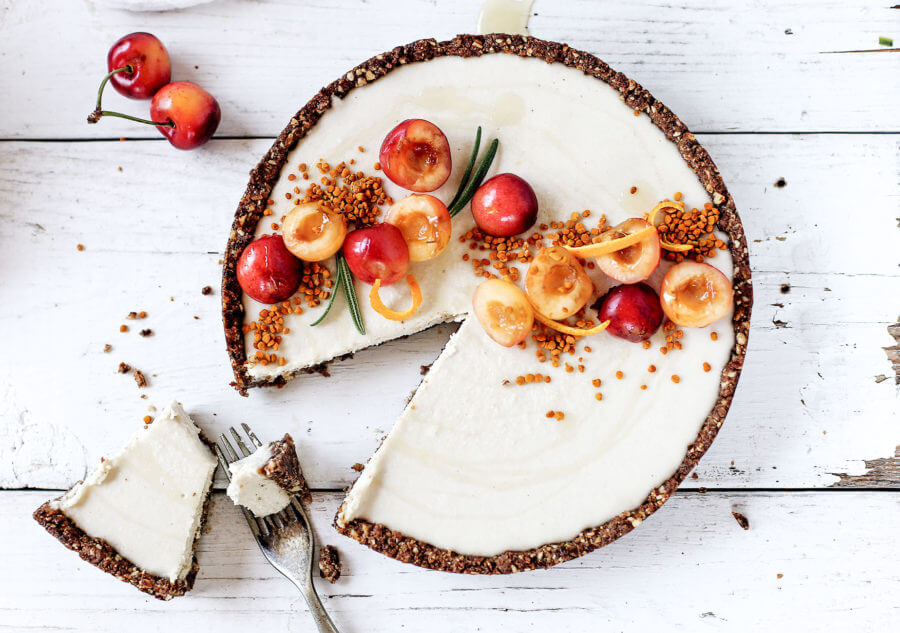 Raw vanilla bean and cherry cheesecake made with paleo ingredients. Creamy cashew filling in a "graham cracker" crust. Stores well in the fridge and freezer. Naturally gluten free and dairy free.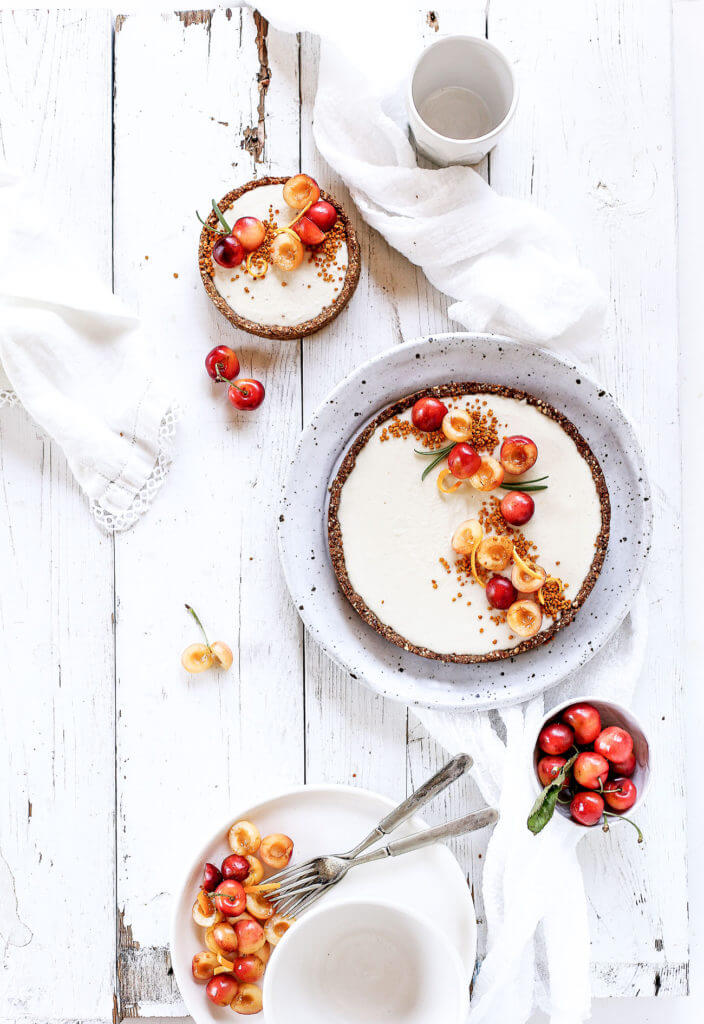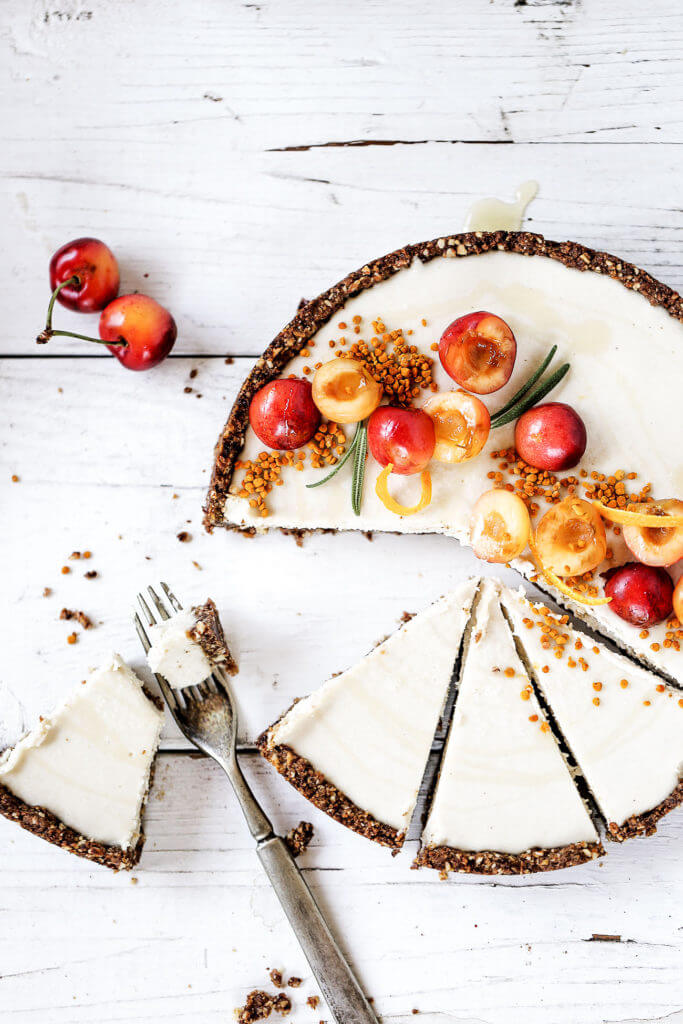 You know it's going to be a good day when you eat cheesecake for lunch. Leading up to putting this in my mouth was more like pure chaos rather than organized precision. Although I wish every photo shoot could go along smoothly, sometimes that just isn't reality.
Shooting around lunch hour is always difficult. Family members are rotating in and out of the kitchen trying to find an inch of space on the counters toppled high with all my props, food, and scraps. It isn't a pretty sight behind the scenes, trust me. But the result of all the chaos turned out pretty rad I think.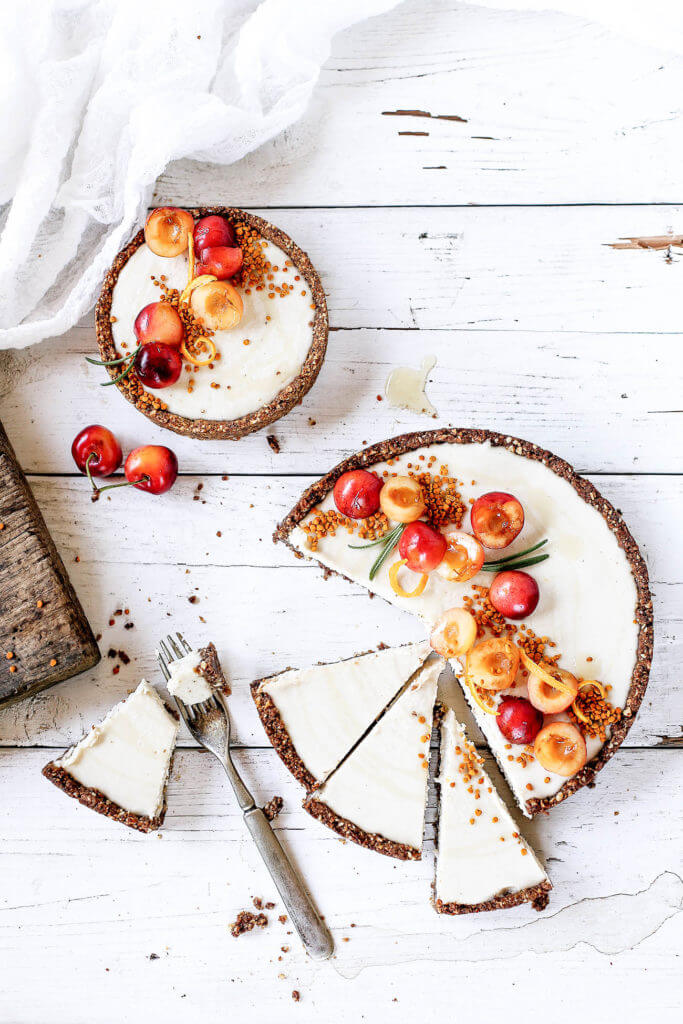 it's cherry time!
I love the simplicity of this delicious vanilla cheesecake. And since fresh cherries are in season, adding them was a must. A friend brought over a bag of rainier cherries last night and I immediately knew what I was going to do with them! As promised my cheesecake obsession has continued in full force… and I don't expect it to be slowing down anytime soon.
I made up this recipe in my food processor. But you can also make it in a high-powered blender like a Vitamix. I love my Vitamix and use it for making cheesecakes quite often (not sponsored, just love it!). Whatever you have on hand is always the best tool, though.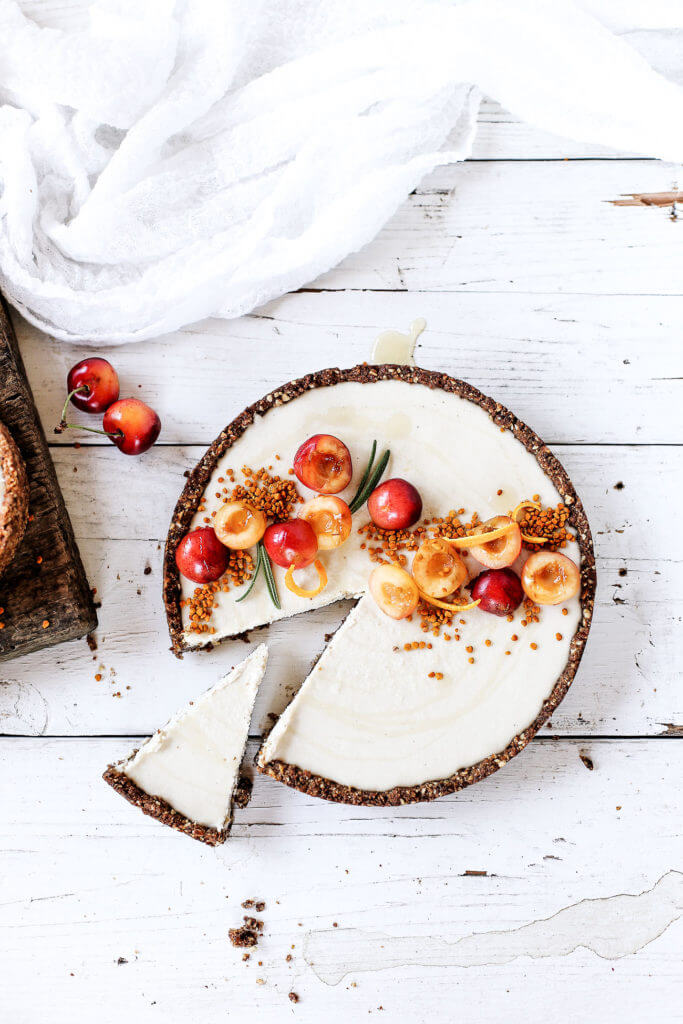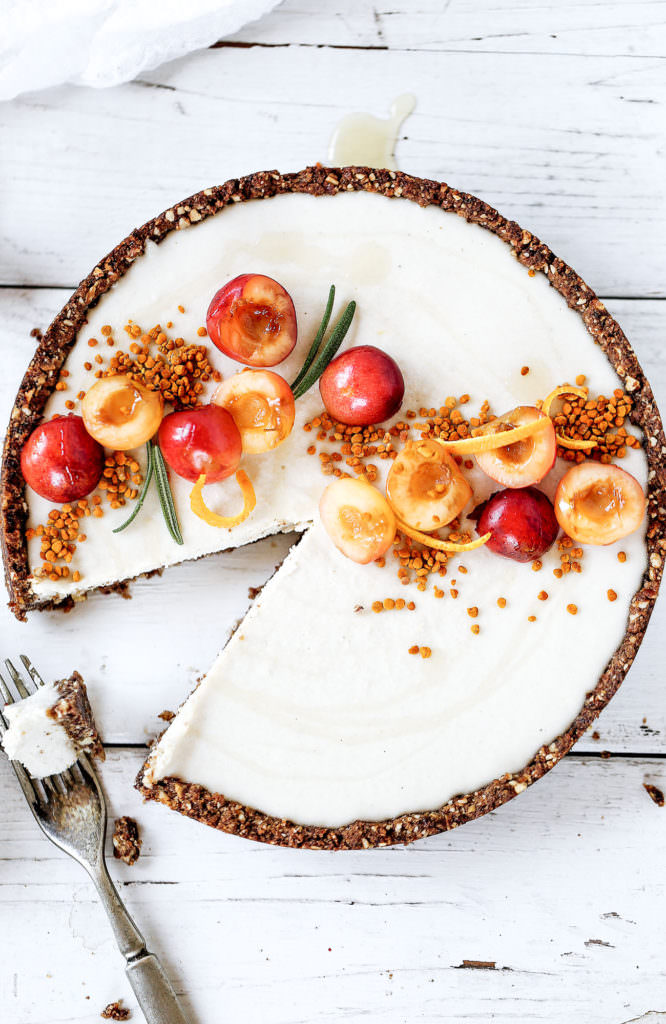 Preheat oven to 400F. Cut out a 10" circle of parchment paper and set it in the bottom of a 10" round spring form cake pan.

Pulse together the almonds and pecans until minced. Then add dates and the rest of the ingredients for the crust. Blend together into a coarse texture.

Press the crust into the bottom of the cake pan. Set aside for later (if you want a raw cheesecake) or cook on 400F for 20-25 minutes or until golden brown.

Puree the soaked cashews in a food processor for a few minutes until they become a smooth texture. Then add in the rest of the ingredients for the filling and puree until completely smooth!

Spread the filling over the crust. Then freeze for about 2 hours until firm.

Once the cheesecake has firmed up, take it out of the freezer and top with fresh cut cherries and bee pollen.
Nutrition Facts

Raw Vanilla Bean Cherry Cheesecake

Amount Per Serving

Calories 307

Calories from Fat 180

% Daily Value*

Total Fat 20g 31%

Sodium 33mg 1%

Potassium 88mg 3%

Total Carbohydrates 28g 9%

Protein 6g 12%

* Percent Daily Values are based on a 2000 calorie diet.