Raw Lemon Peach Vegan Cheesecakes
---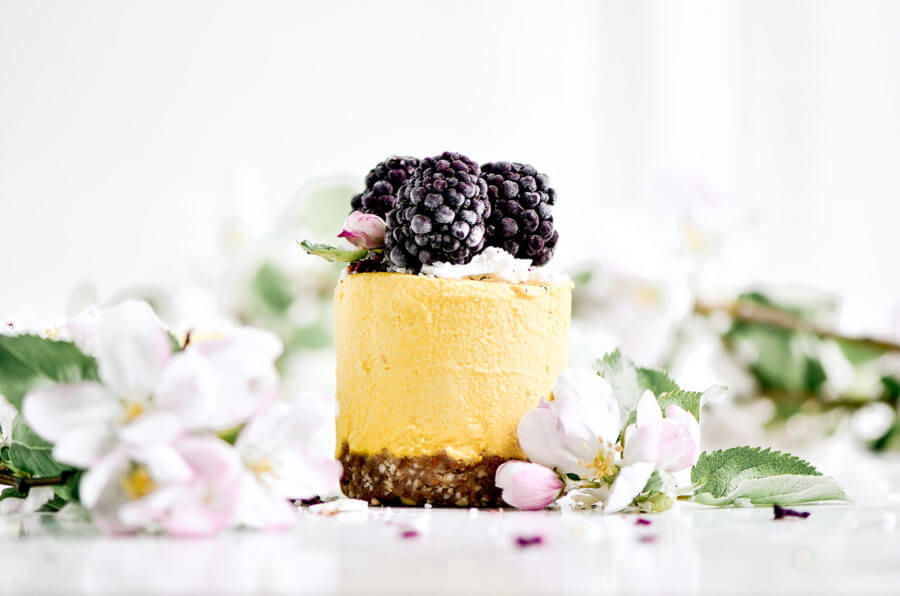 Vegan raw lemon peach mini cheesecakes with butternut squash! Paleo and dairy free. An easy recipe you can make ahead and store in the freezer. Only takes 10 minute to prepare!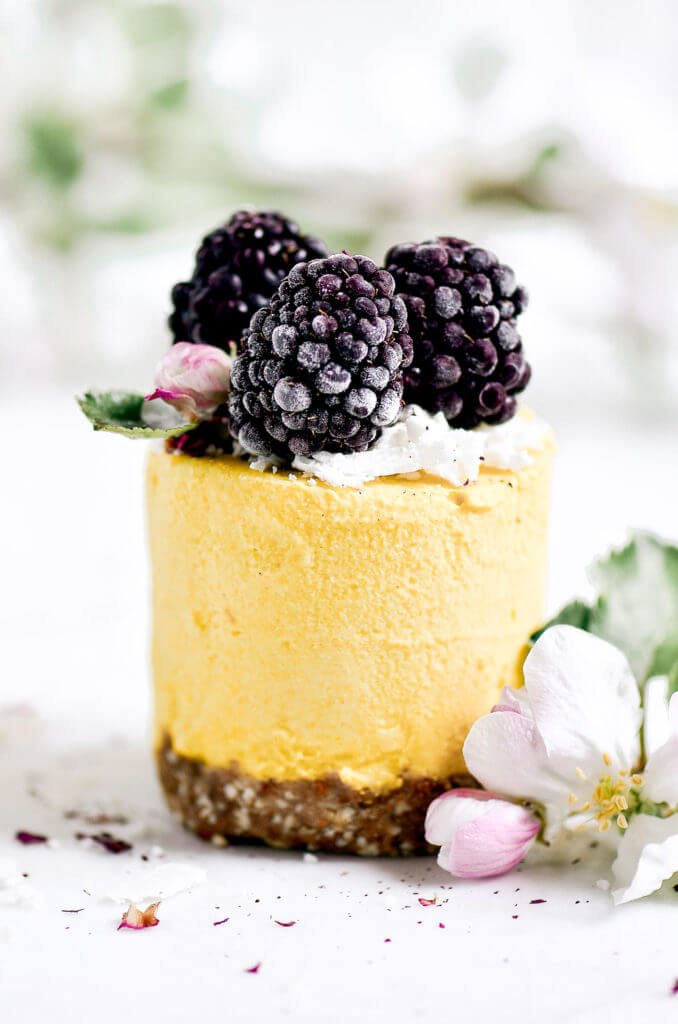 Sometimes I just want to make fun food! Bright colored cheesecakes fall under that category, thankfully.
I can't ignore my love for veggies though, so I found I way to hide them in these cheesecakes! Yes… there is butternut squash in here!!! And, I love it! These cheesecakes are made with raw cashews, butternut squash, frozen peaches slices, and coconut cream. And I know you are going to ask, so the coloring is from turmeric powder and natural yellow food color power! Isn't it so bright and happy!?
I know I should have savored these and kept them in the fridge for more than a week… but we all know that didn't happen!
I told myself that if I had pretty storage containers to put them in the freezer I wouldn't feel so bad about leaving them there for longer. But since I don't have any yet, I'm off the hook and can eat all the cheesecake I want! 😂 (Solid logic, I know)
how to make raw cheesecake
The blender has been running non stop this week in my house! I have been using it to make everything, because I just want to eat all the fresh things. Smoothies and raw cheesecake have been diet staples in this (almost) summer heat.
These little beauties are made by first soaking cashews for a few hours (or overnight) in hot water to soften them. Then by blending the cashews and whipping with the rest of the ingredients. After that, just smooth the filling out over the 2 ingredient crust and voila! Cheesecake!
You can make these cheesecakes in a blender or food processor; I have tried both and either way works just great!
These cheesecakes are so creamy and light; filled with all the delicious flavor of summer. Also, they are freezer storage safe and can last up to a few months in the freezer if they are stored in a air tight package.
I don't know about you, but my summer feels like it's been sprung upon me. I feel like haven't even been looking more than a few steps in front of me. This includes planning for summer recipes! But thankfully, this is also a freeing place to be, because now I just get to make and eat whatever I feel like! If it's butternut cheesecakes, let it be so. 😉
For the crust combine all the ingredients in a food processor until everything sticks together.

Divide the crust into six equal parts then press the crust into the bottom of 6 muffin tins (or recycled applesauce containers).

Combine all the ingredients in a food processor or blender until completely smooth!

Spread the filling over the crusts and freeze for 1-4 hours.

Optional: Top with fresh or frozen blackberries and coconut butter.
Nutrition Facts

Raw Lemon Peach Vegan Cheesecakes

Amount Per Serving

Calories 635

Calories from Fat 414

% Daily Value*

Total Fat 46g 71%

Sodium 12mg 1%

Potassium 239mg 7%

Total Carbohydrates 49g 16%

Protein 16g 32%

* Percent Daily Values are based on a 2000 calorie diet.