---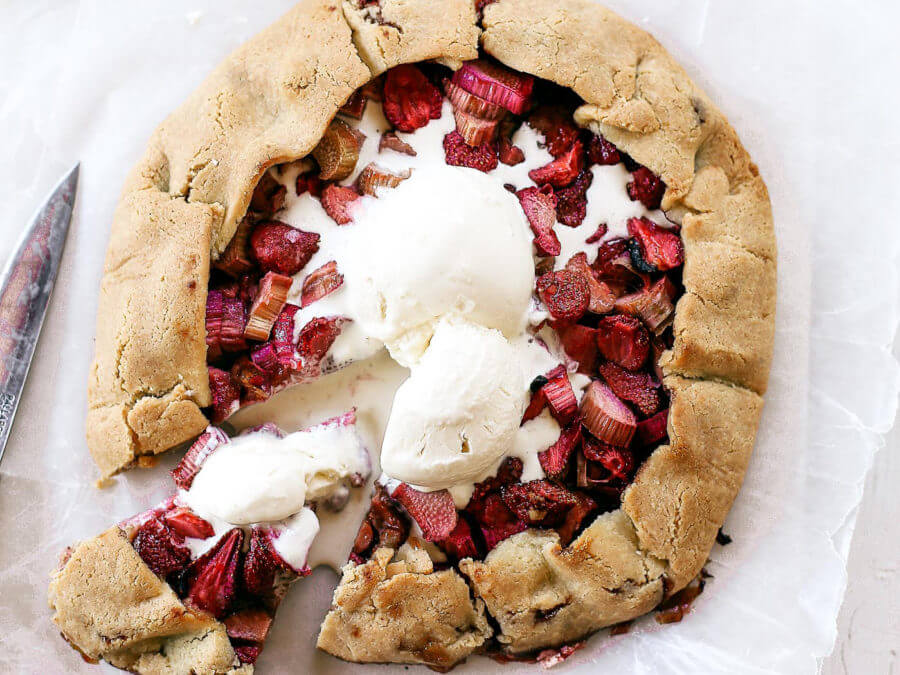 Incredibly easy grain free and paleo strawberry rhubarb galette. A healthy and simple summer treat made with whole food ingredients. Naturally gluten free and dairy free. Sweetened without refined sugar. 

Print Recipe Strawberry Rhubarb Paleo Galette Incredibly easy grain free and paleo strawberry rhubarb galette. A healthy and simple summer treat made with whole food ingredients. Naturally gluten free and dairy free. Sweetened without refined sugar.  Ingredients Crust Dessert Votes: 0
Rating: 0
You: Rate this recipe! Info Cook Time 50 minutes Prep Time 10 minutes Servings servings MetricUS Imperial Course Dessert Votes: 0
Rating: 0
You: Rate this recipe! Ingredients Crust
In a food processor or by hand, combine all the ingredients for the crust until well combined. Then divide into two balls and roll out into a thin 1/5" crust. I suggest using extra arrowroot flour for coating the rolling pin and dough ball, so it doesn't stick.
In a large mixing bowl add the ingredients for the filling and toss together. Divide the filling between the two crusts and fill the center of the crusts with filling, leave about two inches of crust on the edges (free of filling) to fold over.
Gently fold over the excess crust around the filling to enclose the galette.
Bake on a cookie sheet on 400F for 50 minutes until the crust is golden brown.
Serve or top with ice-cream and then serve!
Nutrition Facts Strawberry Rhubarb Paleo Galette Amount Per Serving Calories 365 Calories from Fat 234 % Daily Value* Total Fat 26g 40% Saturated Fat 3g 15% Polyunsaturated Fat 0.1g Monounsaturated Fat 0.2g Cholesterol 16mg 5% Sodium 66mg 3% Potassium 44mg 1% Total Carbohydrates 25g 8% Dietary Fiber 6g 24% Sugars 10g Protein 13g 26% Vitamin A 1% Vitamin C 42% Calcium 13% Iron 12% * Percent Daily Values are based on a 2000 calorie diet.
Read more