---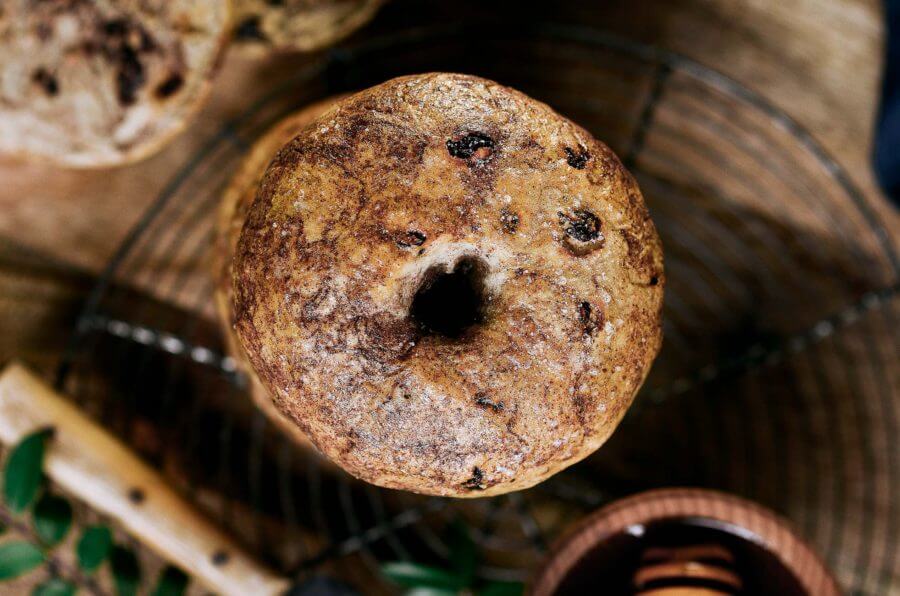 Grain free and paleo cinnamon bagels that look and taste real! These soft and delicious healthy gluten free bagels are filled with sweet raisins and swirls of cinnamon. Super easy to make! You won't even know they are paleo!

Print Recipe Healthy Paleo Cinnamon Raisin Bagels Grain free and paleo cinnamon bagels that look and taste real! Made and ready to cook in 15 minutes! These soft and delicious healthy gluten free bagels are filled with sweet raisins and swirls of cinnamon. Super easy to make! You won't even know they are paleo! Ingredients Bagels Side Dish Votes: 0
Rating: 0
You: Rate this recipe! Info Cook Time 30 minutes Prep Time 15 minutes Servings bagels MetricUS Imperial Course Side Dish Votes: 0
Rating: 0
You: Rate this recipe! Ingredients Bagels
Preheat the oven to 350F and line a baking sheet with parchment paper.
In a KitchenAid mixer (or by hand), combine all of the ingredients for the dough (except the raisins and cinnamon).
Once the dough is is smooth, gently incorporate the cinnamon and raisins.
Separate the dough into 4 equal parts.
Fill a large sauce pan with 2 quarts of water or half way full. Bring the water to a boil and then turn it slightly down, but keep the water boiling.
Roll each segment of dough into a ball and then shape it into a bagel.
Drop one bagel at a time into the boiling water and let them cook for 1 minute on each side or until they rise to the top of the water.
Once the bagels have boiled, set them on the baking tray. If you so desire to put an egg wash on the bagels to make them brown- simply brush the egg wash on top of the bagels.
Bake the bagels on 350F for 30-35 minutes until golden brown.
Nutrition Facts Healthy Paleo Cinnamon Raisin Bagels Amount Per Serving Calories 520 Calories from Fat 54 % Daily Value* Total Fat 6g 9% Saturated Fat 2g 10% Polyunsaturated Fat 1g Monounsaturated Fat 2g Cholesterol 233mg 78% Sodium 679mg 28% Potassium 239mg 7% Total Carbohydrates 108g 36% Dietary Fiber 6g 24% Sugars 33g Protein 9g 18% Vitamin A 5% Vitamin C 19% Calcium 20% Iron 16% * Percent Daily Values are based on a 2000 calorie diet.
Read more