---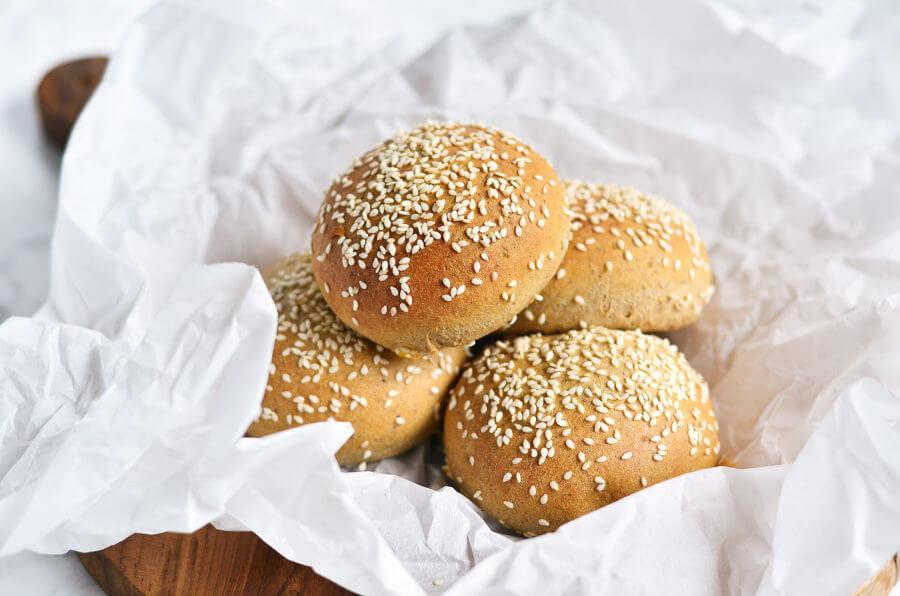 Extra fluffy and easy to make paleo hamburger buns will leave you wondering why you ever loved the grain filled life in the first place. These grain free hamburger buns are yeast free and only take 5 minute to prepare!

Print Recipe 5 Minute Fluffy Flourless Paleo Hamburger Buns Extra fluffy and easy to make paleo hamburger buns will leave you wondering why you ever loved the grain filled life in the first place. These grain free hamburger buns are yeast free and only take 5 minute to prepare! Ingredients Dough Side Dish Votes: 206
Rating: 3.44
You: Rate this recipe! Info Cook Time 22-25 minutes Prep Time 5 minutes Servings hamburger buns MetricUS Imperial Course Side Dish Votes: 206
Rating: 3.44
You: Rate this recipe! Ingredients Dough
Preheat oven to 400F. Line a baking sheet with parchment paper.
In a food processor combine all the ingredients for the hamburger buns. Puree until the dough is smooth.
Divide the dough into four equal parts and shape into a round ball (if the dough is sticking, coat your hands in water and then shape the dough). Pat the round buns down into a dome shape. Brush the buns with egg wash and then sprinkle with sesame seeds.
Bake on 400F for about 22-25 minutes until golden brown.
Nutrition Facts 5 Minute Fluffy Flourless Paleo Hamburger Buns Amount Per Serving Calories 176 Calories from Fat 36 % Daily Value* Total Fat 4g 6% Saturated Fat 1g 5% Polyunsaturated Fat 1g Monounsaturated Fat 2g Cholesterol 186mg 62% Sodium 420mg 18% Potassium 164mg 5% Total Carbohydrates 29g 10% Dietary Fiber 10g 40% Sugars 4g Protein 6g 12% Vitamin A 5% Vitamin C 14% Calcium 11% Iron 5% * Percent Daily Values are based on a 2000 calorie diet.
Read more