---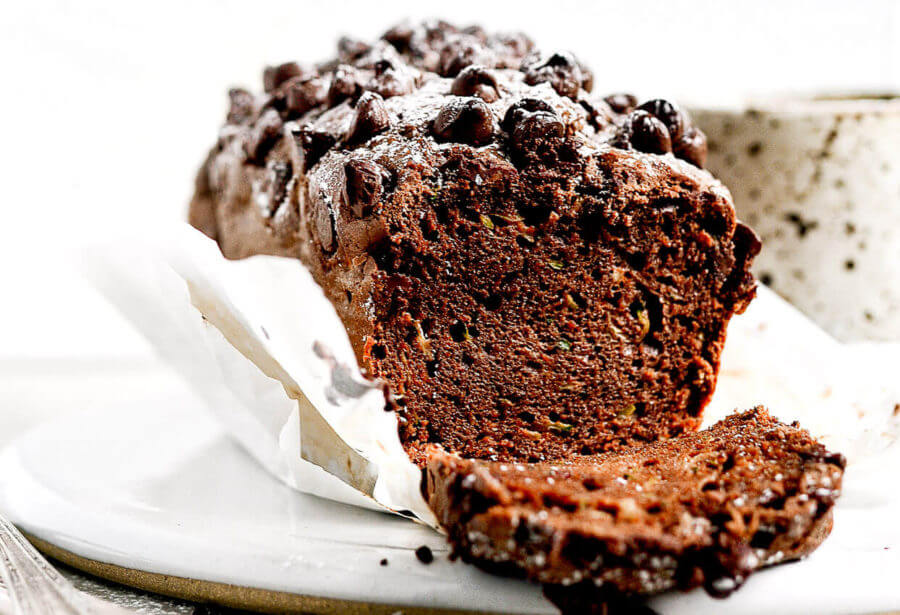 This paleo chocolate zucchini bread is soft, light, and moist plus gluten free! It's ready for baking in 5 minutes! Easy to whip up in the food processor. Freezer friendly and a crowd pleaser!

Print Recipe Paleo Almond Butter Chocolate Zucchini Bread This paleo chocolate zucchini bread is soft, light, and moist plus gluten free! It's ready for baking in 5 minutes! Easy to whip up in the food processor. Freezer friendly and a crowd pleaser! Ingredients Info Cook Time 40 minutes Prep Time 5 minutes Servings slices MetricUS Imperial Course Main Dish Votes: 25
Rating: 2.84
You: Rate this recipe! Info Cook Time 40 minutes Prep Time 5 minutes Servings slices MetricUS Imperial Course Main Dish Votes: 25
Rating: 2.84
You: Rate this recipe! Ingredients Instructions
Preheat oven to 400F. Line a small 3" by 5 3/4" bread pan with parchment paper.
Combine all ingredients (except chocolate chips and zucchini) together in a food processor until smooth.
Once the batter is smooth, transfer into a mixing bowl and stir in the grated zucchini by hand.
Pour the batter into a small 3" by 5" bread pan and top with chocolate chips.
Cook on 400F for 40 minutes until cooked, you will know it's cooked when a knife is inserted into the middle of the load and comes out clean.
Nutrition Facts Paleo Almond Butter Chocolate Zucchini Bread Amount Per Serving Calories 272 Calories from Fat 162 % Daily Value* Total Fat 18g 28% Saturated Fat 3g 15% Polyunsaturated Fat 0.2g Monounsaturated Fat 0.4g Cholesterol 41mg 14% Sodium 194mg 8% Potassium 196mg 6% Total Carbohydrates 19g 6% Dietary Fiber 6g 24% Sugars 10g Protein 10g 20% Vitamin A 2% Vitamin C 7% Calcium 9% Iron 10% * Percent Daily Values are based on a 2000 calorie diet.
Read more