---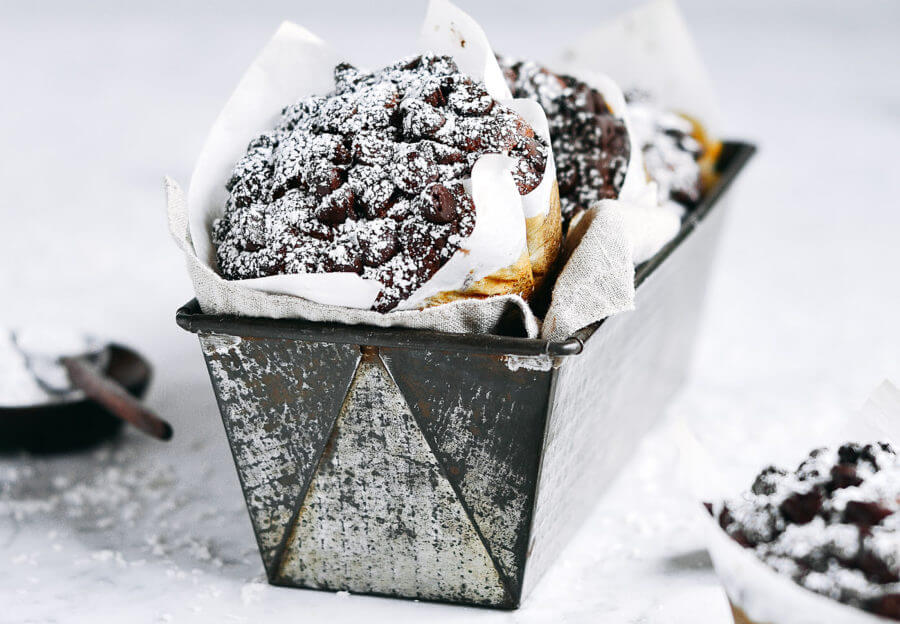 Easy paleo and gluten free blender banana zucchini muffins with chocolate chips. Healthy, easy, and delicious! These muffins are made in only 5 minutes!

Print Recipe 5 Minute Flourless Chocolate Banana Zucchini Muffins Easy paleo and gluten free blender banana zucchini muffins with chocolate chips. Healthy, easy, and delicious! These muffins are made in only 5 minutes thanks to my KitchenAid blender! Ingredients Info Cook Time 40 minutes Prep Time 5 minutes Servings muffins MetricUS Imperial Course Main Dish Votes: 0
Rating: 0
You: Rate this recipe! Recipe Notes

Find these lovely white tulip paper liners right here!

Info Cook Time 40 minutes Prep Time 5 minutes Servings muffins MetricUS Imperial Course Main Dish Votes: 0
Rating: 0
You: Rate this recipe! Recipe Notes

Find these lovely white tulip paper liners right here!

Ingredients Instructions
Preheat oven to 400F. Line a muffin pan with parchment paper liners.
Combine all the ingredients for the muffins in a blender (except the chocolate chips and grated zucchini). Once the batter is well combined, stir in the chocolate chips and grated zucchini.
Scoop the batter into the muffin tins and fill 3/4 way full. Bake for 40 minutes on 400F.
Optional: dust muffins with arrowroot powder for a fun visual.
Nutrition Facts 5 Minute Flourless Chocolate Banana Zucchini Muffins Amount Per Serving Calories 398 Calories from Fat 261 % Daily Value* Total Fat 29g 45% Saturated Fat 4g 20% Polyunsaturated Fat 0.3g Monounsaturated Fat 1g Cholesterol 93mg 31% Sodium 141mg 6% Potassium 236mg 7% Total Carbohydrates 28g 9% Dietary Fiber 7g 28% Sugars 13g Protein 14g 28% Vitamin A 3% Vitamin C 13% Calcium 18% Iron 18% * Percent Daily Values are based on a 2000 calorie diet.
Read more