---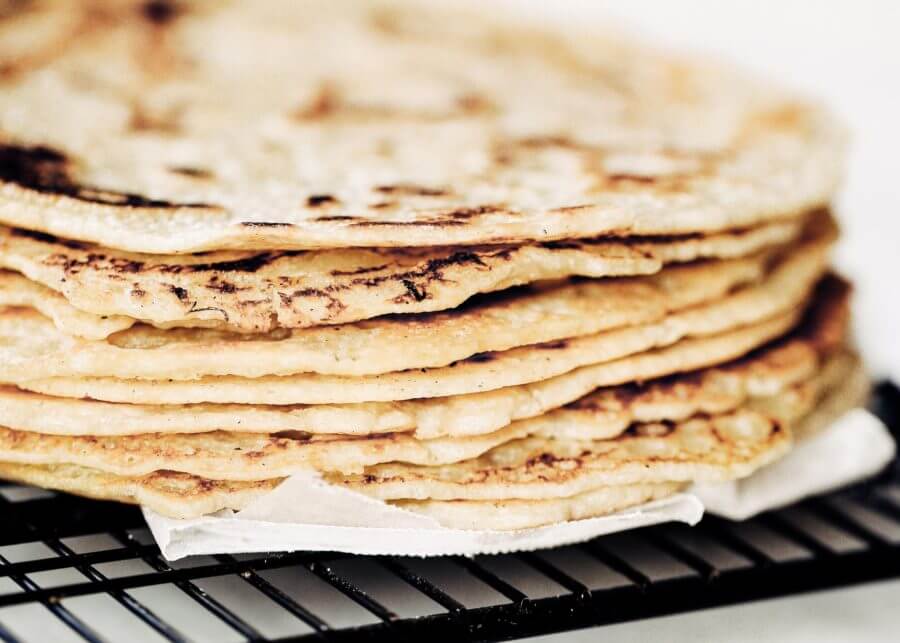 Thin soft shell paleo tortillas made in five minutes! No rolling out required. Make these soft gluten free blender by blending almond flour, tapioca flour, avocado oil, and coconut milk in a blender. Pour batter onto a skillet and out comes the most beautiful and tasty grain free tortillas, perfect for taco night or a breakfast burrito! Easy, versatile, fool proof, and delicious paleo flour tortillas!

Print Recipe Blender Almond Flour Paleo Tortillas Thin soft shell paleo tortillas made in five minutes! No rolling out required. Make these soft gluten free tortillas by blending almond flour, tapioca flour, avocado oil, and coconut milk. Pour batter onto a skillet and out comes the most beautiful and tasty grain free tortillas, perfect for taco night or a breakfast burrito! Easy, versatile, fool proof, and delicious paleo flour tortillas! Ingredients Info Cook Time 2-4 minutes each Prep Time 5 minutes Servings six inch tortillas MetricUS Imperial Course Bread Votes: 22
Rating: 4.18
You: Rate this recipe! Recipe Notes

*You can prepare this tortillas batter by adding everything into a mason jar, cover it with a lid, and store in the fridge for up to one week. Then when it's taco time, pull out the jar, give it a shake or two, and pour onto the skillet.

Info Cook Time 2-4 minutes each Prep Time 5 minutes Servings six inch tortillas MetricUS Imperial Course Bread Votes: 22
Rating: 4.18
You: Rate this recipe! Recipe Notes

*You can prepare this tortillas batter by adding everything into a mason jar, cover it with a lid, and store in the fridge for up to one week. Then when it's taco time, pull out the jar, give it a shake or two, and pour onto the skillet.

Ingredients Instructions
In a food processor or blender combine all ingredients until smooth.
Heat a cast iron skillet over medium/low heat and drizzle lightly with olive oil.
Pour 1/4 cup batter onto the heated skillet and smooth out into a thin round shape with the backside of a measuring cup. Cook for 1-2 minutes on each side or until golden. Repeat this process with the remaining batter.
Nutrition Facts Blender Almond Flour Paleo Tortillas Amount Per Serving Calories 321 Calories from Fat 207 % Daily Value* Total Fat 23g 35% Saturated Fat 3g 15% Polyunsaturated Fat 2g Monounsaturated Fat 8g Sodium 104mg 4% Potassium 3mg 0% Total Carbohydrates 26g 9% Dietary Fiber 3g 12% Sugars 1g Protein 5g 10% Calcium 5% Iron 7% * Percent Daily Values are based on a 2000 calorie diet.
Read more