minced raw cauliflower
Category
---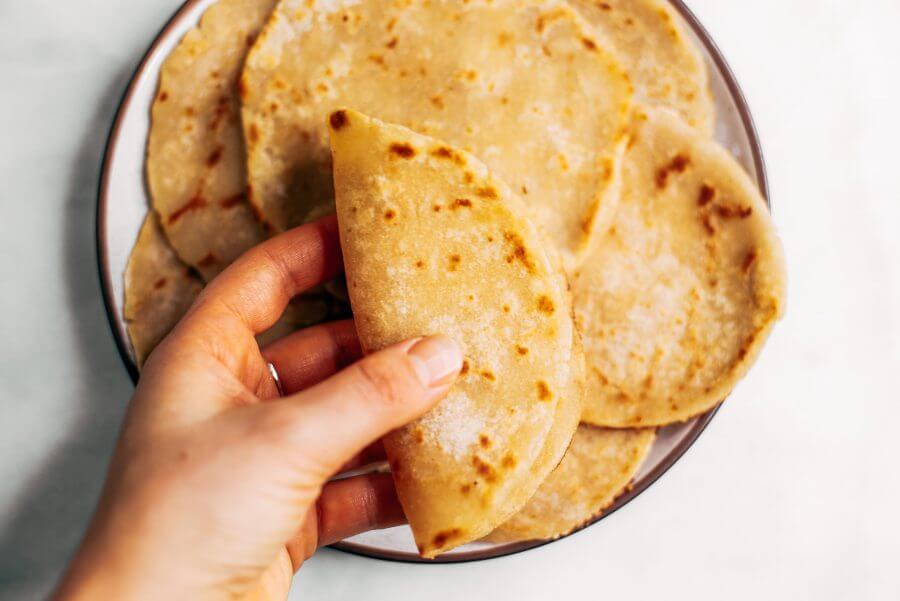 Two ingredient paleo cauliflower tortillas! Life-changing recipe for low calorie gluten free tortillas, ready in minutes! These tortillas have 42 calories and are loaded with veggies to keep you healthy and satisfied. Delicious, easy, and mind-blowing-easy recipe for homemade tortillas.

Print Recipe Two Ingredient Paleo Cauliflower Tortillas Two ingredient paleo cauliflower tortillas! Life-changing recipe for low calorie gluten free tortillas, ready in minutes! These tortillas have 42 calories and are loaded with veggies to keep you healthy and satisfied. Delicious, easy, and mind-blowing-easy recipe for homemade tortillas. Ingredients Info Cook Time 2 minutes Prep Time 20 minutes Servings tortillas MetricUS Imperial Course Bread Votes: 91
Rating: 3.81
You: Rate this recipe! Info Cook Time 2 minutes Prep Time 20 minutes Servings tortillas MetricUS Imperial Course Bread Votes: 91
Rating: 3.81
You: Rate this recipe! Ingredients Instructions
In a food processor, mince cauliflower until it reaches fine rice or flour-like consistency, then transfer to a towel and squeeze out excess water. Put it back in food processor and combine with cassava flour for 2-4 minutes until it reaches dough consistency and clumps together (you will have to either shake the food processor while it blends or pause and scrape down the sides in intervals to ensure even mixing).
Divide dough into 10 pieces and roll out into about 5" tortillas 1/4" thick. Heat a skillet over medium heat and drizzle lightly with olive oil. Cook tortillas for about 1-2 minutes on each side until golden.
Nutrition Facts Two Ingredient Paleo Cauliflower Tortillas Amount Per Serving Calories 42 Calories from Fat 9 % Daily Value* Total Fat 1g 2% Saturated Fat 0.1g 1% Polyunsaturated Fat 0.1g Monounsaturated Fat 0.4g Sodium 138mg 6% Potassium 89mg 3% Total Carbohydrates 9g 3% Dietary Fiber 1g 4% Sugars 1g Protein 1g 2% Vitamin A 0.1% Vitamin C 25% Calcium 1% Iron 1% * Percent Daily Values are based on a 2000 calorie diet.
Read more