---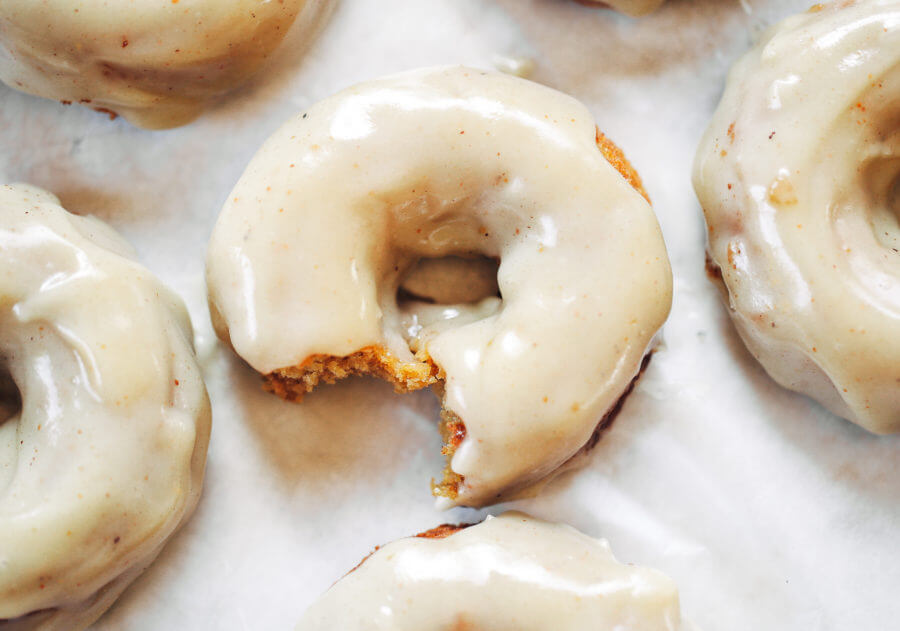 Easy paleo pumpkin spice glazed donuts made with white sweet potato. A healthy donut recipe that tastes like the real deal! Perfect donut recipe for fall celebrations!

Print Recipe Healthy Paleo Pumpkin Pie Donuts Easy paleo pumpkin spice glazed donuts made with white sweet potato. A healthy donut recipe that tastes like the real deal! Perfect donut recipe for fall celebrations! Ingredients Donuts Dessert Votes: 32
Rating: 3.5
You: Rate this recipe! Recipe Notes

This is the donut pan I use.

Info Cook Time 30 minutes Prep Time 15 minutes Servings donuts MetricUS Imperial Course Dessert Votes: 32
Rating: 3.5
You: Rate this recipe! Recipe Notes

This is the donut pan I use.

Ingredients Donuts
Preheat oven to 350F. Generously grease a donut pan with coconut oil.
Dice sweet potato into chunks and mince in a food processor. Add rest of ingredients for donuts and blend until smooth.
Scoop batter into a piping bag or plastic bag and fill donut pan with batter. Bake on 350F for 30 minutes then cool before gently scooping donuts out with a spoon.
Bring coconut butter to room temp, until it's drizzly and liquidy- you can do this by putting the jar into a bowl of hot water until it melts. In a bowl blend ingredients together with a spatula until smooth.
Set donuts on a cooling rack and pour glaze over.
Nutrition Facts Healthy Paleo Pumpkin Pie Donuts Amount Per Serving Calories 213 Calories from Fat 63 % Daily Value* Total Fat 7g 11% Saturated Fat 5g 25% Polyunsaturated Fat 0.2g Monounsaturated Fat 1g Cholesterol 53mg 18% Sodium 232mg 10% Potassium 24mg 1% Total Carbohydrates 36g 12% Dietary Fiber 4g 16% Sugars 25g Protein 3g 6% Vitamin A 84% Vitamin C 3% Calcium 4% Iron 5% * Percent Daily Values are based on a 2000 calorie diet.
Read more