---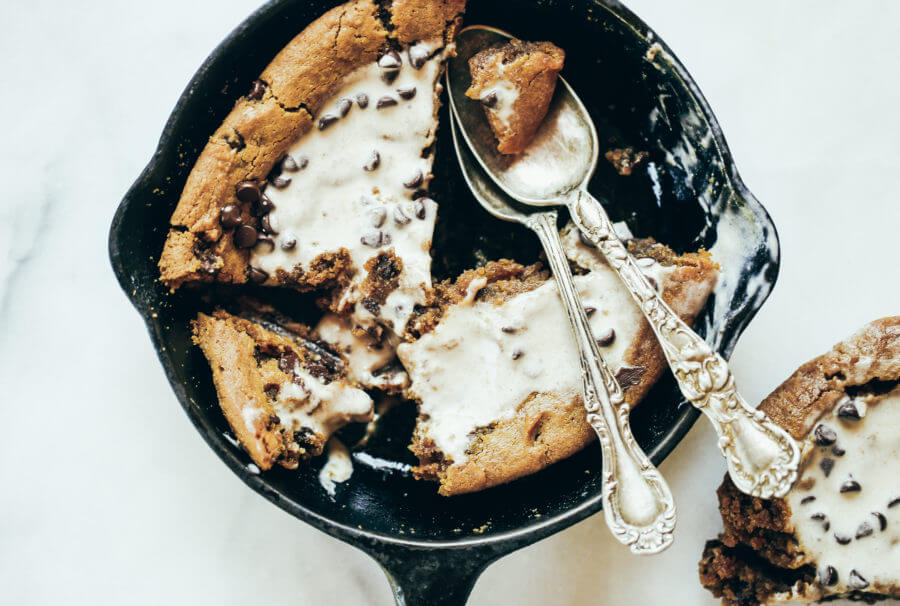 Healthy paleo cookie skillet made in 5 minutes in the food processor. The best gluten free chocolate chip cookie with a gooey inside and nice crust. Easy to make paleo dessert to share with friends!

Print Recipe Paleo Gluten Free Chocolate Chip Cookie Skillet Healthy paleo cookie skillet made in 5 minutes in the food processor. The best gluten free chocolate chip cookie with a gooey inside and nice crust. Easy to make paleo dessert to share with friends! Ingredients Info Cook Time 20 minutes Prep Time 5 minutes Servings servings MetricUS Imperial Course Dessert Votes: 10
Rating: 4.4
You: Rate this recipe! Info Cook Time 20 minutes Prep Time 5 minutes Servings servings MetricUS Imperial Course Dessert Votes: 10
Rating: 4.4
You: Rate this recipe! Ingredients Instructions
Preheat oven to 350F. Grease a 5-6" cast iron pan with coconut oil.
In a food processor blend all ingredients (except chocolate chips) until smooth. Then stir in chocolate chips, pour into a 5-6" cast iron pan and bake on 350F for 20-25 minutes until golden. Allow to set before serving.
Nutrition Facts Paleo Gluten Free Chocolate Chip Cookie Skillet Amount Per Serving Calories 229 Calories from Fat 126 % Daily Value* Total Fat 14g 22% Saturated Fat 5g 25% Polyunsaturated Fat 0.1g Monounsaturated Fat 0.5g Cholesterol 31mg 10% Sodium 151mg 6% Potassium 10mg 0% Total Carbohydrates 24g 8% Dietary Fiber 4g 16% Sugars 15g Protein 5g 10% Vitamin A 1% Calcium 4% Iron 8% * Percent Daily Values are based on a 2000 calorie diet.
Read more