---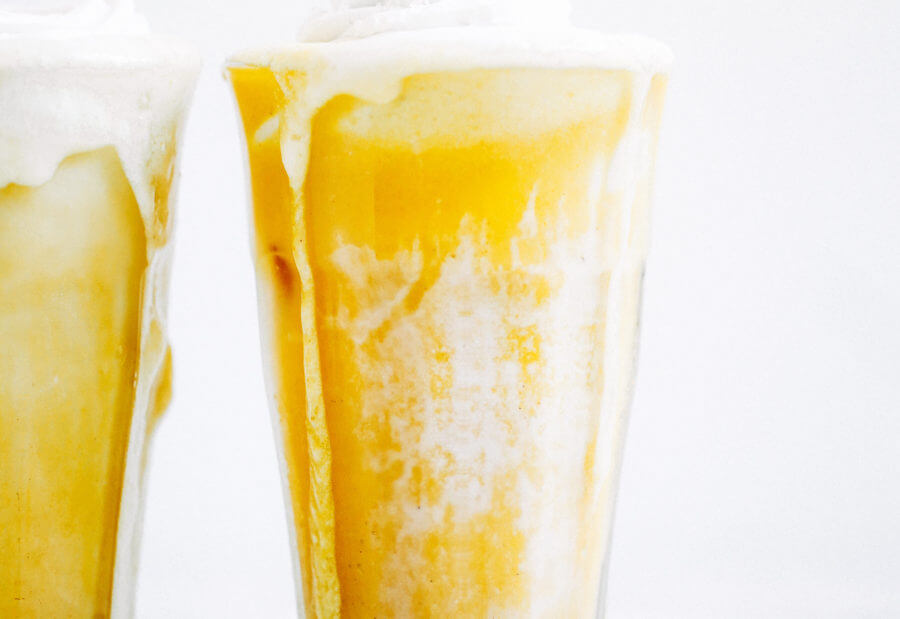 Top on my paleo food list: golden iced turmeric lattes. Tastes like liquid sunshine! An easy refreshing paleo and whole30 beverage, perfect for summer.

Print Recipe Golden Iced Turmeric Latte Top on my paleo food list: golden iced turmeric lattes. Tastes like liquid sunshine! An easy refreshing paleo and whole30 beverage, perfect for summer. Ingredients Info Prep Time 5 minutes Servings servings MetricUS Imperial Course Drinks Votes: 1
Rating: 5
You: Rate this recipe! Info Prep Time 5 minutes Servings servings MetricUS Imperial Course Drinks Votes: 1
Rating: 5
You: Rate this recipe! Ingredients Instructions
In a high speed blender combine ingredients on high for 1-3 minutes until smooth and frothy.
If you want to make the two layer fancy look- pour some almond milk into the bottom of a glass with ice cubes. Top it off with golden milk, whipped cream/coconut cream, and natural sprinkles.
Nutrition Facts Golden Iced Turmeric Latte Amount Per Serving Calories 10 Calories from Fat 2 % Daily Value* Total Fat 0.2g 0% Saturated Fat NaNg 0% Trans Fat NaNg Polyunsaturated Fat 0.1g Monounsaturated Fat 0.04g Cholesterol NaNmg 0% Sodium 1mg 0% Potassium 58mg 2% Total Carbohydrates 2g 1% Dietary Fiber 1g 4% Sugars NaNg Protein 0.2g 0% Vitamin C NaN% Calcium 1% Iron 6% * Percent Daily Values are based on a 2000 calorie diet.
Read more