cabbage slaw mix
Category
---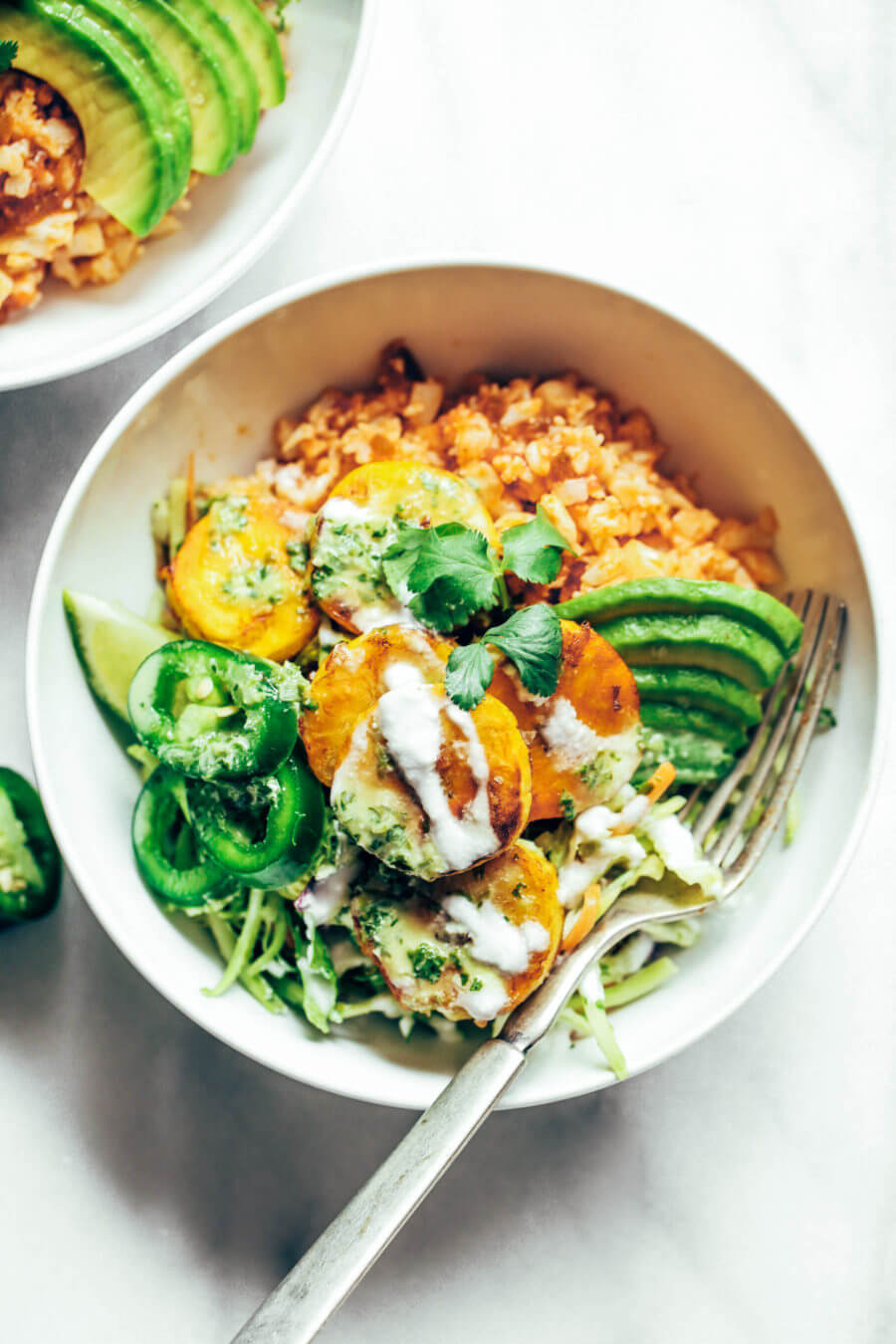 Spicy cauliflower rice plantain slaw bowls made with crispy french fry-like fried plantains, spicy buffalo cauliflower rice, and cilantro lime slaw. A fresh, zesty meal that's whole30 and paleo friendly. 

Print Recipe Spicy Cauliflower Rice Plantain Slaw Bowls Spicy cauliflower rice plantain slaw bowls made with crispy french fry-like fried plantains, spicy buffalo cauliflower rice, and cilantro lime slaw. A fresh, zesty meal that's whole30 and paleo friendly.  Ingredients Plantains Main Dish Votes: 11
Rating: 3.55
You: Rate this recipe! Info Cook Time 5-10 minutes Prep Time 15 minutes Servings servings MetricUS Imperial Course Main Dish Votes: 11
Rating: 3.55
You: Rate this recipe! Ingredients Plantains
Heat a cast iron skillet over medium heat on the stove and melt coconut oil in it to fry the plantains. Slice plantains into 1" rounds and place in the skillet. Fry plantains on each side until golden, then transfer to a plate lined with a paper napkin and sprinkle with salt flakes to taste.
In the same skillet add ingredients for the cauliflower, cover skillet with a lid, and cook until cauliflower is soft (or to taste- about 5 minutes).
In a blender or food processor blend all ingredients for the sauce until smooth.
Assemble bowls by adding cauliflower rice, slaw, plantains, and top with avocado slices, cilantro leaves, and sauce.
Nutrition Facts Spicy Cauliflower Rice Plantain Slaw Bowls Amount Per Serving Calories 567 Calories from Fat 360 % Daily Value* Total Fat 40g 62% Saturated Fat 14g 70% Polyunsaturated Fat 3g Monounsaturated Fat 20g Sodium 645mg 27% Potassium 1421mg 41% Total Carbohydrates 53g 18% Dietary Fiber 13g 52% Sugars 24g Protein 7g 14% Vitamin A 34% Vitamin C 225% Calcium 13% Iron 14% * Percent Daily Values are based on a 2000 calorie diet.
Read more