Chicken Ranch Paleo Whole30 Stuffed Peppers
---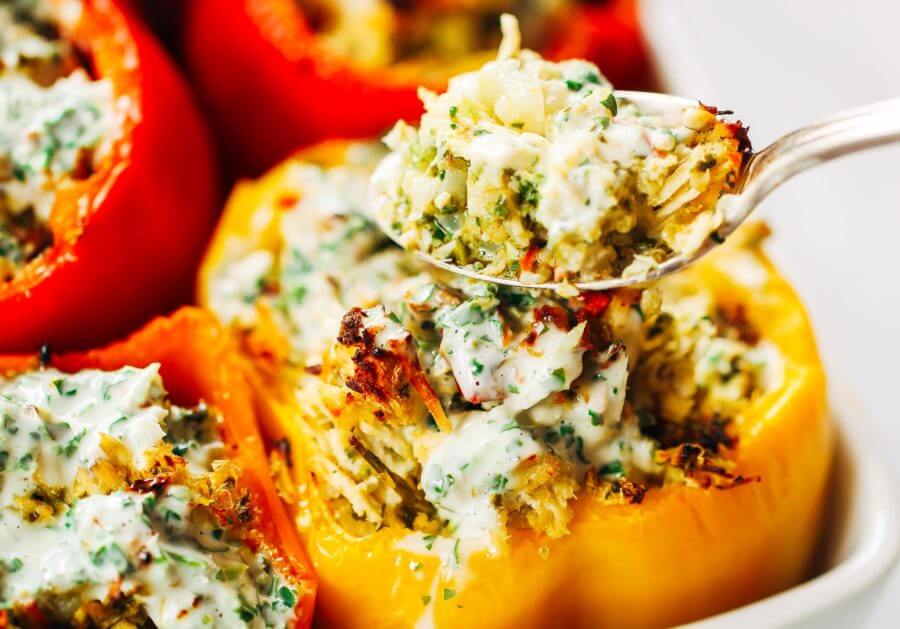 Healthy ranch stuffed bell peppers. A quick whole30 and paleo meal for the whole family! Stuffed with cauliflower rice, shredded chicken, spicy jalapeno and cilantro sauce.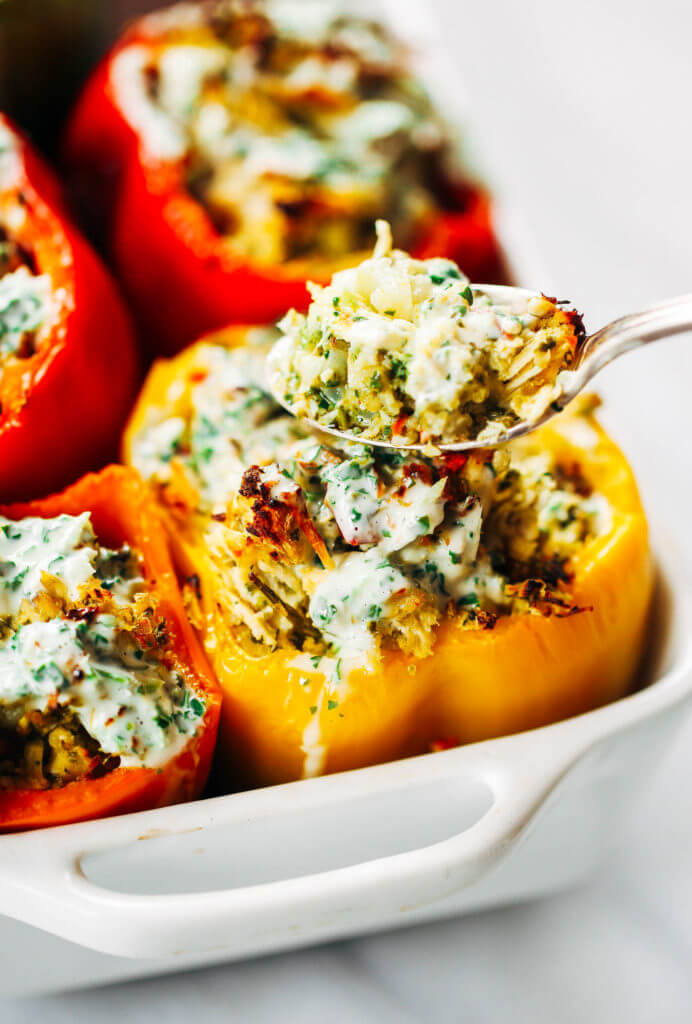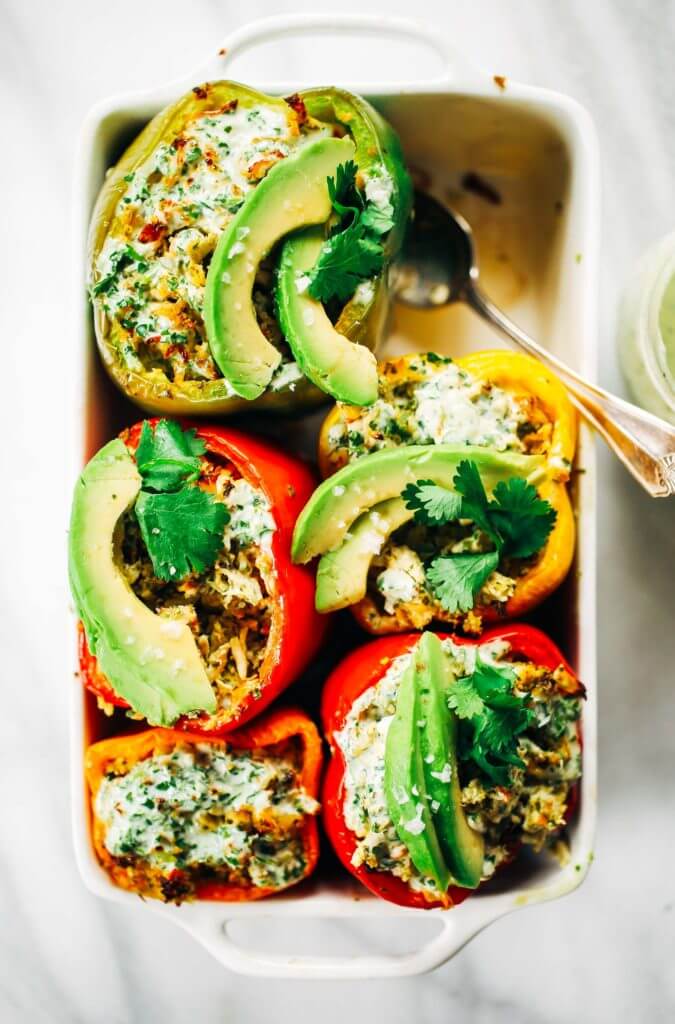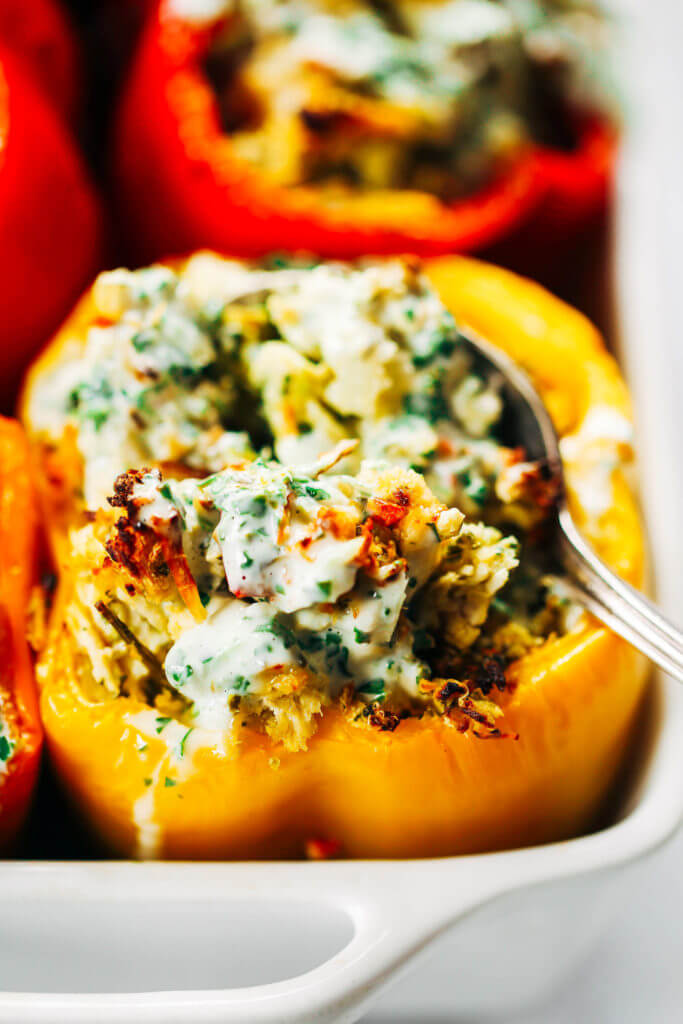 Oh man! You didn't know, did you?…
You didn't know what you were missing out on.
It's okay, I didn't either until I tried these glorious rainbow colored stuffed peppers with ranch spilling down the sides, packed with cauliflower and spicy chicken.
It's every reason to grab your spoon and come running to the kitchen.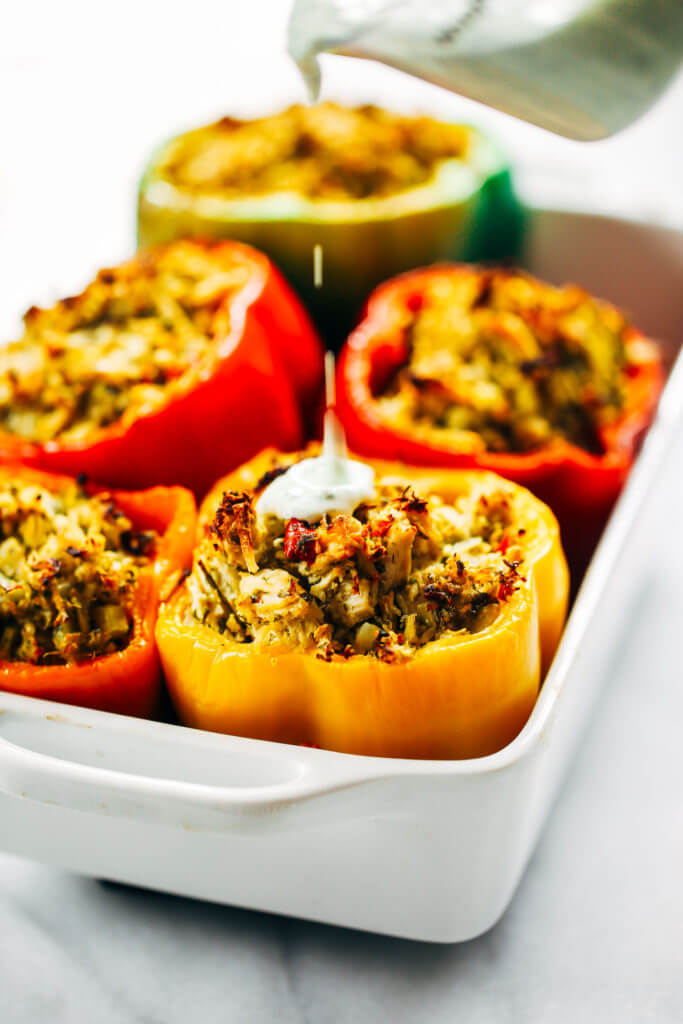 My sister and I are still on our 30-day real food reset; just our own rules, no special labeled diet (but it's basically whole30, hehe), AND big food rewards at the end of each week: dinner out.
We are both looking forward to sharing a massive bowl of sautéed veggies and chicken at the mongolian grill this Sunday to celebrate our 1-week real foodaversay! Yaaay!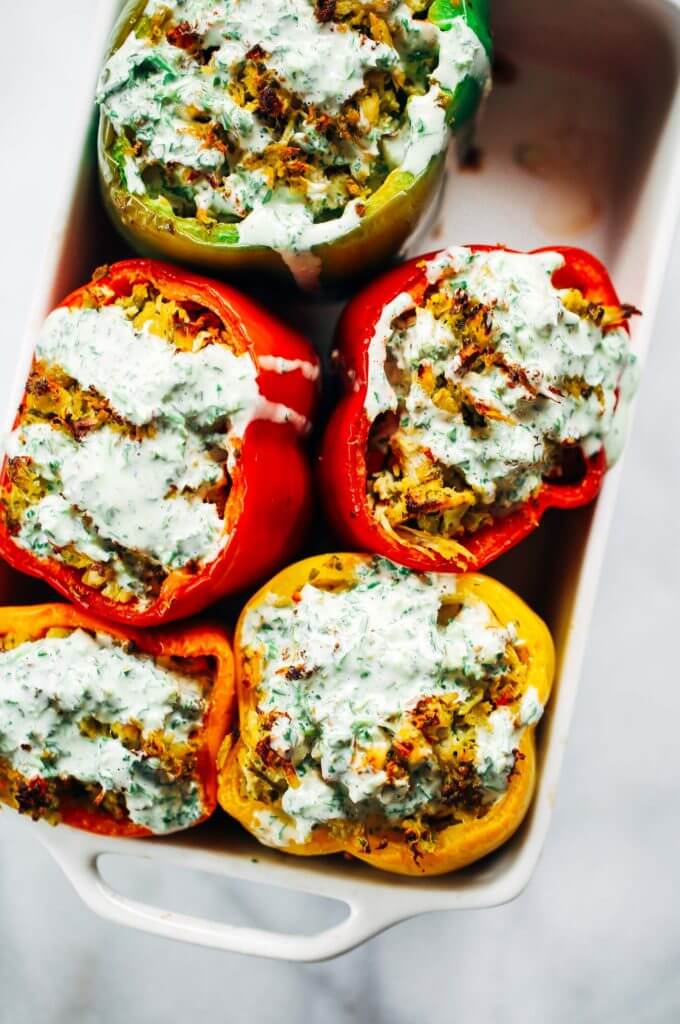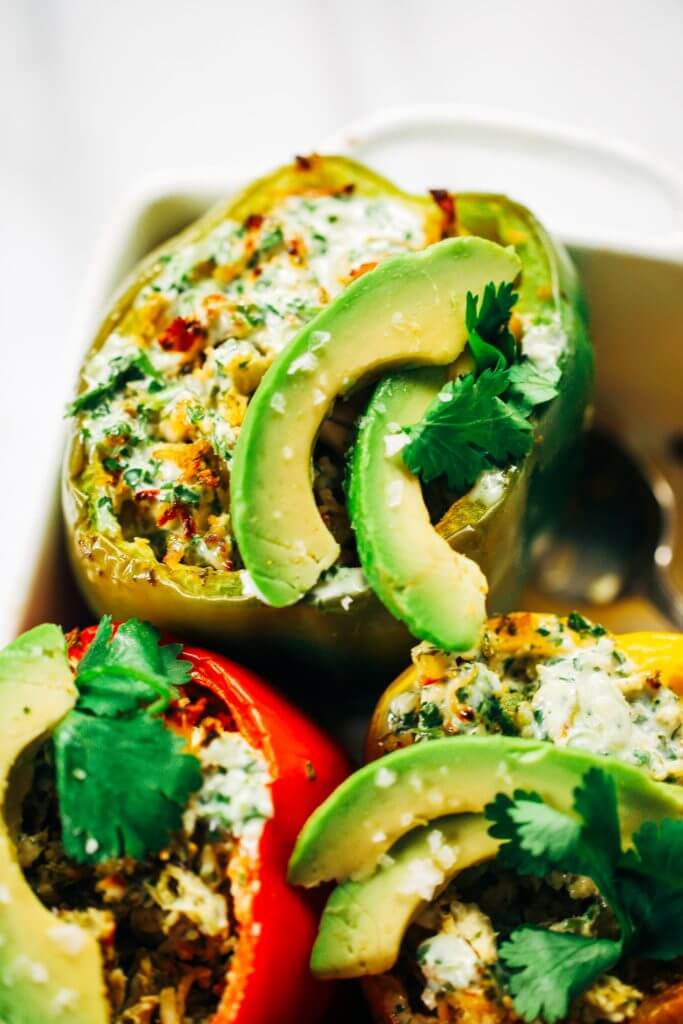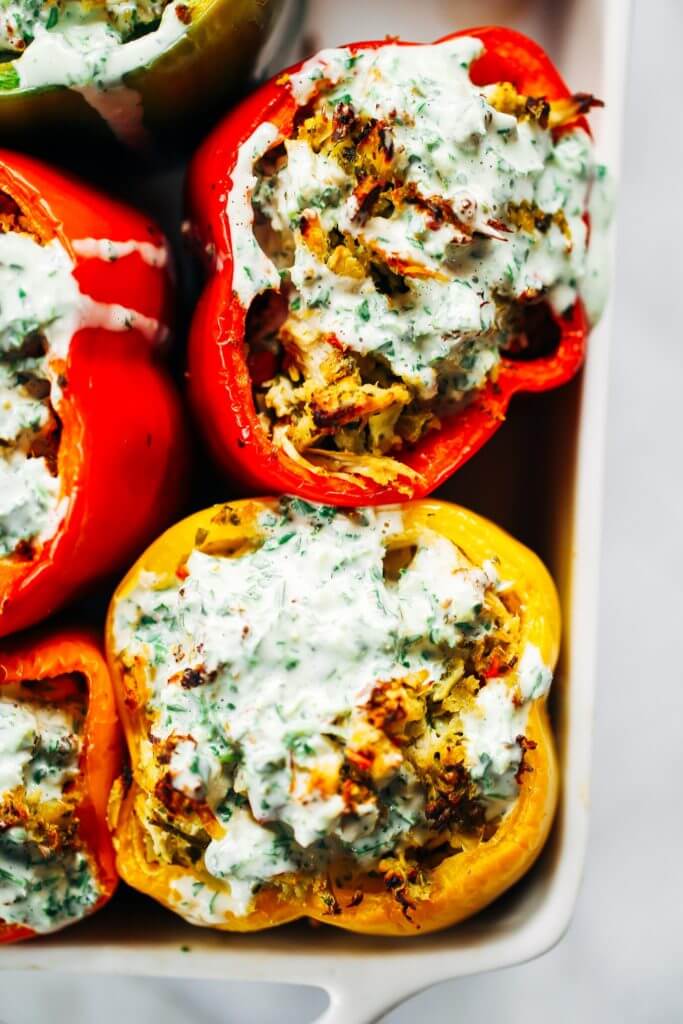 stuffed pepper SURVIVAL
But what has made this whole bird-food-thing (did I mention minimal nut butters😭– my personal weakness) completely doable and actually more than enjoyable is recipes like this one.
Mind-blowingly-easy, mighty tasty, and good for ya. I would eat this all day (like yesterday).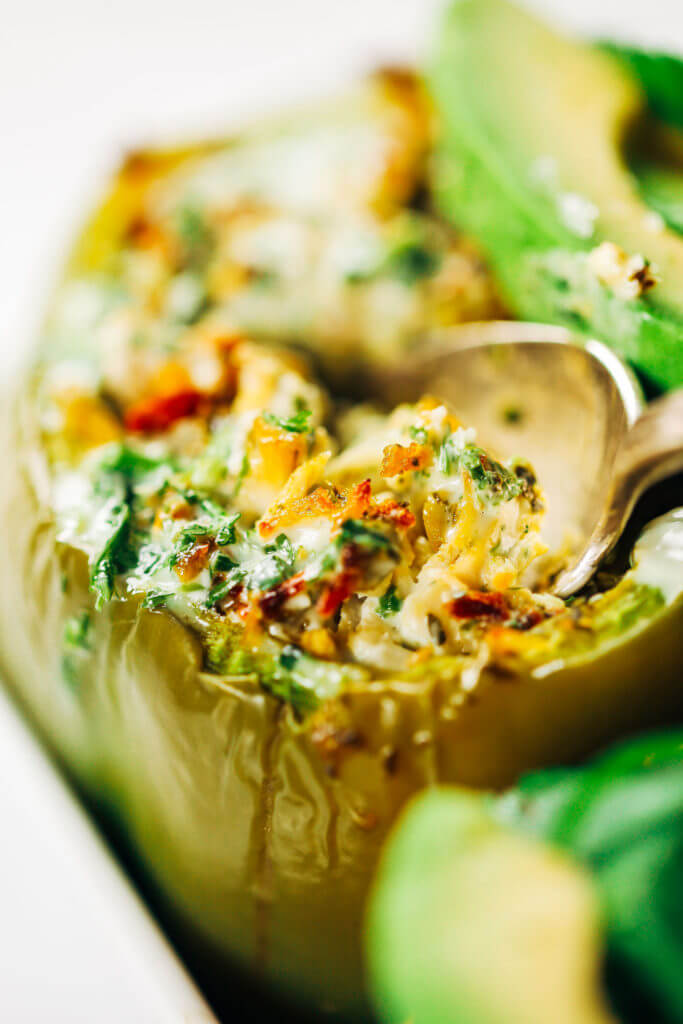 As if yummy chicken and cauli rice wasn't enough, I had to add in some of my household favorite paleo ranch dressing to top it all off.
Biting into one of these peppers bursts with spicy ranch flavor, drips messily down the sides of your hands, because you are finger-fooding it and face-plant style eating this.
I wish I had a picture of the actual eating to give you a more accurate description of what eating these peppers really involves.
Hint: messy, but oh so worth it!
I guess you could eat with a knife and fork like my Mom briefly mentioned to me (more than once). But that takes away from the whole eating with your hands thing, so I just kept plunging my face into glorious oversized bites of ranch stuffed peppers.
See ya on the other side of clean. 🙂
More like this:
Cauliflower Rice Plantain Slaw Bowls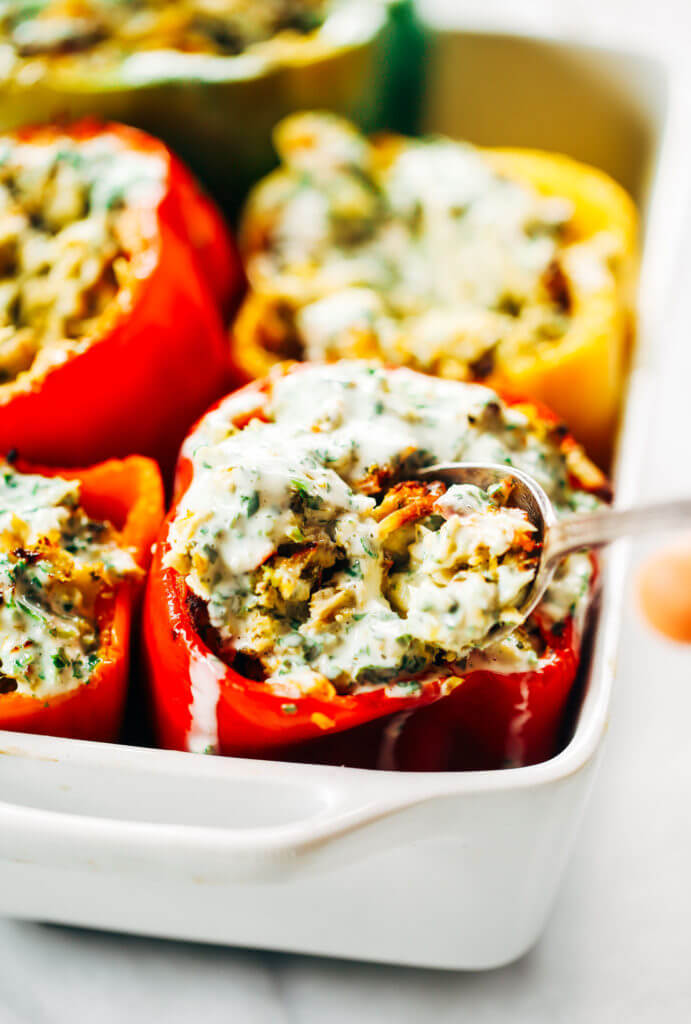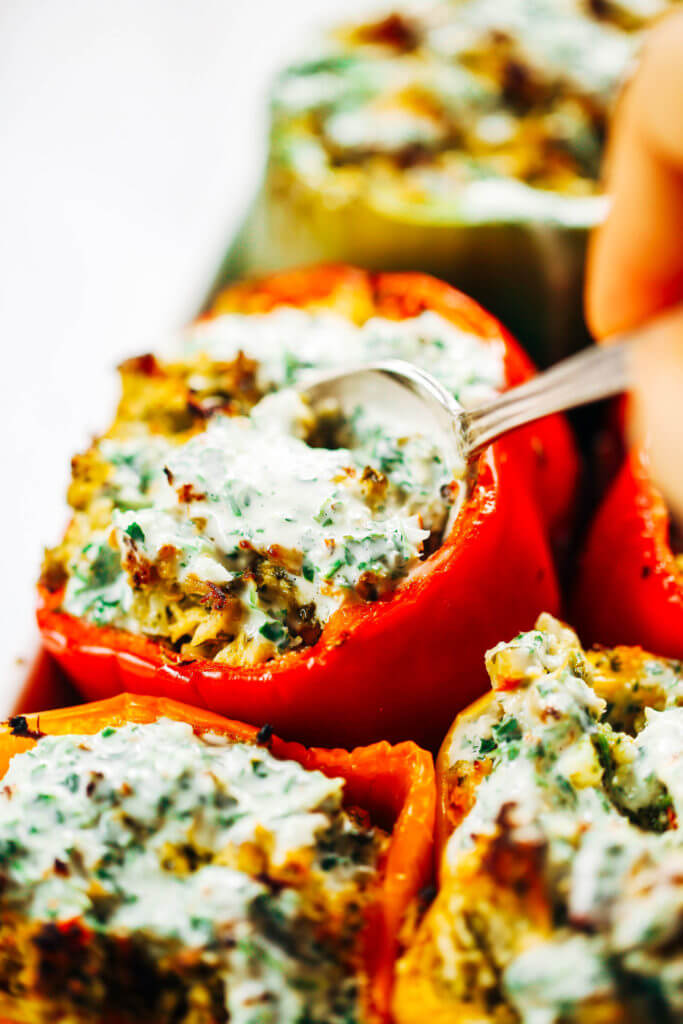 Blend ingredients for sauce in a food processor or blender until smooth.

Blend ingredients for ranch dressing in a food processor or blender until smooth.

Cut tops off the bell peppers and remove seeds. Set peppers into a casserole dish.

In a bowl combine cauliflower rice, shredded chicken, and sauce. Stuff peppers with this filling.

Bake peppers on 350F for 50 minutes. Then serve with ranch dressing.
Nutrition Facts

Chicken Ranch Paleo Whole30 Stuffed Peppers

Amount Per Serving

Calories 380

Calories from Fat 297

% Daily Value*

Total Fat 33g 51%

Cholesterol 27mg 9%

Sodium 423mg 18%

Potassium 482mg 14%

Total Carbohydrates 12g 4%

Protein 12g 24%

* Percent Daily Values are based on a 2000 calorie diet.