---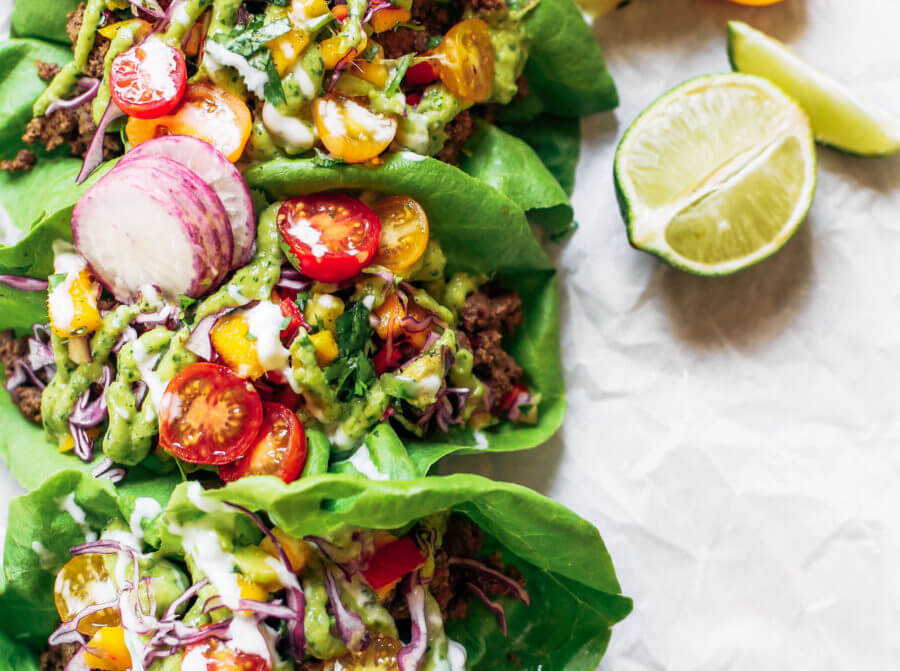 Crowd pleaser dinner: whole30 lettuce tacos with mango salsa! Swap the tortilla for a healthy crisp lettuce leaf and you have yourself a drool-worthy dinner, complete with mango avocado lime salsa. An easy paleo meal for family dinners, meal prep, or on-the-go!

Print Recipe Whole30 Dinner Tacos With Mango Lime Salsa Crowd pleaser dinner: whole30 lettuce tacos with mango salsa! Swap the tortilla for a healthy crisp lettuce leaf and you have yourself a drool-worthy dinner, complete with mango avocado lime salsa. An easy paleo meal for family dinners, meal prep, or on-the-go! Ingredients Main Dish Votes: 30
Rating: 3.53
You: Rate this recipe! Info Cook Time 8 minutes Prep Time 20 minutes Servings servings MetricUS Imperial Course Main Dish Votes: 30
Rating: 3.53
You: Rate this recipe! Ingredients
Brown ground beef with seasonings in a cast iron skillet, stirring on occasion until fully cooked (about 8-10 minutes until no red left in the meat).
Chop and combine ingredients for salsa in a bowl.
Blend ingredients for sauce in a food processor or blender to desired consistency.
Prepare tacos by layering ground beef, salsa, shredded cabbage, tomatoes, and sauce into a lettuce leaf. Optional: Serve with a drizzle of full fat canned coconut milk, more cilantro, and lime wedges.
Nutrition Facts Whole30 Dinner Tacos With Mango Lime Salsa Amount Per Serving Calories 435 Calories from Fat 261 % Daily Value* Total Fat 29g 45% Saturated Fat 9g 45% Polyunsaturated Fat 2g Monounsaturated Fat 7g Cholesterol 71mg 24% Sodium 91mg 4% Potassium 671mg 19% Total Carbohydrates 24g 8% Dietary Fiber 9g 36% Sugars 12g Protein 25g 50% Vitamin A 78% Vitamin C 167% Calcium 6% Iron 20% * Percent Daily Values are based on a 2000 calorie diet.
Read more