5 Minute Paleo Chimichurri Sauce
---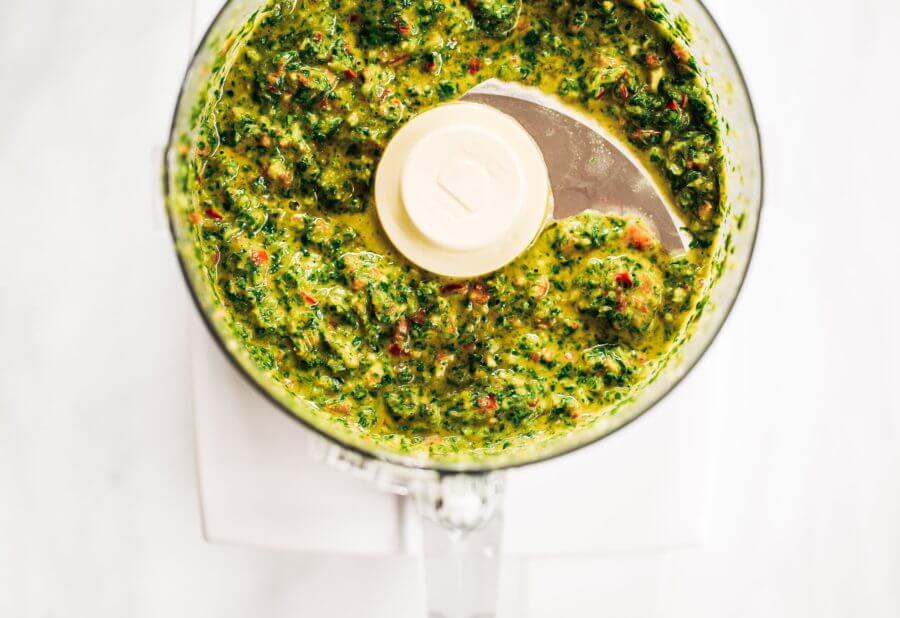 Zesty, fresh, and flavorful, cilantro garlic chimichurri with jalapeno pepper. Perfect for marinating chicken, beef, or topping off sweet potato fries and salads! Made easy in the blender in five minutes. Paleo, gluten free, and whole30 friendly.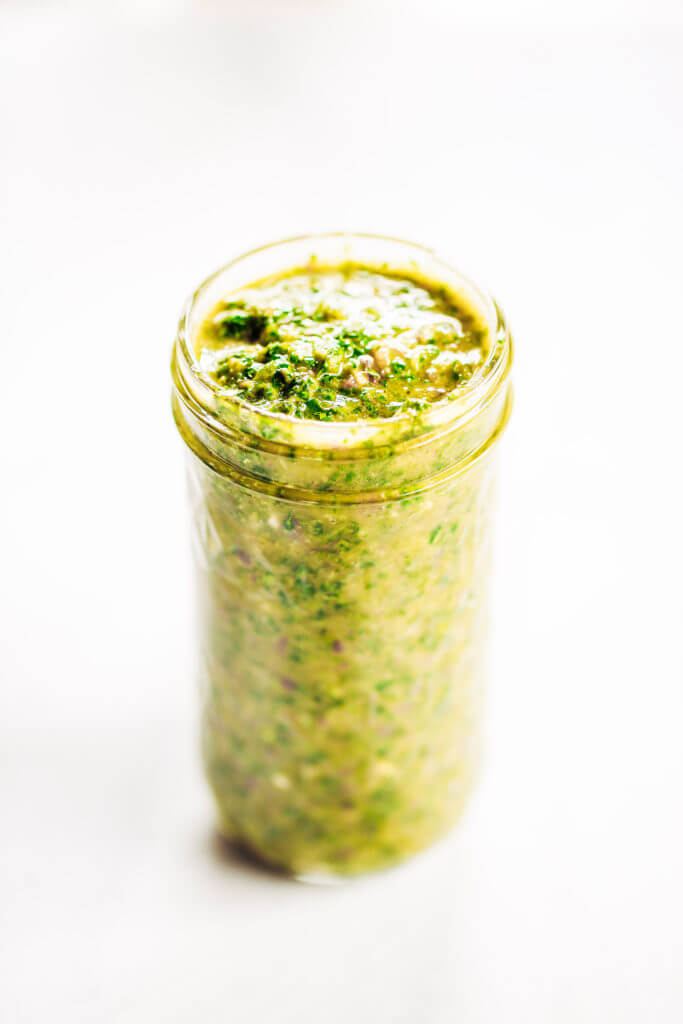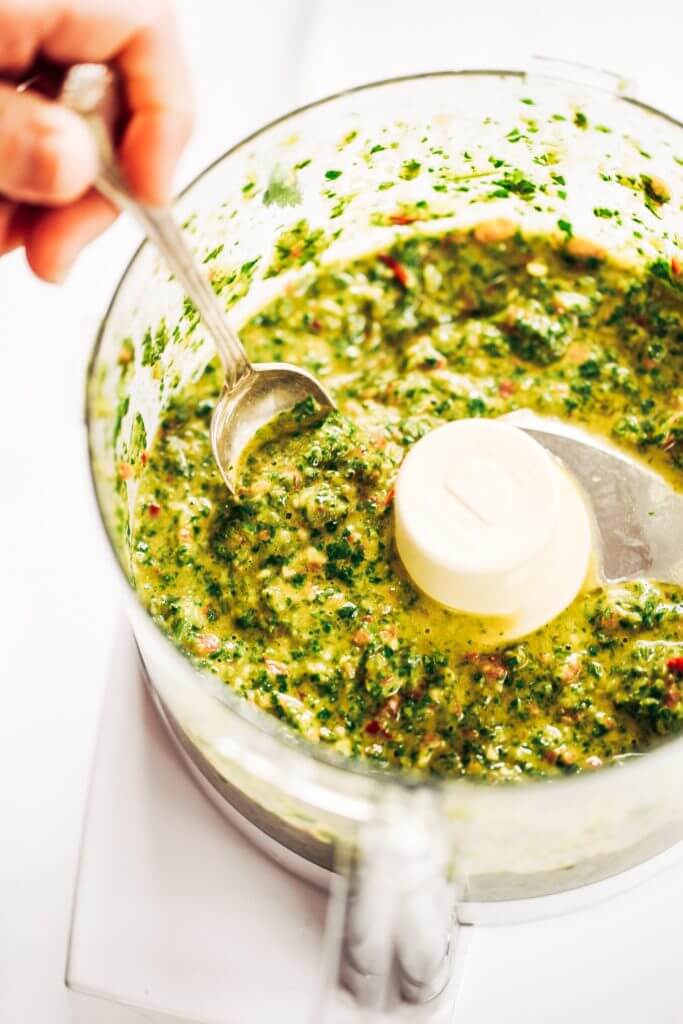 My apologies.
So, this recipe was supposed to go out on Thursday, per usual, but due to some rather (not so) happy news, I was out for last couple of days trying to survive- thank you gallstones.😬 I'm sure you wanted to hear that right? You came to eat food and you have to hear about my gallstones, geesh Kaylie! But that's life. It sometimes kicks us down. Things don't go as planned. But there is always Sunday, so here ya go!
I'm laying in bed (pretty much all I've been able to manage this past week) and today has been the least painful so far, so I'm going with it and using my brain power to serve up and dwell on some spicy green happiness, also known as chimichurri sauce! Food is always a good distraction right? Forget pain- gimme some chimichurri!😀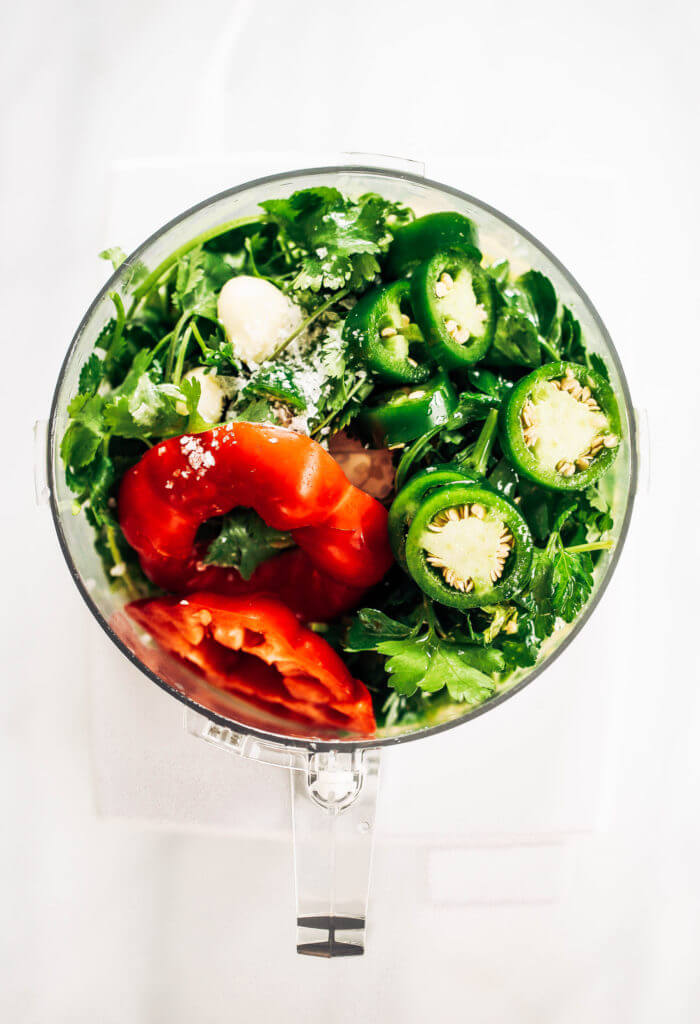 my chimichurri obsession
Okay, BUT SERIOUSLY. CHIMICHURRI!!! I love this freakin word! I loved the actual word before there was ever any cooking or eating happening. And I just knew I had to make it; whatever kind of spicy south-of-the-border deliciousness it was going to be. Yes, that's how it happened, heard it, loved it, NEED TO MAKE… was the exact thought process.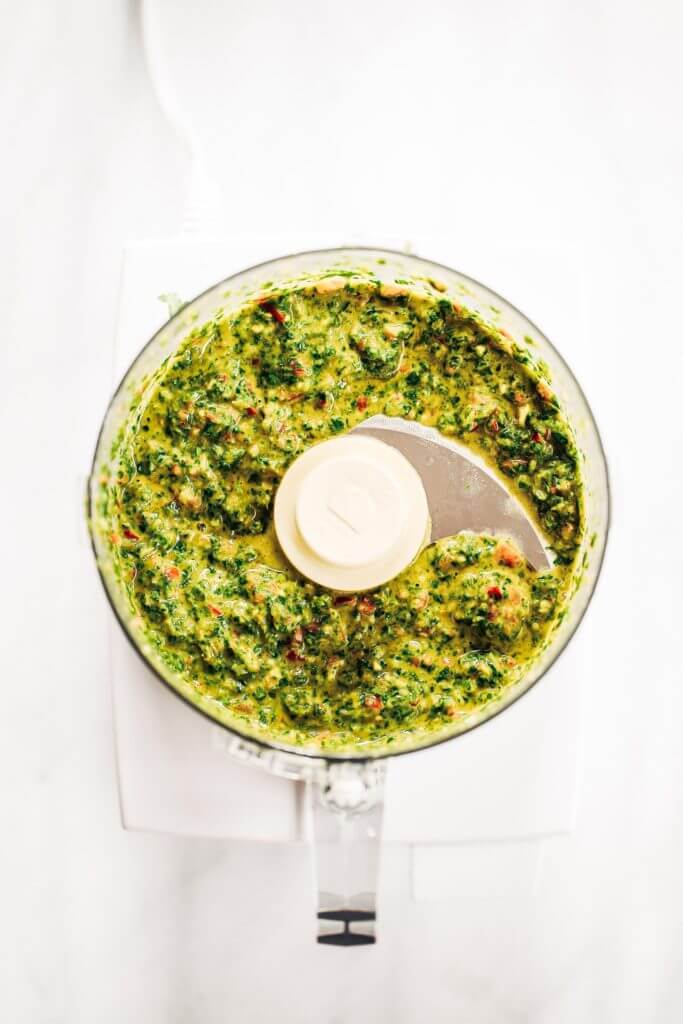 So, now that I have actually tried it, here is the consensus, good on meat, good on rice, good on salad, and good for meeee. I like. I liked it a lot. Drippy marinated oils, spicy-fresh, and a flavorful pow that pairs perfectly with avocado, chicken, and sweet potatoes… I'm in.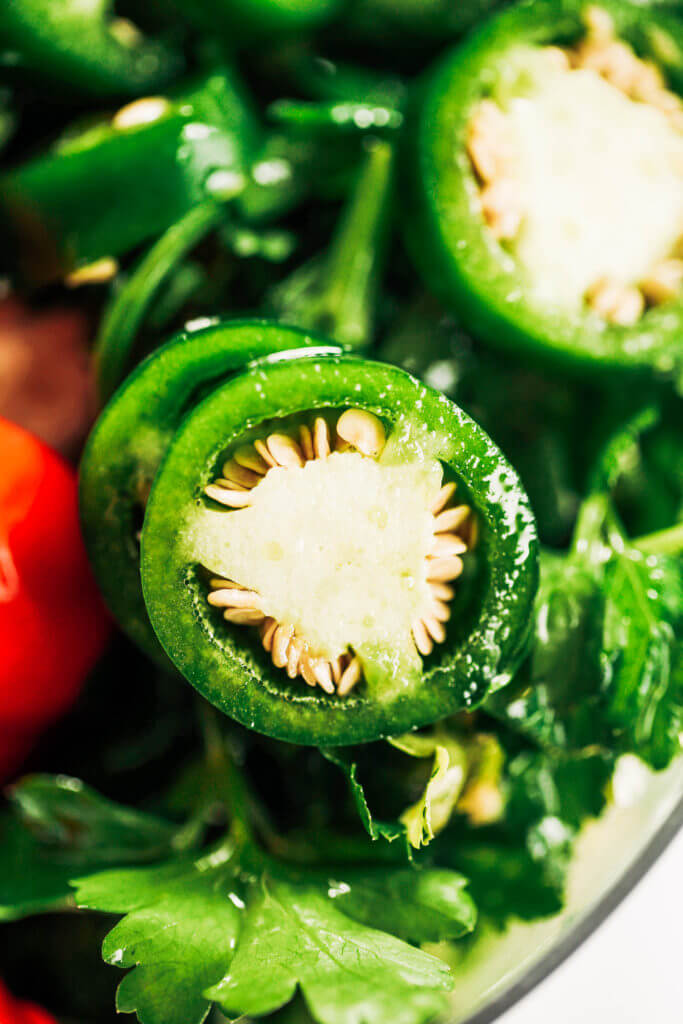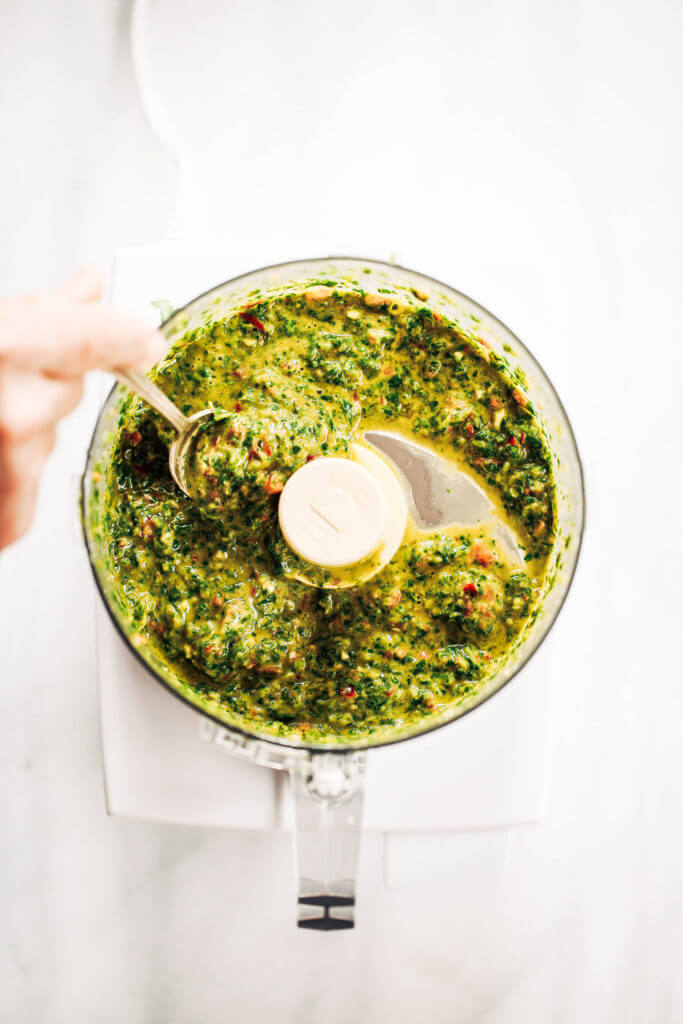 Food processor love happening over heraaa. Meet my second hands- this food processor, it whips up this sauce in minutes; I give it handfuls of cilantro, garlic, lemon, and other good stuff and it hands me back this delicious green sauce that I get to make dinner with!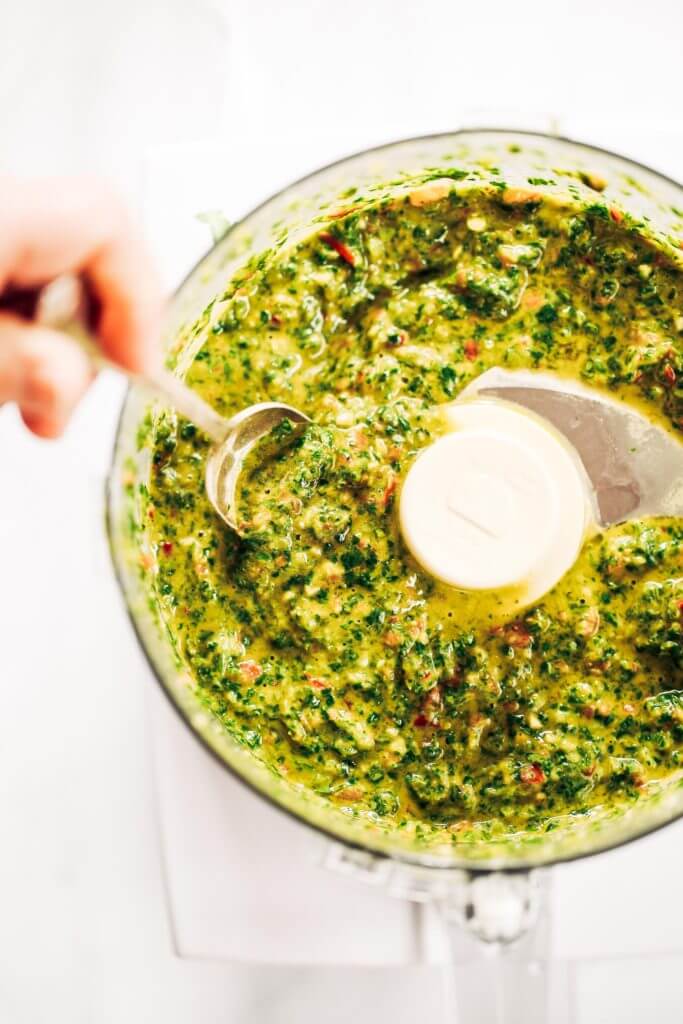 Blend all ingredients in a food processor (or blender) until it reaches desired consistency. Store in fridge for up to one week.

To make this into a salad dressing, just add fresh lime juice to taste!
Nutrition Facts

5 Minute Paleo Chimichurri Sauce

Amount Per Serving

Calories 984

Calories from Fat 999

% Daily Value*

Total Fat 111g 171%

Sodium 977mg 41%

Potassium 275mg 8%

Total Carbohydrates 9g 3%

Protein 2g 4%

* Percent Daily Values are based on a 2000 calorie diet.