---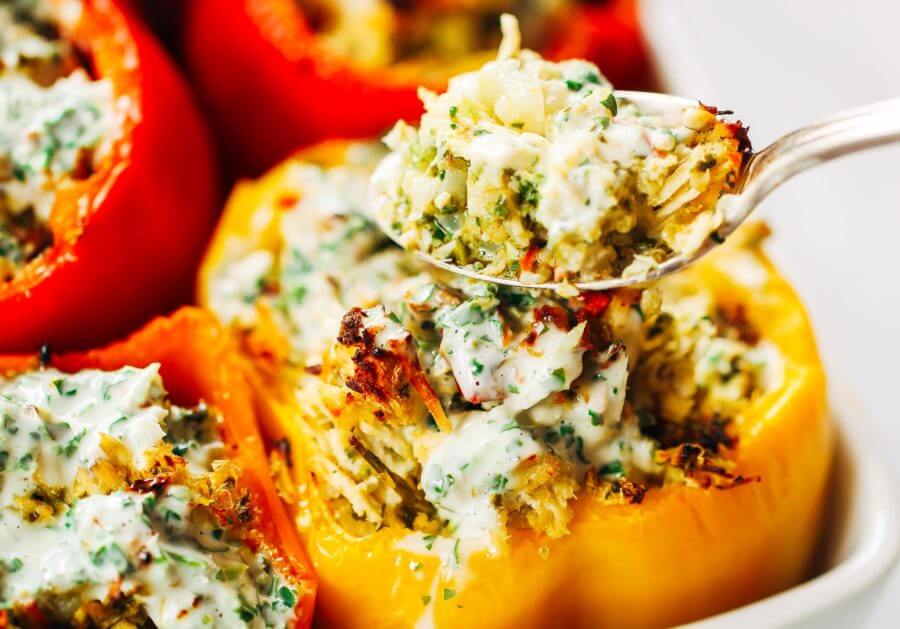 Healthy ranch stuffed bell peppers. A quick whole30 and paleo meal for the whole family! Stuffed with cauliflower rice, shredded chicken, spicy jalapeno and cilantro sauce. 

Print Recipe Chicken Ranch Paleo Whole30 Stuffed Peppers Healthy ranch stuffed bell peppers. A quick whole30 and paleo meal for the whole family! Stuffed with cauliflower rice, shredded chicken, spicy jalapeno and cilantro sauce.  Ingredients Peppers Main Dish Votes: 26
Rating: 3.62
You: Rate this recipe! Info Cook Time 50 minutes Prep Time 15 minutes Servings servings MetricUS Imperial Course Main Dish Votes: 26
Rating: 3.62
You: Rate this recipe! Ingredients Peppers
Preheat oven to 350F.
Blend ingredients for sauce in a food processor or blender until smooth.
Blend ingredients for ranch dressing in a food processor or blender until smooth.
Cut tops off the bell peppers and remove seeds. Set peppers into a casserole dish.
In a bowl combine cauliflower rice, shredded chicken, and sauce. Stuff peppers with this filling.
Bake peppers on 350F for 50 minutes. Then serve with ranch dressing.
Nutrition Facts Chicken Ranch Paleo Whole30 Stuffed Peppers Amount Per Serving Calories 380 Calories from Fat 297 % Daily Value* Total Fat 33g 51% Saturated Fat 6g 30% Polyunsaturated Fat 7g Monounsaturated Fat 18g Cholesterol 27mg 9% Sodium 423mg 18% Potassium 482mg 14% Total Carbohydrates 12g 4% Dietary Fiber 4g 16% Sugars 6g Protein 12g 24% Vitamin A 122% Vitamin C 458% Calcium 3% Iron 13% * Percent Daily Values are based on a 2000 calorie diet.
Read more