---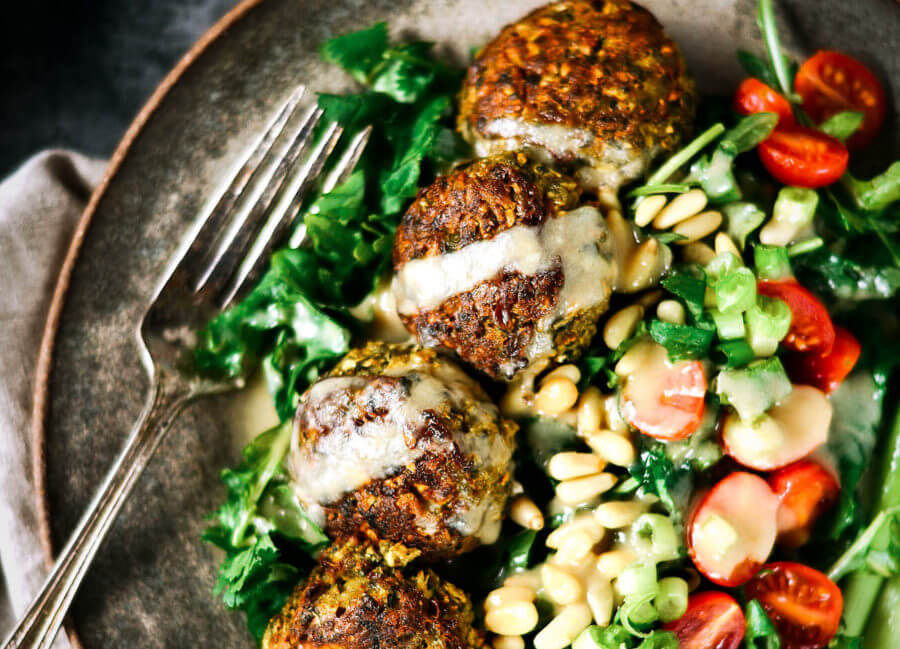 These warm flavorful falafels are better than the real deal, because they are packed with cauliflower and fresh herbs! A low carb delicious whole30 meal that is easily made in a blender.

Print Recipe Perfect Whole30 Blender Cauliflower Falafel Tahini Bowl These warm flavorful falafels are better than the real deal, because they are packed with cauliflower and fresh herbs! A low carb delicious whole30 meal that is easily made in a blender. Ingredients Falafel Main Dish Votes: 117
Rating: 3.76
You: Rate this recipe! Info Cook Time 40 minutes Prep Time 10 minutes Servings falafel MetricUS Imperial Course Main Dish Votes: 117
Rating: 3.76
You: Rate this recipe! Ingredients Falafel
Preheat oven to 400F. Line a baking sheet with parchment paper.
In a food processor blend all the ingredients, except the minced cauliflower and olive oil. Blend until the herbs are minced.
Once the herbs are minced, add in the minced cauliflower and pulse until combined.
Form the falafel dough into 16 1 1/2" round balls. Use a pastry brush and brush each falafel with olive oil.
Cook for 20 minutes on 400F then rotate the falafels and cook for another 20 minutes.
Tahini Dressing
Combine all the ingredients for the tahini dressing in a blender or food processor and blend until smooth.
Greens
Plate the greens then top with falafel and tahini dressing.
Nutrition Facts Perfect Whole30 Blender Cauliflower Falafel Tahini Bowl Amount Per Serving Calories 216 Calories from Fat 180 % Daily Value* Total Fat 20g 31% Saturated Fat 3g 15% Polyunsaturated Fat 0.5g Monounsaturated Fat 4g Cholesterol 12mg 4% Sodium 169mg 7% Potassium 105mg 3% Total Carbohydrates 8g 3% Dietary Fiber 3g 12% Sugars 2g Protein 4g 8% Vitamin A 29% Vitamin C 38% Calcium 4% Iron 11% * Percent Daily Values are based on a 2000 calorie diet.
Read more