---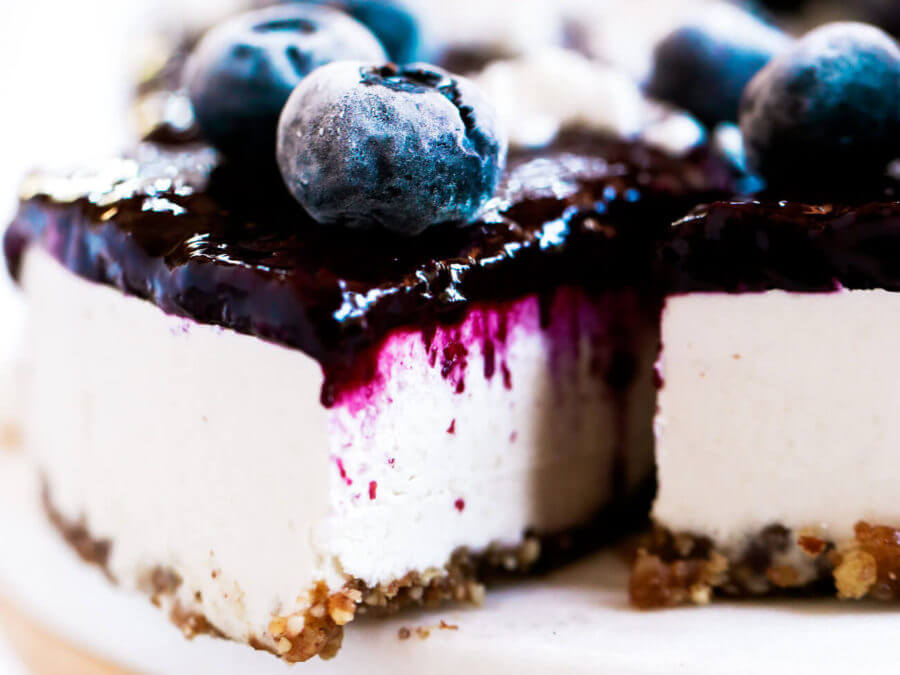 Healthy paleo yogurt cheesecake recipe. Incredibly creamy and satisfying! Filled with a tangy and sweet creamy yogurt filling and topped off with fresh blueberry compote. Vegan, gluten free, and dairy free!

Print Recipe Vegan Blueberry Yogurt Cheesecake Healthy paleo yogurt cheesecake recipe. Incredibly creamy and satisfying! Filled with a tangy and sweet creamy yogurt filling and topped off with fresh blueberry compote. Vegan, gluten free, and dairy free! Ingredients Filling Dessert Votes: 10
Rating: 2.5
You: Rate this recipe! Info Cook Time 20 minutes Prep Time 15 minutes Servings servings MetricUS Imperial Course Dessert Votes: 10
Rating: 2.5
You: Rate this recipe! Ingredients Filling
In a food processor blend the ingredients for the crust until the texture is minced and sticks together when you press some of the dough between your fingers.
Line the bottom of a 6" round spring form cake pan with parchment paper, then press the crust dough into it.
For the filling, blend the cashews and coconut oil together until smooth then add the rest of the ingredients for the filling and blend for a few minutes (about 5) until completely smooth!
Pour the filling over the crust and chill in the freezer while you prepare the blueberry compote.
In a small saucepan add all the ingredeints for the blueberry compete and stir. Let the mixture reduce over medium/low heat for about 20 minutes until the berries are soft and the "shells" flake off. Then blend the mixture with a hand blender and pour over the cashew filling. Freeze for 2 or more hours until the cheesecake is solid and ready for serving.
Optional: top with fresh blueberries.
Nutrition Facts Vegan Blueberry Yogurt Cheesecake Amount Per Serving Calories 340 Calories from Fat 225 % Daily Value* Total Fat 25g 38% Saturated Fat 8g 40% Polyunsaturated Fat 4g Monounsaturated Fat 11g Sodium 4mg 0% Potassium 53mg 2% Total Carbohydrates 27g 9% Dietary Fiber 3g 12% Sugars 18g Protein 6g 12% Vitamin A 0.3% Vitamin C 4% Calcium 6% Iron 11% * Percent Daily Values are based on a 2000 calorie diet.
Read more