---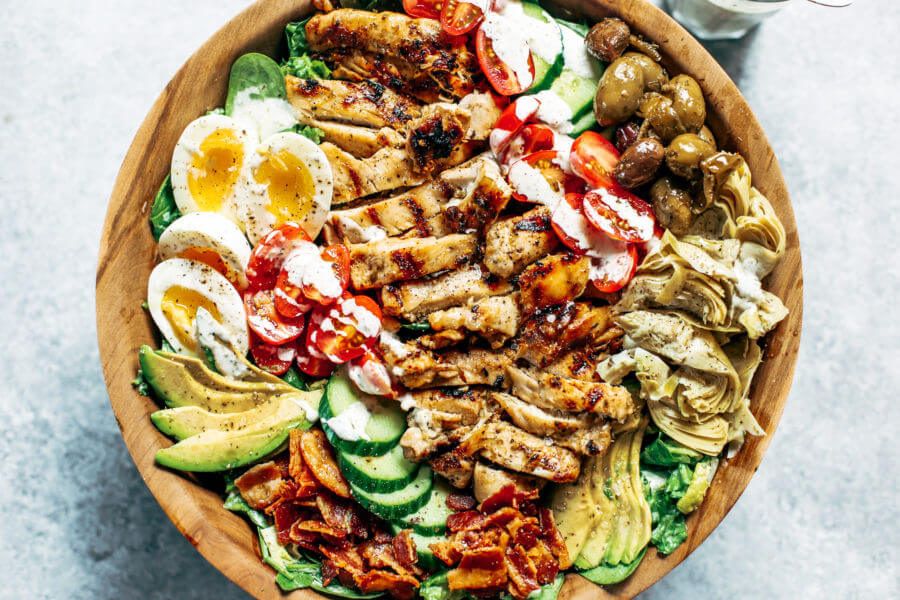 Fresh and easy Caesar Cobb salad. Made with grilled chicken, avocado, bacon, all the toppings, and creamy Caesar dressing! A fast whole30 and paleo family dinner recipe for meal prep. 

Print Recipe Paleo Grilled Chicken Caesar Cobb Salad Fresh and easy Caesar Cobb salad. Made with grilled chicken, avocado, bacon, all the toppings, and creamy Caesar dressing! A fast whole30 and paleo family dinner recipe for meal prep.  Ingredients Chicken Main Dish Votes: 72
Rating: 3.67
You: Rate this recipe! Recipe Notes

How to make soft boiled eggs: bring a saucepan with water to a boil. Add eggs and cook for 7 minutes (9-10 minutes for hard boiled), then transfer to an ice bath and cool before peeling.

Info Cook Time 20 minutes Prep Time 30 minutes Servings servings MetricUS Imperial Course Main Dish Votes: 72
Rating: 3.67
You: Rate this recipe! Recipe Notes

How to make soft boiled eggs: bring a saucepan with water to a boil. Add eggs and cook for 7 minutes (9-10 minutes for hard boiled), then transfer to an ice bath and cool before peeling.

Ingredients Chicken
Rub chicken thighs with seasonings and olive oil. Grill over medium heat on a cast iron grill pan lightly greased with olive oil. Grill about 10 minutes on each side until cooked (there should be no pink in the chicken when you cut it in the middle). Then set aside and let it rest before cutting into strips.
Blend ingredients for dressing in a food processor or blender until smooth.
Prepare vegetables and toppings, then layer everything into a large bowl, toss with dressing, and serve!
Nutrition Facts Paleo Grilled Chicken Caesar Cobb Salad Amount Per Serving Calories 588 Calories from Fat 378 % Daily Value* Total Fat 42g 65% Saturated Fat 11g 55% Polyunsaturated Fat 9g Monounsaturated Fat 14g Cholesterol 307mg 102% Sodium 1519mg 63% Potassium 1049mg 30% Total Carbohydrates 17g 6% Dietary Fiber 8g 32% Sugars 3g Protein 38g 76% Vitamin A 102% Vitamin C 60% Calcium 23% Iron 33% * Percent Daily Values are based on a 2000 calorie diet.
Read more