---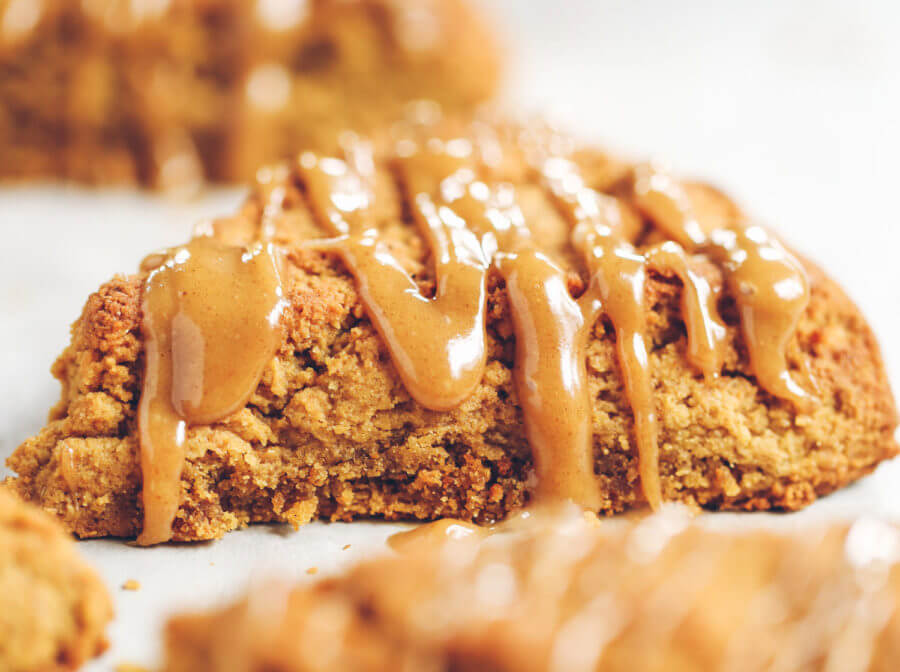 Easy gluten free, paleo pumpkin spice scones with a yummy refined sugar free glaze. A warm and comforting grain free treat for cosy fall mornings. This paleo grain free pumpkin scone recipe is a family favorite. If you love scones as much as I do, then today is gonna be a good day for you!

Print Recipe Gluten Free Paleo Pumpkin Scones And Maple Glaze Easy gluten free, paleo pumpkin spice scones with a yummy refined sugar free glaze. A warm and comforting grain free treat for cosy fall mornings. Ingredients Scones Main Dish Votes: 0
Rating: 0
You: Rate this recipe! Info Cook Time 35 minutes Prep Time 10 minutes Servings scones MetricUS Imperial Course Main Dish Votes: 0
Rating: 0
You: Rate this recipe! Ingredients Scones
Preheat oven to 375F.
In a large mixing bowl or KitchenAid stand mixer (which I prefer) incorporate the flour, coconut sugar, shortening, and spices. Then add the rest of the ingredients and combine.
Line a baking tray with parchment paper. Pour the dough onto the baking tray and form into a round ball, press down to form a 2" high round loaf. Cut into 8 slices and bake on 375F for 35 minutes until golden brown.
Prepare the maple glaze by blending the ingredients together in a food processor (or by hand in a small bowl) and drizzle over the baked scones.
Nutrition Facts Gluten Free Paleo Pumpkin Scones And Maple Glaze Amount Per Serving Calories 464 Calories from Fat 234 % Daily Value* Total Fat 26g 40% Saturated Fat 4g 20% Polyunsaturated Fat 1g Monounsaturated Fat 0.3g Sodium 493mg 21% Potassium 47mg 1% Total Carbohydrates 51g 17% Dietary Fiber 14g 56% Sugars 18g Protein 13g 26% Vitamin A 45% Vitamin C 1% Calcium 28% Iron 15% * Percent Daily Values are based on a 2000 calorie diet.
Read more