---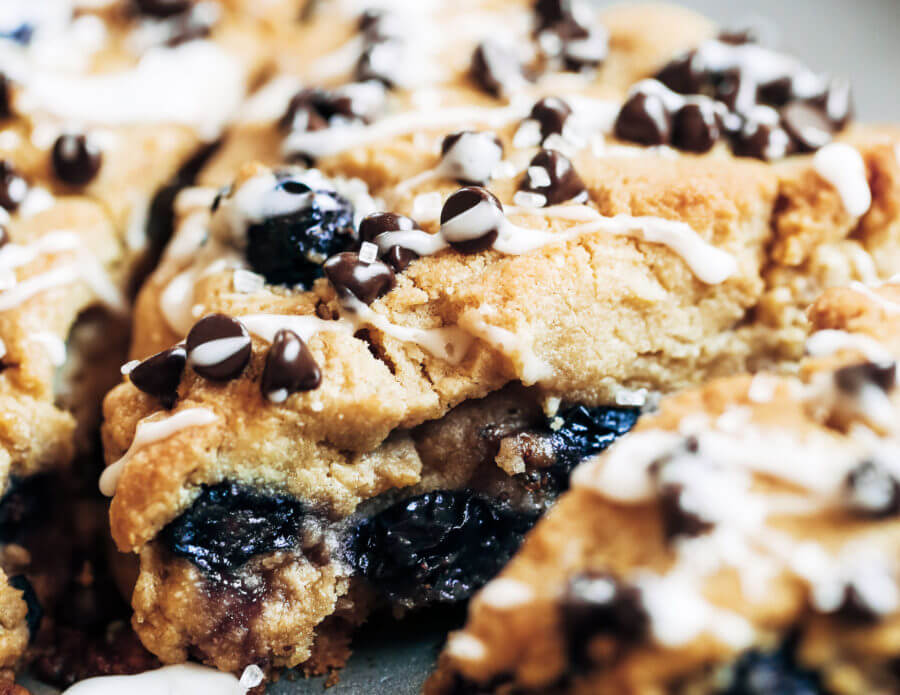 Easy paleo gluten free breakfast scones with blueberries, lemon zest, and chocolate chips. Healthy almond flour paleo scone recipe. An easy paleo breakfast on the go!

Print Recipe Blueberry Chocolate Paleo Breakfast Scones Easy paleo gluten free breakfast scones with blueberries, lemon zest, and chocolate chips. Healthy almond flour paleo scone recipe. An easy paleo breakfast on the go! Ingredients Info Cook Time 30 minutes Prep Time 10 minutes Servings scones MetricUS Imperial Course Dessert Votes: 2
Rating: 5
You: Rate this recipe! Info Cook Time 30 minutes Prep Time 10 minutes Servings scones MetricUS Imperial Course Dessert Votes: 2
Rating: 5
You: Rate this recipe! Ingredients Instructions
Preheat oven to 375F.
In a food processor (or by hand) combine ingredients for scones (except blueberries and chocolate chips). Then stir in chocolate chips and blueberries by hand.
Press dough into a circle- 1 1/2" high. Cut into 8 scones. Bake on 375F for 30 minutes.
Nutrition Facts Blueberry Chocolate Paleo Breakfast Scones Amount Per Serving Calories 496 Calories from Fat 360 % Daily Value* Total Fat 40g 62% Saturated Fat 14g 70% Polyunsaturated Fat 1g Monounsaturated Fat 3g Cholesterol 23mg 8% Sodium 207mg 9% Potassium 80mg 2% Total Carbohydrates 29g 10% Dietary Fiber 6g 24% Sugars 11g Protein 11g 22% Vitamin A 60% Vitamin C 15% Calcium 14% Iron 11% * Percent Daily Values are based on a 2000 calorie diet.
Read more