---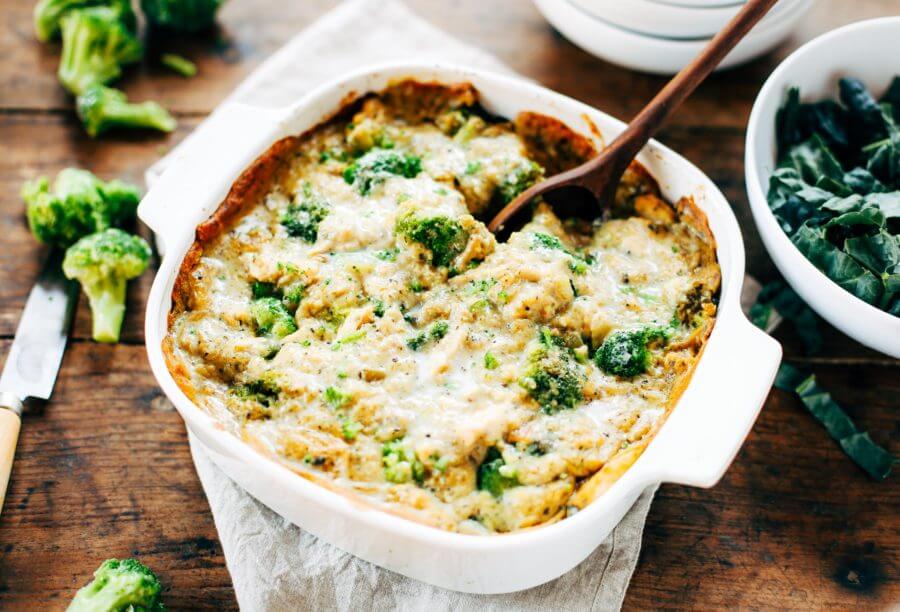 Meet your dinner plans. 🙂 Creamy whole30 chicken, broccoli, cauliflower rice casserole. Your family is going to love this warm and comforting casserole! Kid proof and stuffed with three veggies, topped with the best herb cream sauce.

Print Recipe Chicken Broccoli Cauliflower Rice Casserole Meet your dinner plans. 🙂 Creamy whole30 chicken, broccoli, cauliflower rice casserole. Your family is going to love this warm and comforting casserole! Kid proof and stuffed with three veggies, topped with the best herb cream sauce. Ingredients Casserole Main Dish Votes: 121
Rating: 3.71
You: Rate this recipe! Info Cook Time 45 minutes Prep Time 15 minutes Servings servings (or 4 large servings) MetricUS Imperial Course Main Dish Votes: 121
Rating: 3.71
You: Rate this recipe! Ingredients Casserole
Preheat oven to 400F. Generously grease a 9" by 9" casserole pan with avocado oil (or olive oil).
layer in the cauliflower rice, broccoli, chicken, and green chiles into the pan.
In a medium sauce pan whisk together all the sauce ingredients, except the egg and tapioca flour. Bring to a boil, then reduce to a simmer.
In a cup, whisk the egg and pour into the sauce while stirring continuously. The sauce will begin to thicken, continue to stir to avoid clumping.
Next whisk in the tapioca flour and continue to simmer and whisk for about 1 minute until the sauce thickens and all the clumps are beaten out. Be careful to take it off the heat as soon as it starts to thicken, otherwise it will become too thick. Then pour the sauce over the casserole and bake on 400F for 45 minutes until the edges are browned.
Nutrition Facts Chicken Broccoli Cauliflower Rice Casserole Amount Per Serving Calories 455 Calories from Fat 189 % Daily Value* Total Fat 21g 32% Saturated Fat 14g 70% Polyunsaturated Fat 1g Monounsaturated Fat 3g Cholesterol 96mg 32% Sodium 894mg 37% Potassium 348mg 10% Total Carbohydrates 27g 9% Dietary Fiber 8g 32% Sugars 7g Protein 36g 72% Vitamin A 71% Vitamin C 244% Calcium 11% Iron 23% * Percent Daily Values are based on a 2000 calorie diet.
Read more