---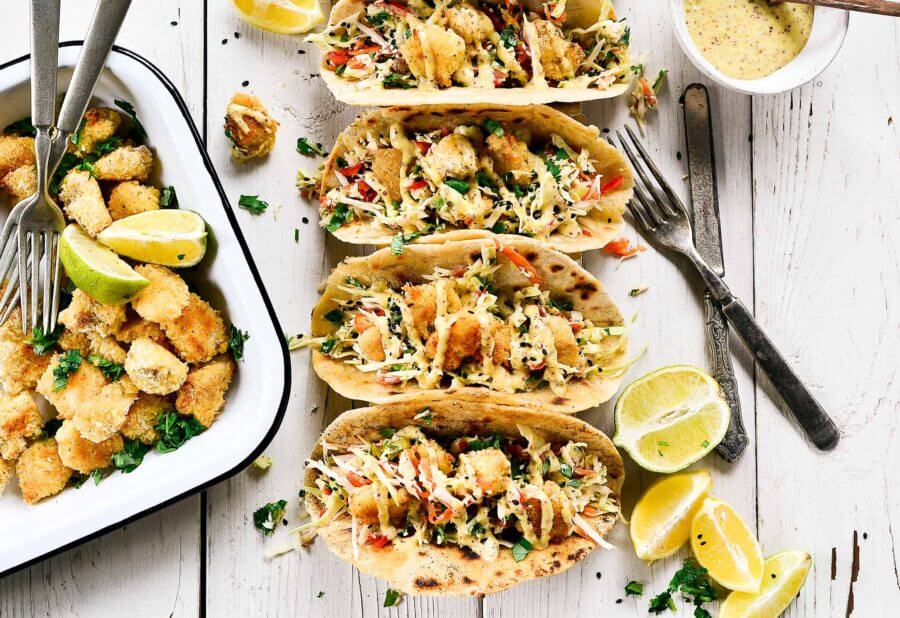 Delicious paleo tacos stuffed with melt in your mouth slaw, crispy baked coconut fish nuggets, and golden honey mustard sauce. A light and easy gluten free summer meal.

Print Recipe Paleo Coconut Crusted Fish Tacos With Honey Mustard Sauce Delicious paleo tacos stuffed with melt in your mouth slaw, crispy baked coconut fish nuggets, and golden honey mustard sauce. A light and easy gluten free summer meal. Ingredients Paleo Tortillas Main Dish Votes: 0
Rating: 0
You: Rate this recipe! Info Cook Time 20 minutes Prep Time 30 minutes Servings tacos MetricUS Imperial Course Main Dish Votes: 0
Rating: 0
You: Rate this recipe! Ingredients Paleo Tortillas
Preheat oven to 400F. Line a baking tray with parchment paper.
Cut the cod into 1 inch cubes. Toss the cod pieces in 1 beaten egg.
Combine the coconut shreds, coconut flour, arrowroot flour, paprika, and sea salt in a shallow bowl.
Roll the egg covered cod in the coconut breading mixture.
Place the coated fish nuggets onto the baking tray, drizzle with 2 tablespoons olive oil, and bake on 400F for 10 minutes then rotate the nuggets to ensure even cooking. Then cook for another 10 minutes until crispy.
Paleo Tortillas
Prepare homemade paleo tortilla recipe.
Honey Mustard Sauce
Puree all the ingredients for the sauce in a food processor or blender until smooth. Then pour into a jar or dressing bottle.
Slaw
Toss all the ingredients for the slaw together in a large mixing bowl, dress with some of the honey mustard sauce, and set aside.
Assemble the tacos by layering slaw, fish nuggets, and sauce.
Nutrition Facts Paleo Coconut Crusted Fish Tacos With Honey Mustard Sauce Amount Per Serving Calories 319 Calories from Fat 207 % Daily Value* Total Fat 23g 35% Saturated Fat 13g 65% Polyunsaturated Fat 4g Monounsaturated Fat 4g Cholesterol 34mg 11% Sodium 517mg 22% Potassium 41mg 1% Total Carbohydrates 21g 7% Dietary Fiber 6g 24% Sugars 6g Protein 10g 20% Vitamin A 18% Vitamin C 40% Calcium 2% Iron 7% * Percent Daily Values are based on a 2000 calorie diet.
Read more