Paleo Coconut Crusted Fish Tacos With Honey Mustard Sauce
---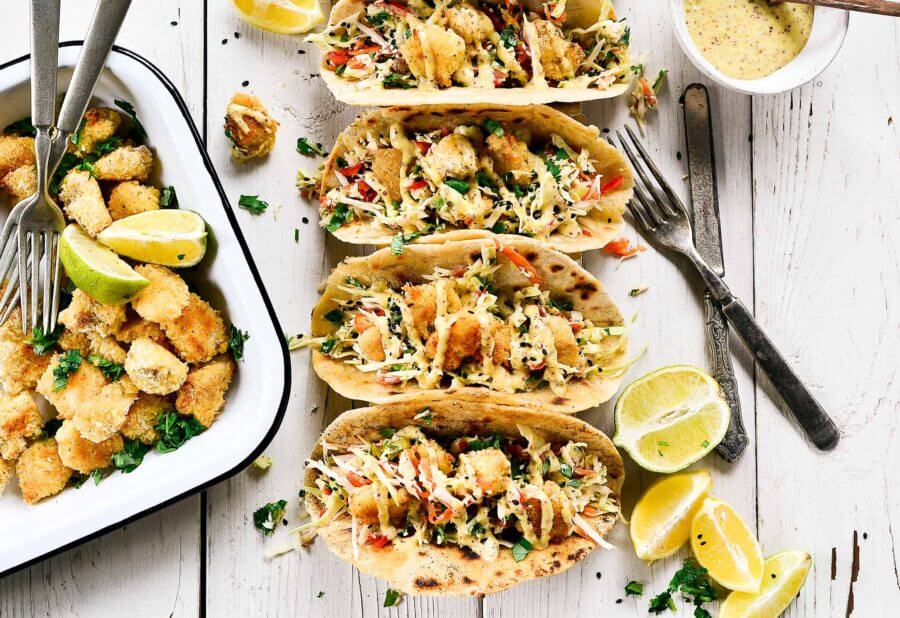 Delicious paleo tacos stuffed with melt in your mouth slaw, crispy baked coconut fish nuggets, and golden honey mustard sauce. A light and easy gluten free summer meal.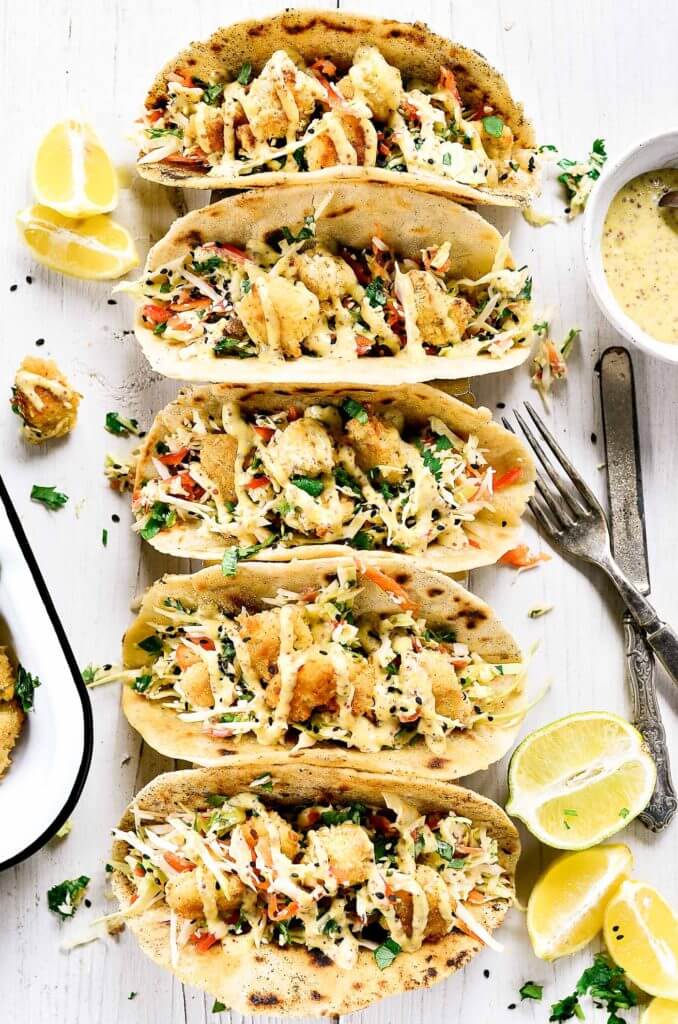 Get a load of these babies! I could eat these all Sunday long! Since it was Father's Day today, I woke up and headed straight to the kitchen (of course) to make TACOOOOOS!
These beautiful tacos are stuffed with crispy baked golden nuggets of coconut crusted cod, a finely julienned slaw that melts in your mouth, and topped off with a gorgeous golden honey mustard sauce! All of that goodness is wrapped up in my favorite homemade paleo cassava flour tortillas. Bomb.
These tacos are 100% gluten free, grain free and paleo! *Pro tip: you can make the slaw, fish nuggets, and tortilla batter up ahead of time (over night) if you want. Then when it's time to feast, just pull out that tortilla batter, cook 'em up, and fill those tacos!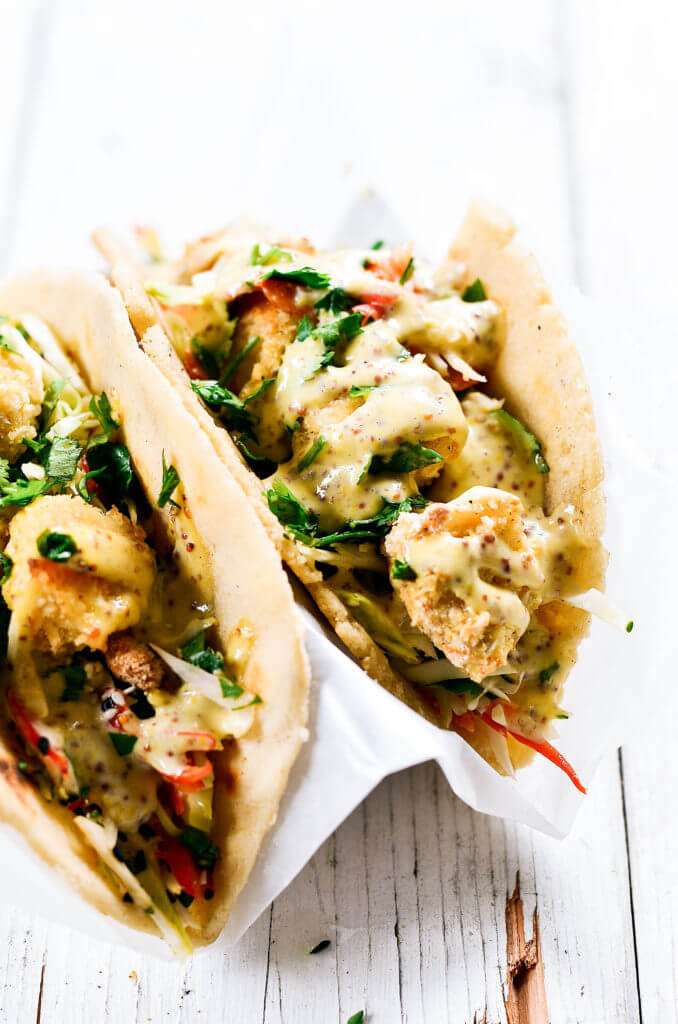 Keep your tacos lookin rad!
Secret time: to keep your tacos looking pretty, fresh, and upright when serving them, use these metal taco holders! They will stay upright and BEAUTIFUL all day long (but, of course, these tacos will disappear faster than that!). It's my latest joy in life; ya know, taco holders.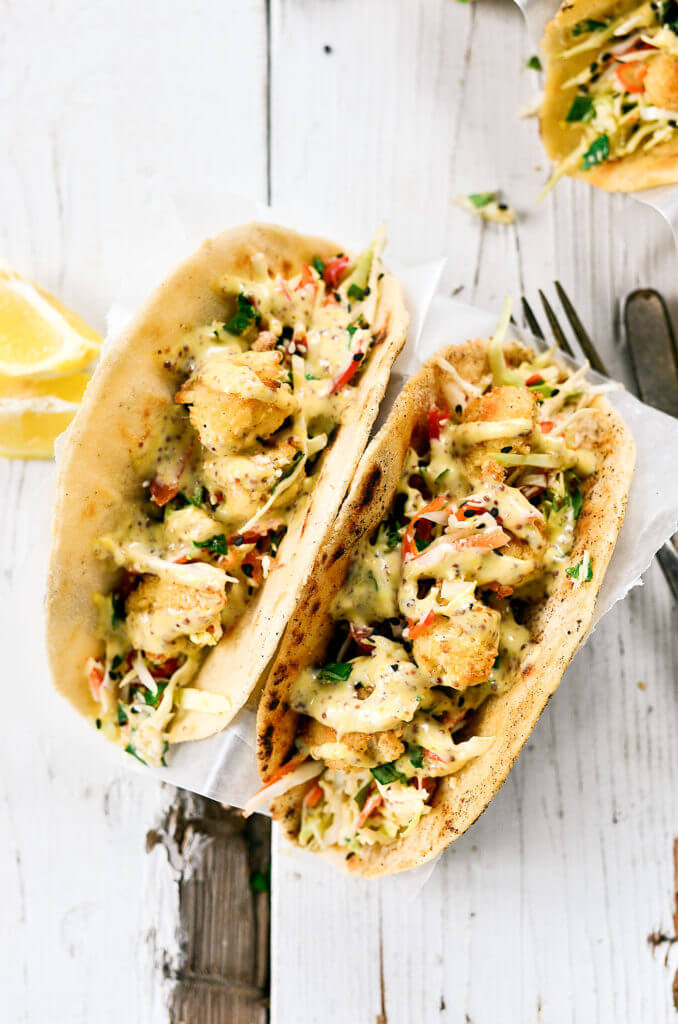 Ready for three favorite things from this weekend?
1. This weekend meant garage sales! So, in true food blogger fashion I stuffed my jean pockets with a few pennies and weaved my way through blocks and blocks of garage sales in hunt for the perfect props (this way it saves me like a gazillion $$$)! I walked away from my little excursion with one rustic frying pan, and I made my way back to the car walking through the streets Tangled style… my frying pan swinging on my hand. It was a good day. 🙂
2. Spontaneous dances in the kitchen rocking out to Kokomo. Nothing like letting all those good vibes out! Swing those arms!
3. This beautiful enamel roaster pan makes my life happy. Serving dinner in one pan just seems so much more doable. So, it's kinda nice to have something pretty to put it in! I just ordered mine here from Amazon. And then, once I got it, I bought three other assorted enamel pans, because I just couldn't resist. It's a good excuse for work; prop shopping.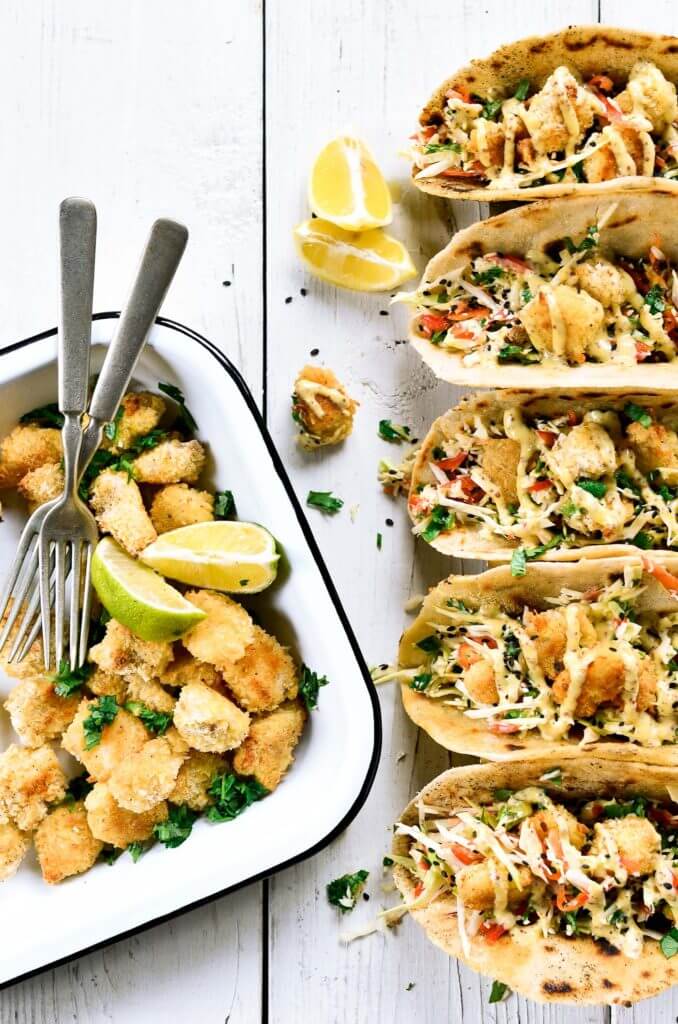 Preheat oven to 400F. Line a baking tray with parchment paper.

Cut the cod into 1 inch cubes. Toss the cod pieces in 1 beaten egg.

Combine the coconut shreds, coconut flour, arrowroot flour, paprika, and sea salt in a shallow bowl.

Roll the egg covered cod in the coconut breading mixture.

Place the coated fish nuggets onto the baking tray, drizzle with 2 tablespoons olive oil, and bake on 400F for 10 minutes then rotate the nuggets to ensure even cooking. Then cook for another 10 minutes until crispy.
Prepare homemade paleo tortilla recipe.
Puree all the ingredients for the sauce in a food processor or blender until smooth. Then pour into a jar or dressing bottle.
Toss all the ingredients for the slaw together in a large mixing bowl, dress with some of the honey mustard sauce, and set aside.

Assemble the tacos by layering slaw, fish nuggets, and sauce.
Nutrition Facts

Paleo Coconut Crusted Fish Tacos With Honey Mustard Sauce

Amount Per Serving

Calories 319

Calories from Fat 207

% Daily Value*

Total Fat 23g 35%

Cholesterol 34mg 11%

Sodium 517mg 22%

Potassium 41mg 1%

Total Carbohydrates 21g 7%

Protein 10g 20%

* Percent Daily Values are based on a 2000 calorie diet.