---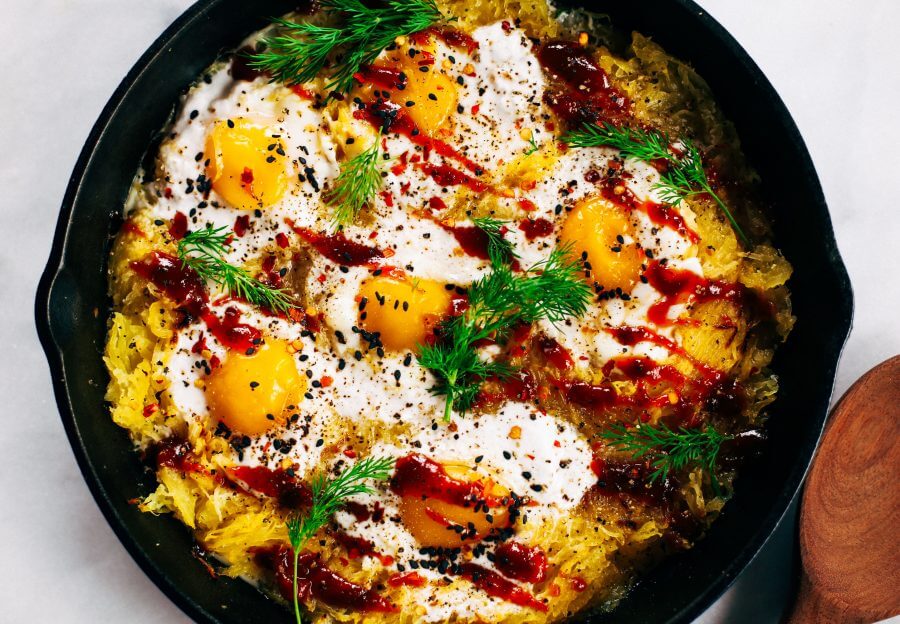 Ready for this whole30 spicy spaghetti squash egg skillet for breakfast? This easy filling breakfast skillet recipe is paleo, gluten free, and dairy free. Perfect for chilly winter mornings and whole30 meal prep!

Print Recipe Spicy Spaghetti Squash Egg Skillet Ready for this whole30 spicy spaghetti squash egg skillet for breakfast? This easy filling breakfast skillet recipe is paleo, gluten free, and dairy free. Perfect for chilly winter mornings and whole30 meal prep! Ingredients Base Main Dish Votes: 4
Rating: 4.25
You: Rate this recipe! Recipe Notes

How to cook spaghetti squash: cut squash in half lengthwise and lay face down on a baking tray with 1/2" water. Bake on 350F for 40 minutes (longer for softer noodles). Once cooked, use a large fork and scrape meat out for "noodles".

Info Cook Time 50 minutes Prep Time 10 minutes Servings servings MetricUS Imperial Course Main Dish Votes: 4
Rating: 4.25
You: Rate this recipe! Recipe Notes

How to cook spaghetti squash: cut squash in half lengthwise and lay face down on a baking tray with 1/2" water. Bake on 350F for 40 minutes (longer for softer noodles). Once cooked, use a large fork and scrape meat out for "noodles".

Ingredients Base
Lightly drizzle a cast iron with olive oil. Layer cooked spaghetti squash noodles in skillet. Hollow out six holes in the spaghetti squash for the eggs.
Crack eggs into the holes in the squash and broil for 5-10 minutes until eggs reach desired consistency.
Top skillet with fresh dill, hot sauce, sesame seeds, and coconut milk (optional), and salt and pepper to taste.
Nutrition Facts Spicy Spaghetti Squash Egg Skillet Amount Per Serving Calories 226 Calories from Fat 126 % Daily Value* Total Fat 14g 22% Saturated Fat 3g 15% Polyunsaturated Fat 3g Monounsaturated Fat 6g Cholesterol 279mg 93% Sodium 621mg 26% Potassium 430mg 12% Total Carbohydrates 17g 6% Dietary Fiber 4g 16% Sugars 7g Protein 10g 20% Vitamin A 28% Vitamin C 24% Calcium 9% Iron 13% * Percent Daily Values are based on a 2000 calorie diet.
Read more