---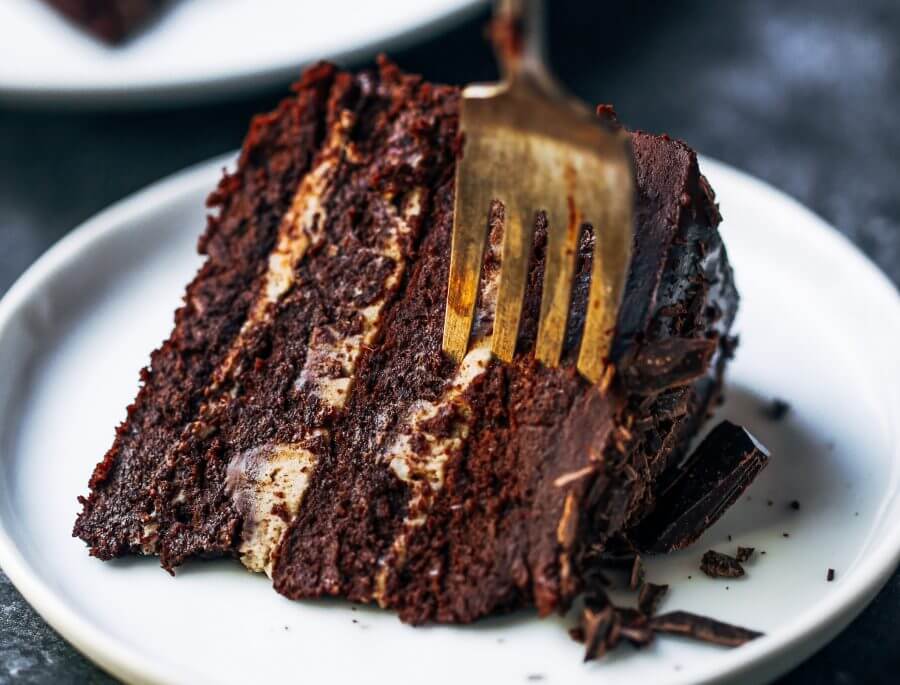 Fudgey paleo chocolate cake made without flour! This low calorie chocolate cake is decadent and frosted with 2 ingredient chocolate frosting. So good! You have to try this paleo gluten free cake for birthdays, celebrations, and dessert time!

Print Recipe Fudgey Paleo Chocolate Cake Fudgey paleo chocolate cake made without flour! This low calorie chocolate cake is decadent and frosted with 2 ingredient chocolate frosting. So good! You have to try this paleo gluten free cake for birthdays, celebrations, and dessert time! Ingredients Cake Dessert Votes: 27
Rating: 3.78
You: Rate this recipe! Recipe Notes

Frosting: This is the coconut oil salted caramel frosting I used in the middle layer of this cake. You can get it here. You can also use the chocolate frosting I used on the outside (see recipe for how to make) or any other frosting you love!

Info Cook Time 18 minutes Prep Time 15 minutes Servings small slices MetricUS Imperial Course Dessert Votes: 27
Rating: 3.78
You: Rate this recipe! Recipe Notes

Frosting: This is the coconut oil salted caramel frosting I used in the middle layer of this cake. You can get it here. You can also use the chocolate frosting I used on the outside (see recipe for how to make) or any other frosting you love!

Ingredients Cake
Preheat oven to 350F. Line the bottom of four spring form cake pans with a cut out circle of parchment paper (6 inch pans). Lightly grease the edges of the pans with coconut oil.
In a food processor (or by hand) combine all ingredients for the cake batter (except chocolate chips) until smooth then stir in chocolate chips (optional).
Divide batter equally between the four cake pans and bake on 350F for 18 minutes, then remove and cool on a cooking rack until room temperature (you can pop them into the freezer to speed up the cooling process).
In a double boiler, melt ingredients for frosting over a low simmer until the chocolate has just melted, then remove it from the double boiler; you don't want to overcook the chocolate- remove it as soon as the chocolate melts! Whip the frosting with a spatula until smooth then chill in fridge for 5-10 minutes (stirring every few minutes) until the frosting reaches frosting consistency. Note: If the frosting becomes too thick, you can melt it slightly with a hair dryer and whip it again.
Layer the chocolate cake on a cake stand, filling each layer with either: chocolate frosting or coconut oil caramel frosting- that's what I did this time, see notes for the one I used. Frost the outside of the cake with chocolate frosting. Optional: top with shaved chocolate.
Nutrition Facts Fudgey Paleo Chocolate Cake Amount Per Serving Calories 199 Calories from Fat 90 % Daily Value* Total Fat 10g 15% Saturated Fat 4g 20% Polyunsaturated Fat 0.4g Monounsaturated Fat 0.2g Cholesterol 21mg 7% Sodium 96mg 4% Potassium 119mg 3% Total Carbohydrates 27g 9% Dietary Fiber 4g 16% Sugars 19g Protein 5g 10% Vitamin A 0.4% Calcium 3% Iron 9% * Percent Daily Values are based on a 2000 calorie diet.
Read more