---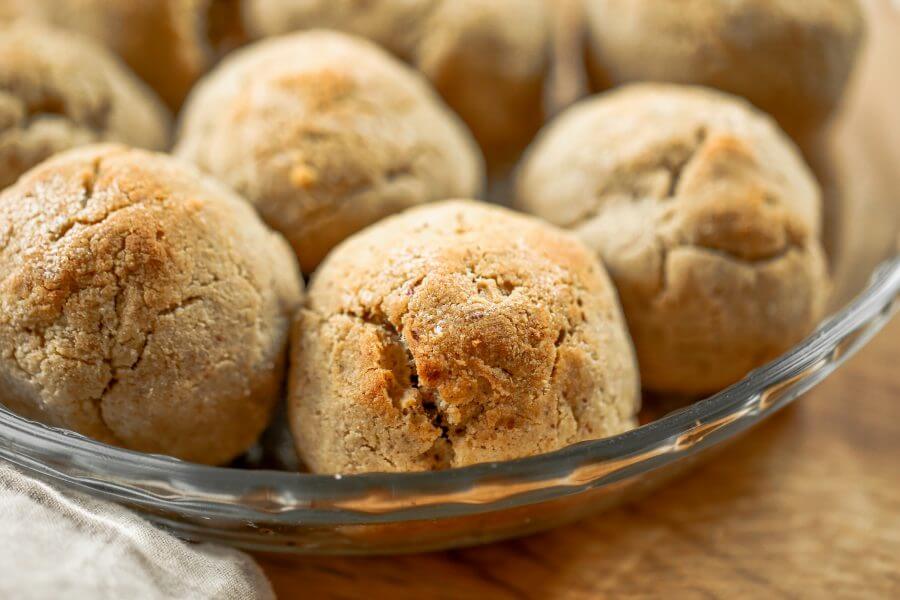 Homemade dinner rolls made with almond flour. These healthier paleo bread rolls are so easy to make and have no yeast! It's an easy gluten free bread recipe that the whole family will love. Perfect for serving with soup for dinner or with eggs for breakfast. 

Print Recipe Paleo Dinner Rolls Homemade dinner rolls made with almond flour. These healthier paleo bread rolls are so easy to make and have no yeast! It's an easy gluten free bread recipe that the whole family will love. Perfect for serving with soup for dinner or with eggs for breakfast.  Ingredients Info Cook Time 25 minutes Prep Time 10 minutes Servings rolls MetricUS Imperial Course Bread Votes: 11
Rating: 3.91
You: Rate this recipe! Info Cook Time 25 minutes Prep Time 10 minutes Servings rolls MetricUS Imperial Course Bread Votes: 11
Rating: 3.91
You: Rate this recipe! Ingredients Instructions
Preheat oven to 375F. Grease a 8" pie pan with coconut oil.
In a bowl combine all ingredients for dinner rolls until the dough is smooth.
Separate dough into 10 equal balls, then shape into dinner rolls in the palms of your hands.
Set in baking dish and brush with butter or egg wash. Bake on 375F for 25 minutes until golden on top.
Nutrition Facts Paleo Dinner Rolls Amount Per Serving Calories 286 Calories from Fat 198 % Daily Value* Total Fat 22g 34% Saturated Fat 7g 35% Polyunsaturated Fat 0.2g Monounsaturated Fat 1g Cholesterol 74mg 25% Sodium 599mg 25% Potassium 24mg 1% Total Carbohydrates 18g 6% Dietary Fiber 12g 48% Sugars 2g Protein 8g 16% Vitamin A 2% Calcium 20% Iron 8% * Percent Daily Values are based on a 2000 calorie diet.
Read more