---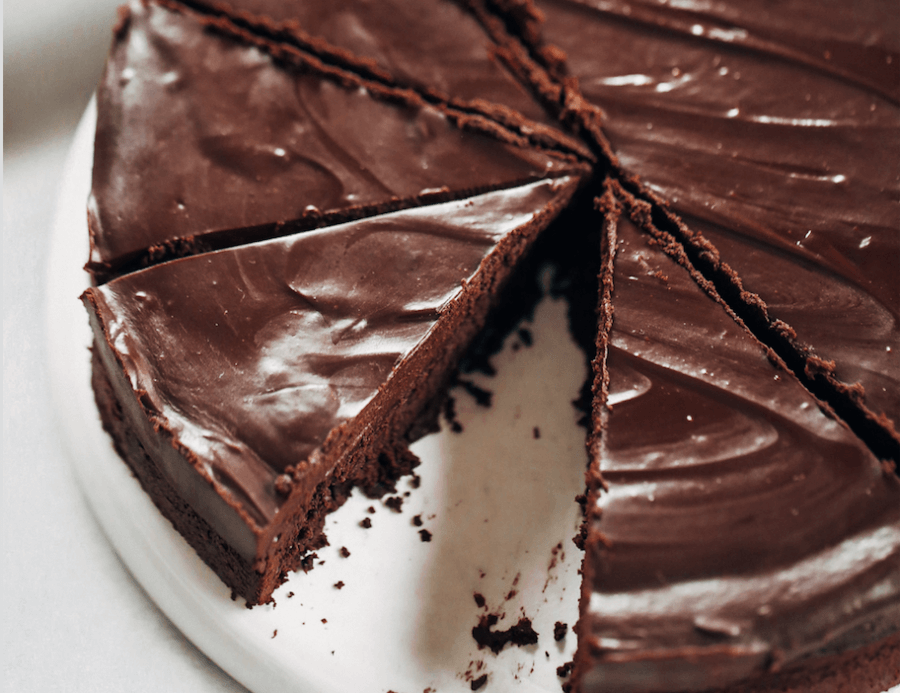 Flourless chocolate cake recipe. Paleo and dairy free fudgey chocolate cake with a thick layer of chocolate frosting. This easy chocolate cake will win hearts over and make you go back for seconds.

Print Recipe Flourless Chocolate Cake Recipe Flourless chocolate cake recipe. Paleo and dairy free fudgey chocolate cake with a thick layer of chocolate frosting. This easy chocolate cake will win hearts over and make you go back for seconds. Ingredients Cake Dessert Votes: 48
Rating: 3.58
You: Rate this recipe! Info Cook Time 30 minutes Prep Time 10 minutes Servings servings MetricUS Imperial Course Dessert Votes: 48
Rating: 3.58
You: Rate this recipe! Ingredients Cake
Preheat oven to 375F. Line the bottom of an 8" spring form cake pan with parchment paper.
In a saucepan, melt butter (or coconut oil) over medium heat then add chocolate chips, remove from heat, and stir until completely smooth.
Add rest of ingredients for cake and whisk until smooth.
Pour batter into the cake pan and bake on 375F for 30 minutes, then cool.
For the frosting, heat coconut milk over medium heat. Once simmering, remove from heat, add chocolate chips, and stir until melted and combined. Whisk until completely smooth, then pour over the cake and chill until it reaches desired consistency (about 1-2 hours in the freezer).
Nutrition Facts Flourless Chocolate Cake Recipe Amount Per Serving Calories 383 Calories from Fat 198 % Daily Value* Total Fat 22g 34% Saturated Fat 14g 70% Polyunsaturated Fat 0.4g Monounsaturated Fat 2g Cholesterol 68mg 23% Sodium 99mg 4% Potassium 184mg 5% Total Carbohydrates 46g 15% Dietary Fiber 6g 24% Sugars 33g Protein 7g 14% Vitamin A 6% Calcium 1% Iron 17% * Percent Daily Values are based on a 2000 calorie diet.
Read more