---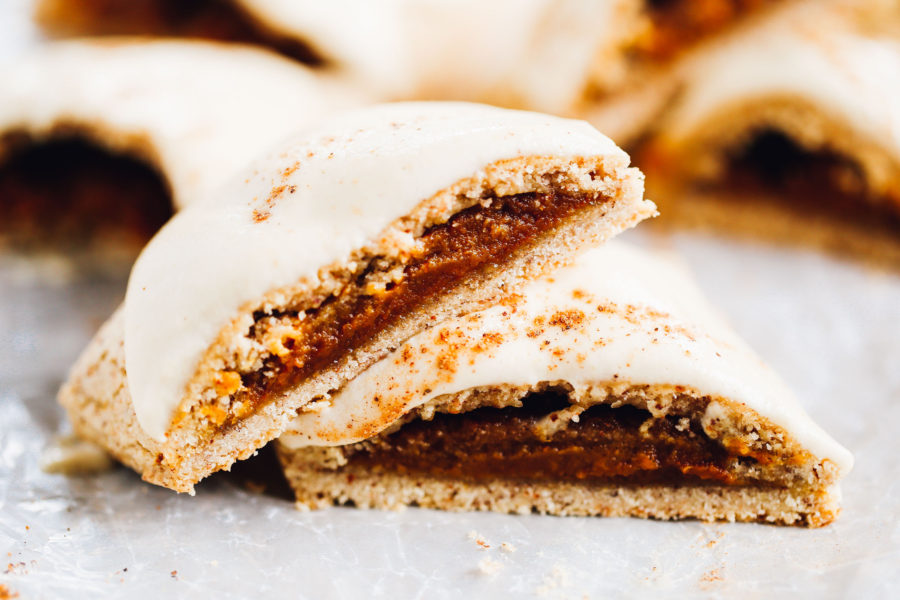 New obsession, healthy grain free pumpkin pop tarts with maple glaze. Cozy up to winter evenings with these naturally sweetened paleo pop tarts, filled with a scrumptious, thick, and smooth spread of pumpkin butter, topped off with a creamy maple glaze. Gluten free, dairy free, and easy to make!

Print Recipe Gluten Free Paleo Pumpkin Pop Tarts New obsession, healthy grain free pumpkin pop tarts with maple glaze. Cozy up to winter evenings with these naturally sweetened paleo pop tarts, filled with a scrumptious, thick, and smooth spread of pumpkin butter, topped off with a creamy maple glaze. Gluten free, dairy free, and easy to make! Ingredients Pumpkin Butter Filling Main Dish, Snack Votes: 0
Rating: 0
You: Rate this recipe! Recipe Notes

For the glaze, top with this recipe.

Info Cook Time 25 minutes Prep Time 15 minutes Servings pop tarts MetricUS Imperial Course Main Dish, Snack Votes: 0
Rating: 0
You: Rate this recipe! Recipe Notes

For the glaze, top with this recipe.

Ingredients Pumpkin Butter Filling
Preheat oven to 350F.
For the pumpkin butter filling, stir all ingredients together in a small sauce pan and bring to a boil. Boil for 1 minute, then turn down to low, and simmer for 20 minutes until thick. Set aside.
For the pastry dough, combine all ingredients together in a bowl and blend until combined. Form the dough into a 1" tall rectangle and roll out in-between two pieces of parchment paper until the dough is 1/4" thick.
Spoon 2 tablespoons pumpkin butter filling 1" apart width wise on the pastry dough- leaving half of the rolled out dough empty of filling (this side will be used to fold over as the top the pop tarts).
Fold over the empty side of pastry dough onto the side with pumpkin filling and cut into four equal pop tarts. Crimp edges before baking. Transfer the parchment paper with pop tarts onto a baking tray and bake on 350°F for 25 minutes until golden. Then top with glaze (see recipe notes for the glaze recipe).
Nutrition Facts Gluten Free Paleo Pumpkin Pop Tarts Amount Per Serving Calories 691 Calories from Fat 288 % Daily Value* Total Fat 32g 49% Saturated Fat 3g 15% Polyunsaturated Fat 0.5g Monounsaturated Fat 1g Cholesterol 47mg 16% Sodium 139mg 6% Potassium 172mg 5% Total Carbohydrates 95g 32% Dietary Fiber 11g 44% Sugars 26g Protein 15g 30% Vitamin A 182% Vitamin C 9% Calcium 22% Iron 28% * Percent Daily Values are based on a 2000 calorie diet.
Read more