---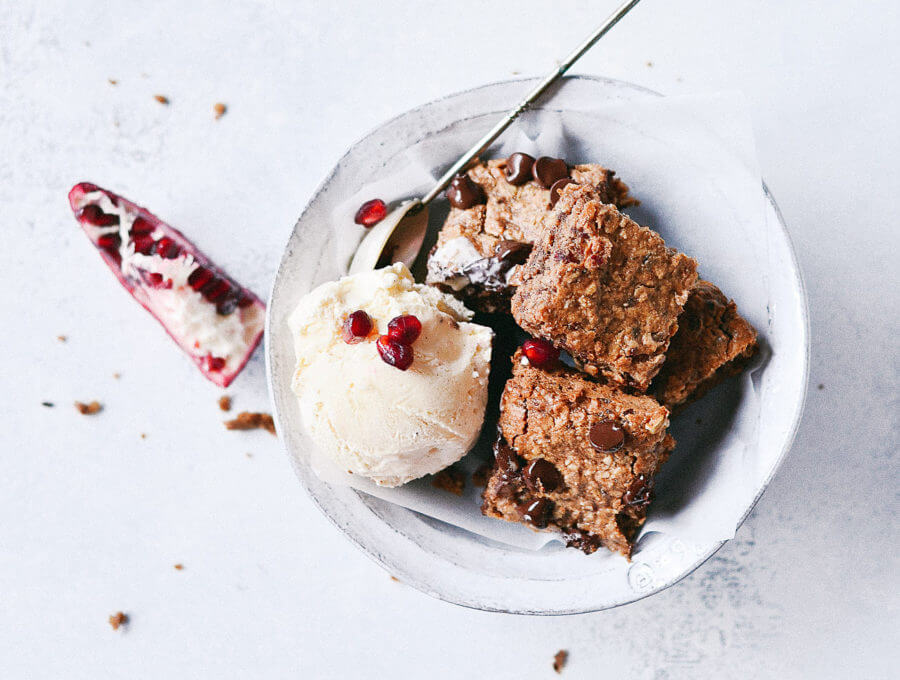 An incredibly easy and kid friendly breakfast cookie. One hundred percent gluten free and dairy free! Made with medjool dates, oatmeal, and almond flour. No refined sugar!

Print Recipe Gluten Free Oatmeal Breakfast Cookies An incredibly easy and kid friendly breakfast cookie. One hundred percent gluten free and dairy free! Made with medjool dates, oatmeal, and almond flour. No refined sugar! Ingredients Info Cook Time 50 minutes Prep Time 10 minutes Servings squares MetricUS Imperial Course Snack Votes: 0
Rating: 0
You: Rate this recipe! Info Cook Time 50 minutes Prep Time 10 minutes Servings squares MetricUS Imperial Course Snack Votes: 0
Rating: 0
You: Rate this recipe! Ingredients Instructions
Preheat oven to 350F. Line a 8" by 8" pyrex baking dish with parchment paper.
In a food processor combine all the ingredients, except the oats and chocolate chips. Blend the ingredients together until the batter is fairy smooth- you still want some chunky date texture. The dough will be really sticky!
Add in the oats and pulse the food processor for 5 seconds.
Spoon the batter into the baking dish and smooth out. Sprinkle chocolate chips on top if you want, or just leave plain.
Bake for 50 minutes on 350F until slightly golden brown.
Nutrition Facts Gluten Free Oatmeal Breakfast Cookies Amount Per Serving Calories 130 Calories from Fat 63 % Daily Value* Total Fat 7g 11% Saturated Fat 3g 15% Polyunsaturated Fat 0.1g Monounsaturated Fat 0.2g Sodium 89mg 4% Potassium 3mg 0% Total Carbohydrates 15g 5% Dietary Fiber 2g 8% Sugars 2g Protein 3g 6% Vitamin A 0.1% Vitamin C 0.1% Calcium 3% Iron 6% * Percent Daily Values are based on a 2000 calorie diet.
Read more