---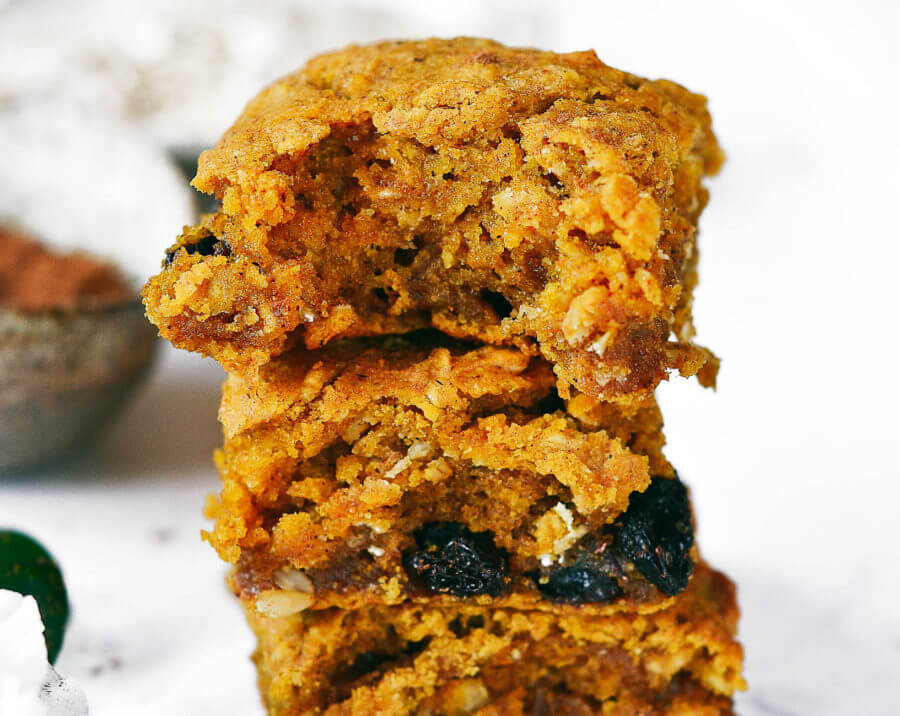 Soft and chewy oatmeal pumpkin bars filled with plump raisins. These gluten free sugar free snack bars can also be called breakfast or dessert;) Only a few ingredients to make up these healthy pumpkin bars!

Print Recipe Healthy Oatmeal Pumpkin Bars Soft and chewy oatmeal pumpkin bars filled with plump raisins. These gluten free sugar free snack bars can also be called breakfast or dessert;) Only a few ingredients to make up these healthy pumpkin bars! Ingredients Info Cook Time 35-40 minutes Prep Time 10 minutes Servings bars MetricUS Imperial Course Snack Votes: 4
Rating: 3.5
You: Rate this recipe! Info Cook Time 35-40 minutes Prep Time 10 minutes Servings bars MetricUS Imperial Course Snack Votes: 4
Rating: 3.5
You: Rate this recipe! Ingredients Instructions
Preheat oven to 400F. Line a 8" by 8" baking dish with parchment paper.
In a bowl combine all the ingredients for the bars (except the raisins). Mix until completely smooth.
Stir the raisins into the batter.
Pour the batter into the baking dish. Bake on 400F for 35-40 minutes until golden brown. You can cook the bars more is you like them less chewy and soft.
Nutrition Facts Healthy Oatmeal Pumpkin Bars Amount Per Serving Calories 280 Calories from Fat 27 % Daily Value* Total Fat 3g 5% Saturated Fat 0.4g 2% Polyunsaturated Fat 0.01g Monounsaturated Fat 0.01g Sodium 2mg 0% Potassium 10mg 0% Total Carbohydrates 56g 19% Dietary Fiber 7g 28% Sugars 6g Protein 7g 14% Vitamin A 82% Vitamin C 2% Calcium 4% Iron 19% * Percent Daily Values are based on a 2000 calorie diet.
Read more