---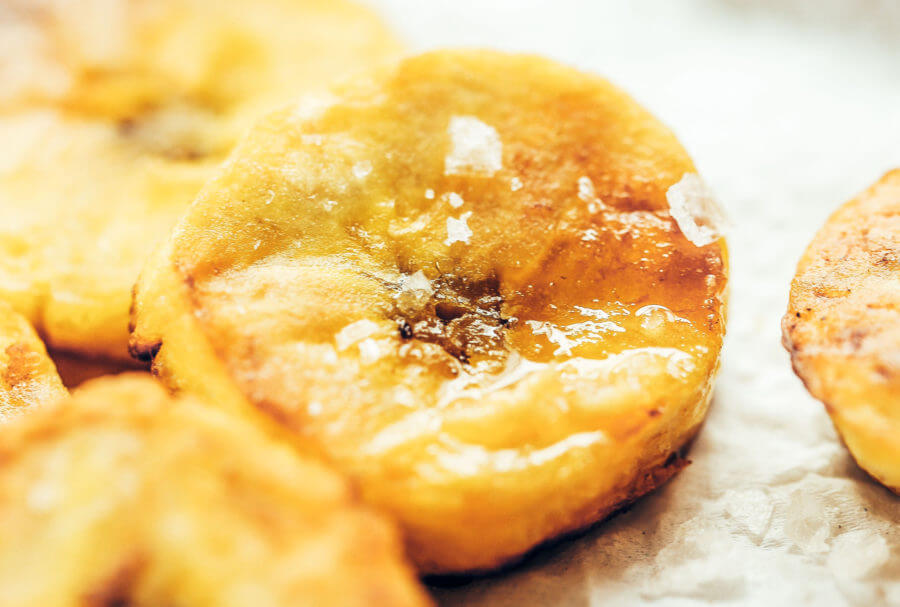 These crispy plantain chips are lightly dazzled with sea salt. Paleo and gluten free, these 10 minute plantain chips are made with only 3 ingredients! Make them sweet or savory. A perfect healthy snack!

Print Recipe How To Make Paleo Plantain Chips These crispy plantain chips are lightly dazzled with sea salt. Paleo and gluten free, these 10 minute plantain chips are made with only 3 ingredients! Make them sweet or savory. A perfect healthy snack! Ingredients Info Cook Time 5 minutes Prep Time 1 minute Servings servings MetricUS Imperial Course Snack Votes: 10
Rating: 3.5
You: Rate this recipe! Info Cook Time 5 minutes Prep Time 1 minute Servings servings MetricUS Imperial Course Snack Votes: 10
Rating: 3.5
You: Rate this recipe! Ingredients Instructions
Slice plantain into thin or 1" rounds- depending on if you want thin crispy chips or thick, crisp on the outside and soft like french fries in the middle chips.
Melt coconut oil in a cast iron skillet over medium heat on stove. Set plantain rounds into the heated oil and cook until golden on each side. Sprinkle with sea salt flakes to taste and serve.
Nutrition Facts How To Make Paleo Plantain Chips Amount Per Serving Calories 172 Calories from Fat 72 % Daily Value* Total Fat 8g 12% Saturated Fat 6g 30% Polyunsaturated Fat 0.1g Monounsaturated Fat 1g Sodium 4mg 0% Potassium 447mg 13% Total Carbohydrates 29g 10% Dietary Fiber 2g 8% Sugars 13g Protein 1g 2% Vitamin A 20% Vitamin C 28% Iron 3% * Percent Daily Values are based on a 2000 calorie diet.
Read more