---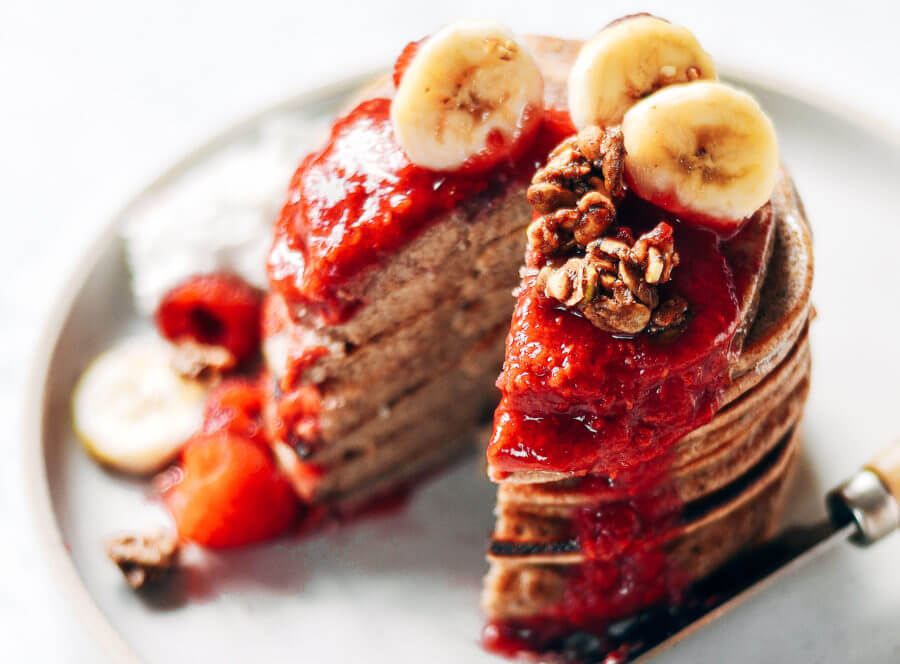 Healthy paleo pancakes- made with three ingredients in the blender! Ready to eat healthy breakfast in five minutes! An easy gluten free pancake recipe.

Print Recipe Healthy 5 Minute Paleo Pancakes Healthy paleo pancakes- made with three ingredients in the blender! Ready to eat healthy breakfast in five minutes! An easy gluten free pancake recipe. Ingredients Info Cook Time 5 minutes Prep Time 2 minutes Servings pancakes MetricUS Imperial Course Main Dish Votes: 15
Rating: 3.4
You: Rate this recipe! Info Cook Time 5 minutes Prep Time 2 minutes Servings pancakes MetricUS Imperial Course Main Dish Votes: 15
Rating: 3.4
You: Rate this recipe! Ingredients Instructions
Add all the ingredients into a blender or food processor. Blend until completely smooth.
Heat your pancake griddle on very love heat (otherwise, the pancakes will burn on the outside and still be raw on the inside).
Pour 1/2 cup batter onto the griddle and cook until lightly browned (it took me two minutes on each side to cook these pancakes).
Nutrition Facts Healthy 5 Minute Paleo Pancakes Amount Per Serving Calories 201 Calories from Fat 126 % Daily Value* Total Fat 14g 22% Saturated Fat 1g 5% Polyunsaturated Fat 0.2g Monounsaturated Fat 0.4g Cholesterol 47mg 16% Sodium 16mg 1% Potassium 120mg 3% Total Carbohydrates 14g 5% Dietary Fiber 4g 16% Sugars 6g Protein 7g 14% Vitamin A 2% Vitamin C 11% Calcium 7% Iron 6% * Percent Daily Values are based on a 2000 calorie diet.
Read more