---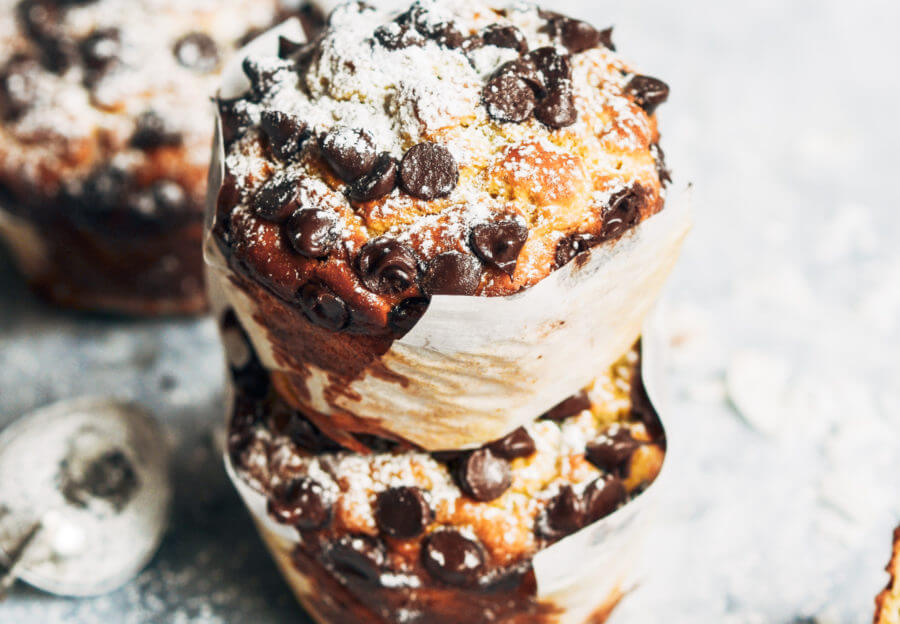 These gluten free, sugar free, and paleo banana muffins take only 5 minutes to whip up! Then it's in the oven and out comes a beautiful, soft, moist MEGA muffin! Super healthy delicious banana muffin recipe sprinkled with chocolate chips.

Print Recipe Gluten Free Paleo 5 Minute Banana Muffins These gluten free, sugar free, and paleo banana muffins take only 5 minutes to whip up! Then it's in the oven and out comes a beautiful, soft, moist MEGA muffin! Super healthy delicious banana muffin recipe sprinkled with chocolate chips. Ingredients Info Cook Time 40 minutes Prep Time 5 minutes Servings regular or 5 large muffins MetricUS Imperial Votes: 67
Rating: 3.45
You: Rate this recipe! Info Cook Time 40 minutes Prep Time 5 minutes Servings regular or 5 large muffins MetricUS Imperial Votes: 67
Rating: 3.45
You: Rate this recipe! Ingredients Instructions
Preheat oven to 350F. Line a large size muffin tin with paper muffin liners. You can also use a regular size muffin tin and it will make around 8 muffins.
Combine all of the ingredients (except the chocolate chips) in a high powered blender or food processor.
Scoop the batter into each muffin cavity. Fill the muffin tin until the batter comes just under the top surface.
Sprinkle about 1 tablespoon of chocolate chips over each muffin (optional).
Bake on 350F for 40 minutes until golden on top.
Nutrition Facts Gluten Free Paleo 5 Minute Banana Muffins Amount Per Serving Calories 490 Calories from Fat 360 % Daily Value* Total Fat 40g 62% Saturated Fat 9g 45% Polyunsaturated Fat 1g Monounsaturated Fat 2g Cholesterol 140mg 47% Sodium 300mg 13% Potassium 44mg 1% Total Carbohydrates 23g 8% Dietary Fiber 7g 28% Sugars 9g Protein 18g 36% Vitamin A 3% Calcium 22% Iron 22% * Percent Daily Values are based on a 2000 calorie diet.
Read more