---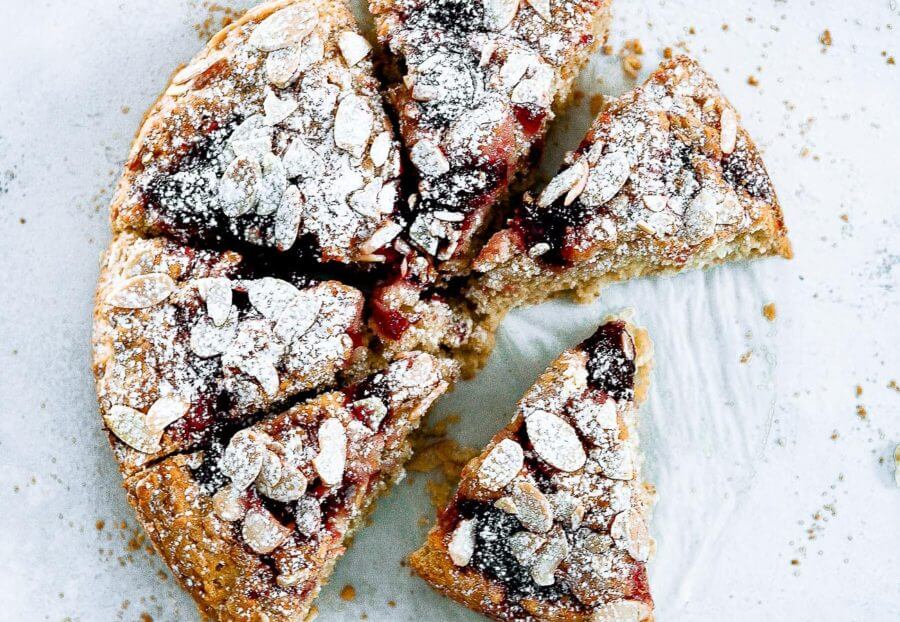 Gluten free sugar free strawberry scones. A healthy treat for breakfast or served for dessert. These easy to make scones look like cake, but have no sugar!!!!

Print Recipe Best Gluten Free Strawberry Scones Gluten free, sugar free strawberry scones. A healthy treat for breakfast or served for dessert. These easy to make scones look like cake and have no sugar!!!! Ingredients Scone Batter Main Dish Votes: 1
Rating: 5
You: Rate this recipe! Info Cook Time 35 minutes Prep Time 10 minutes Servings scones MetricUS Imperial Course Main Dish Votes: 1
Rating: 5
You: Rate this recipe! Ingredients Scone Batter
Preheat oven to 400F. Line a baking sheet with parchment paper.
Combine all the scone batter ingredients and blend until smooth.
Pour the batter into a 8" spring form cake pan.
Pour the strawberry preserves on top of the batter. Then use a toothpick to drag it around- making swirls.
Sprinkle slivered almonds over the scone batter. Bake on 400F for about 35 minutes until golden.
After it's cooked, slice into scones.
Optional: dust with powdered sugar.
Nutrition Facts Best Gluten Free Strawberry Scones Amount Per Serving Calories 367 Calories from Fat 126 % Daily Value* Total Fat 14g 22% Saturated Fat 11g 55% Polyunsaturated Fat 0.4g Monounsaturated Fat 1g Sodium 198mg 8% Potassium 9mg 0% Total Carbohydrates 54g 18% Dietary Fiber 4g 16% Sugars 4g Protein 5g 10% Vitamin A 1% Calcium 10% Iron 11% * Percent Daily Values are based on a 2000 calorie diet.
Read more