---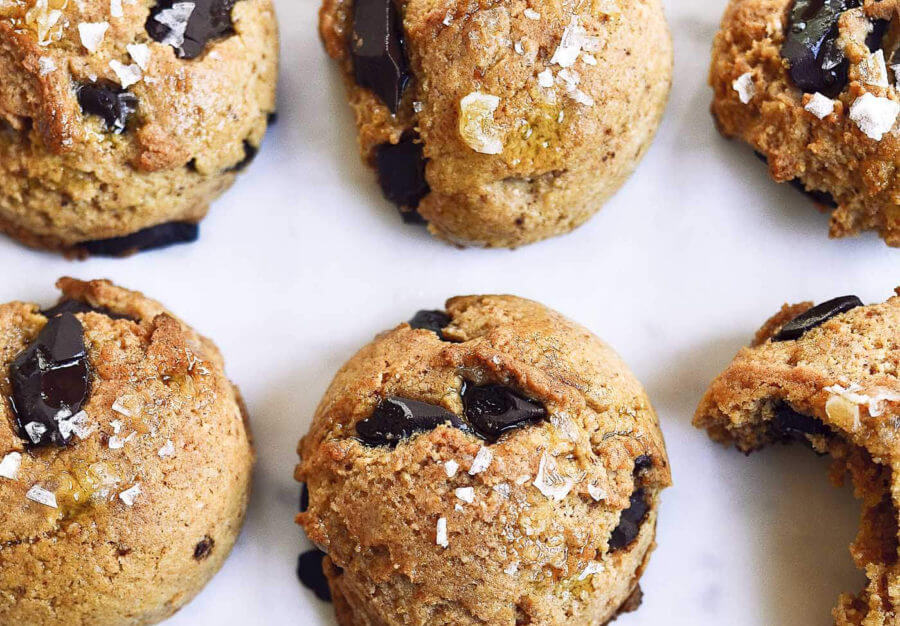 The most delicious thick and chewy paleo and vegan chocolate chunk cookies! Thick, oh so soft, chewy, perfect texture. Ready for eating in only 15 minutes. My favorite Paleo cookie I've ever made… and I've made a lot! 11g protein per cookie!

Print Recipe The Best Vegan Chocolate Chunk Paleo Cookies The most delicious thick and chewy paleo and vegan chocolate chunk cookies! Thick, oh so soft, chewy, perfect texture. Ready for eating in only 15 minutes. My favorite Paleo cookie I've ever made… and I've made a lot! Ingredients Info Cook Time 12 minutes Prep Time 5 minutes Servings cookies MetricUS Imperial Course Dessert, Snack Votes: 0
Rating: 0
You: Rate this recipe! Info Cook Time 12 minutes Prep Time 5 minutes Servings cookies MetricUS Imperial Course Dessert, Snack Votes: 0
Rating: 0
You: Rate this recipe! Ingredients Instructions
Preheat oven to 350F. Line a cookie sheet with parchment paper.
In a food processor (or by hand) combine all the ingredients for the cookies (except the chocolate chunks) and blend until smooth. Then stir in the chocolate chinks by hand.
Use a small ice-cream scoop and scoop batter onto the cookie tray, forming the cookies. It should make 14 cookies. Sprinkle with sea salt flakes (optional).
Bake on 350F for 12 minutes or until golden brown.
Nutrition Facts The Best Vegan Chocolate Chunk Paleo Cookies Amount Per Serving Calories 313 Calories from Fat 216 % Daily Value* Total Fat 24g 37% Saturated Fat 5g 25% Polyunsaturated Fat 0.1g Monounsaturated Fat 0.2g Sodium 197mg 8% Potassium 3mg 0% Total Carbohydrates 20g 7% Dietary Fiber 5g 20% Sugars 11g Protein 11g 22% Vitamin A 0.1% Calcium 11% Iron 12% * Percent Daily Values are based on a 2000 calorie diet.
Read more