---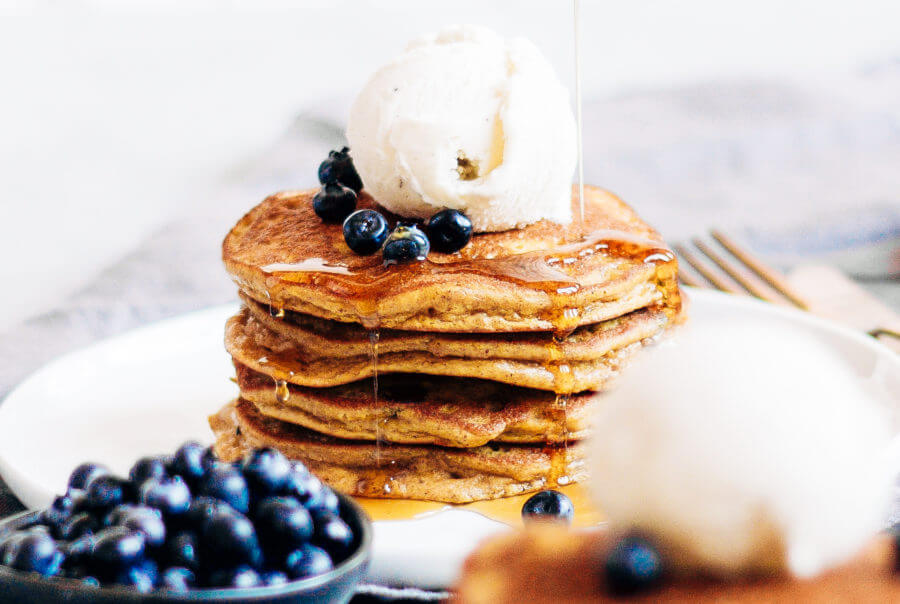 Light and Fluffy Pumpkin Pancakes that are grain free and Paleo! I have tried a LOT of different paleo pumpkin pancakes, but this one is my absolute favorite recipe! Absolutely delicious flavor, light texture, easy to make, and incredibly satisfying. Bring in fall with this easy paleo breakfast recipe.

Print Recipe Best Paleo Pumpkin Pancakes Light and Fluffy Pumpkin Pancakes that are grain free and Paleo! Absolutely delicious flavor, light texture, easy to make, and incredibly satisfying. Bring in fall with this easy paleo breakfast recipe. The great part about these pancakes is, they can be made in 10 minutes when you use an electric pancake griddle! Ingredients Info Cook Time 4 minutes Prep Time 6-8 minutes Servings pancakes MetricUS Imperial Course Main Dish Votes: 1
Rating: 5
You: Rate this recipe! Recipe Notes

Be sure to cook these pancakes at a really low heat. I cooked mine on the lowest setting my oven would go to, in order to be sure of thorough cooking and prevent burning on the outside- producing a raw inside. Make these pancakes in 10 minutes with this electric pancake griddle!

Info Cook Time 4 minutes Prep Time 6-8 minutes Servings pancakes MetricUS Imperial Course Main Dish Votes: 1
Rating: 5
You: Rate this recipe! Recipe Notes

Be sure to cook these pancakes at a really low heat. I cooked mine on the lowest setting my oven would go to, in order to be sure of thorough cooking and prevent burning on the outside- producing a raw inside. Make these pancakes in 10 minutes with this electric pancake griddle!

Ingredients Instructions
Heat a small frying pan over very low heat, and grease it lightly with coconut oil.
Combine all of the ingredients (minus the chocolate chips) for the pancake batter in a bender or KitcheAid until completely smooth.
Stir in the chocolate chips by hand at this point- if you choose to add chocolate chips.
Using a ¼ cup measuring cup, fill it with batter, then pour the batter onto the fry pan. Using the back of the measuring cup, smooth out the batter to form a 4" pancake stack. You can also use a large, non-stick pancake griddle for cooking.
Cook the pancakes for 2 minutes on each side.
Nutrition Facts Best Paleo Pumpkin Pancakes Amount Per Serving Calories 206 Calories from Fat 144 % Daily Value* Total Fat 16g 25% Saturated Fat 2g 10% Polyunsaturated Fat 0.2g Monounsaturated Fat 1g Cholesterol 62mg 21% Sodium 68mg 3% Potassium 25mg 1% Total Carbohydrates 11g 4% Dietary Fiber 4g 16% Sugars 1g Protein 8g 16% Vitamin A 32% Vitamin C 1% Calcium 8% Iron 9% * Percent Daily Values are based on a 2000 calorie diet.
Read more