---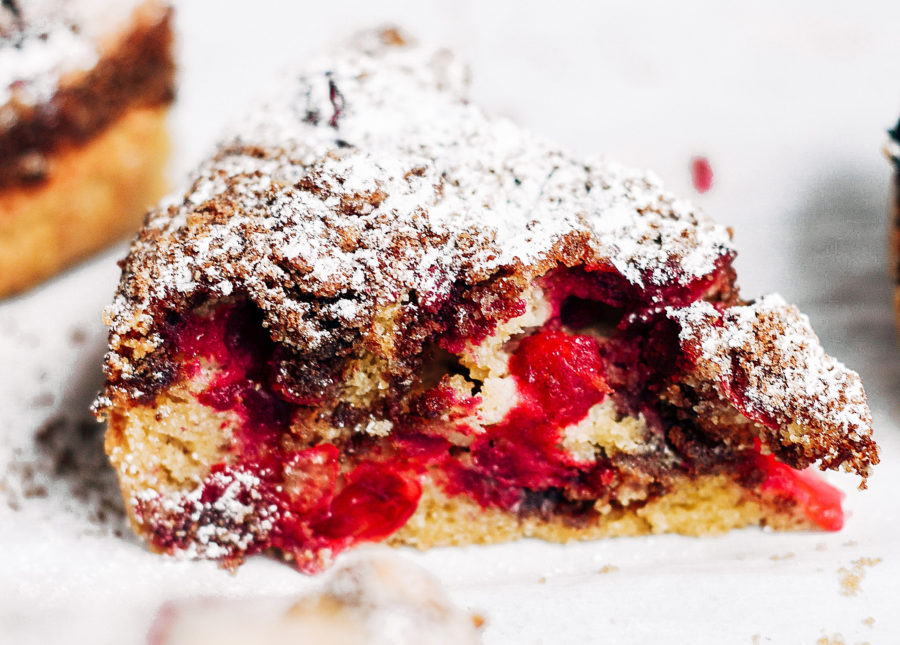 Healthy gluten free paleo coffee cake filled with cranberries and topped with the best cinnamon sugar(less) crumble topping known to man (or to me;)! Dairy free.

Print Recipe Healthy Gluten Free Paleo Cranberry Coffee Cake Healthy gluten free paleo coffee cake. Filled with cranberries and topped with the best cinnamon sugar(less) crumble topping known to man (or to me;)! Also dairy free and made in minutes. Ingredients Cake Batter Main Dish Votes: 4
Rating: 4.25
You: Rate this recipe! Recipe Notes

Dust with arrowroot powder or powdered sugar if desired.

Info Cook Time 60 minutes Prep Time 5-10 minutes Servings slices MetricUS Imperial Course Main Dish Votes: 4
Rating: 4.25
You: Rate this recipe! Recipe Notes

Dust with arrowroot powder or powdered sugar if desired.

Ingredients Cake Batter
Preheat oven to 350F.
Grease and flour a 10" spring form cake pan.
In a medium size mixing bowl combine all the ingredients for the batter (except the cranberries). You can use a blender, food processor, or KitchenAid mixer for this.
Once the batter is completely smooth stir in the cranberries.
Pour the batter into the spring form cake pan.
In a small bowl, mix together the ingredients for the crumble topping. Then gentle sprinkle the crumble topping over the coffee cake batter.
Bake on 350F for 60 minutes until golden brown.
Nutrition Facts Healthy Gluten Free Paleo Cranberry Coffee Cake Amount Per Serving Calories 443 Calories from Fat 261 % Daily Value* Total Fat 29g 45% Saturated Fat 9g 45% Polyunsaturated Fat 0.5g Monounsaturated Fat 1g Cholesterol 70mg 23% Sodium 158mg 7% Potassium 24mg 1% Total Carbohydrates 40g 13% Dietary Fiber 5g 20% Sugars 20g Protein 11g 22% Vitamin A 2% Calcium 11% Iron 11% * Percent Daily Values are based on a 2000 calorie diet.
Read more