Complete Whole 30 Meal Plan
---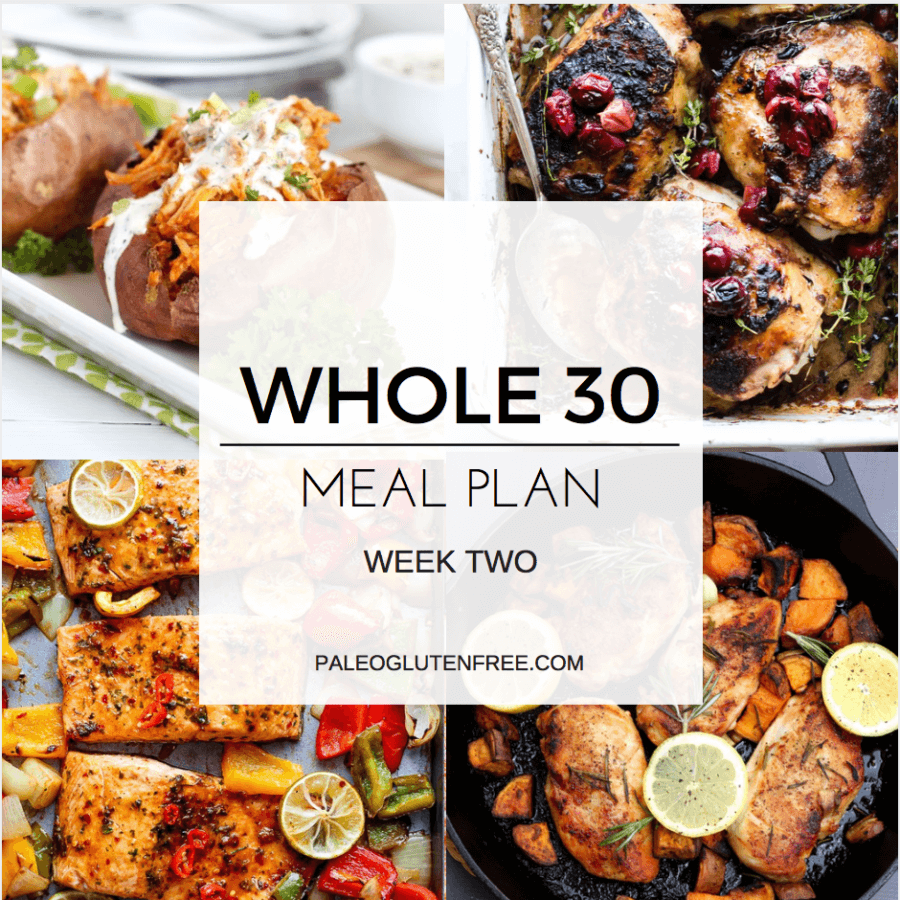 Change your health. Change your life. With this easy to follow, step by step Whole 30 meal plan, you will get your body back on track and feeling AMAZING! Free Printable download for the menu. Eat real food. Eat real food that tastes good! Join me for week 2 of this Whole 30 thing;)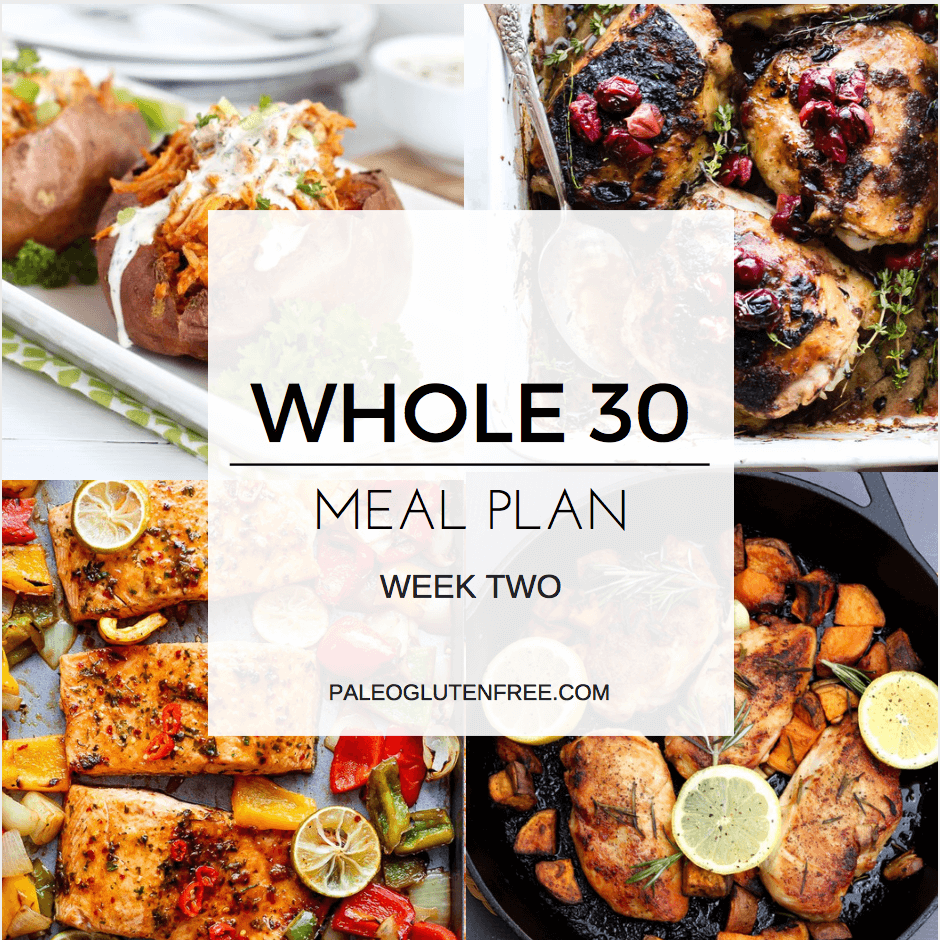 Too busy now? That's okay. Pin it for later… and then get healthy;)

Whole 30 MEAL PLAN
I am so proud of my fellow blogging buddies for coming up with some pretty darn delicious Whole 30 recipes (round of applause). We will continue to eat good food and follow quick and easy recipes. If you have any questions, let me know. I would love to be of help.
Why I am doing Whole 30
I actually was on Whole 30 waaaaayy before it was a thing. Like for four straight years. And that's just because I had to eat that way or my health. Now that it's an actual thing… and not just some diet that I have no clue what it is and just eat that way because I have to and it's no fun because no one else is doing it (inhale breath!). So now that everyone else is doing it with me and I can finally eat all kinds of gluten free flours, I feel the need to reset my body. Because, I may or may not have become consumed with chowing down every kind of gluten free scone, cookie, and pizza I could get my hands on. That's what happens people when you don't eat flour for five straight years. And then all of a sudden, you CAN!!!
So basically, I need to shed those cookies, scones, and pizzas. Are you in?
The Menu
Okay, so now that you know why I am doing this, let's get to the good stuff. This menu! Ya yay! Check it out; there are so many yummy things to eat here. The only rules here are to have fun, eat things that make you happy, and don't feel confined to this exact menu. Feel free to mix and match. Do whatever your dear heart pleases.
Okay, until next week then. See ya around friend.
XO
Kaylie
Download & Print Week 2 Menu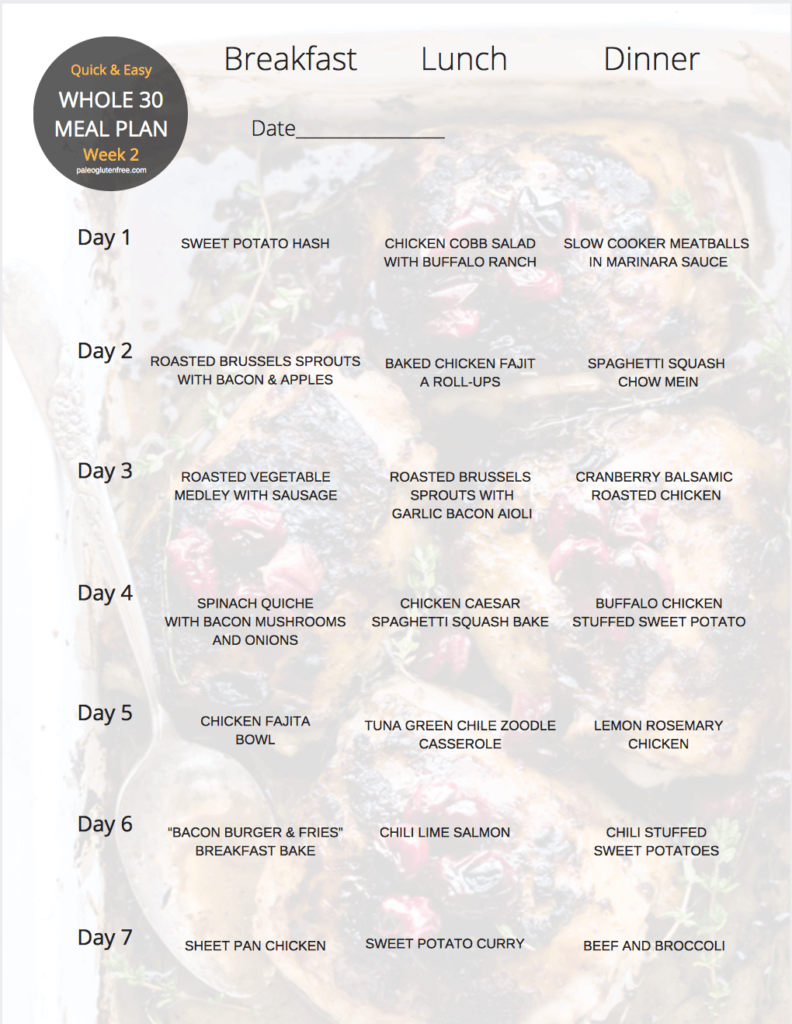 P.S. Don't forget to sign up to menus week 3 and 4 delivered straight to your inbox!
Breakfast 1
This Paleo Sweet Potato Hash has only 4 ingredients, but is loaded with flavor! Easy, delicious, and healthy! Whole30, gluten free, dairy free, and a great way to start the day!
Lunch 1
This Paleo Chicken Cobb Salad combines all your favorite fresh healthy ingredients and adds a spicy kick with Whole30 friendly buffalo ranch dressing.
Dinner 1
Make a big batch of these Paleo Slow Cooker Meatballs for a delicious stress-free dinner!  Easy, Whole30, Paleo friendly, and kid friendly meatballs in marinara sauce that makes enough for a crowd and great for leftovers.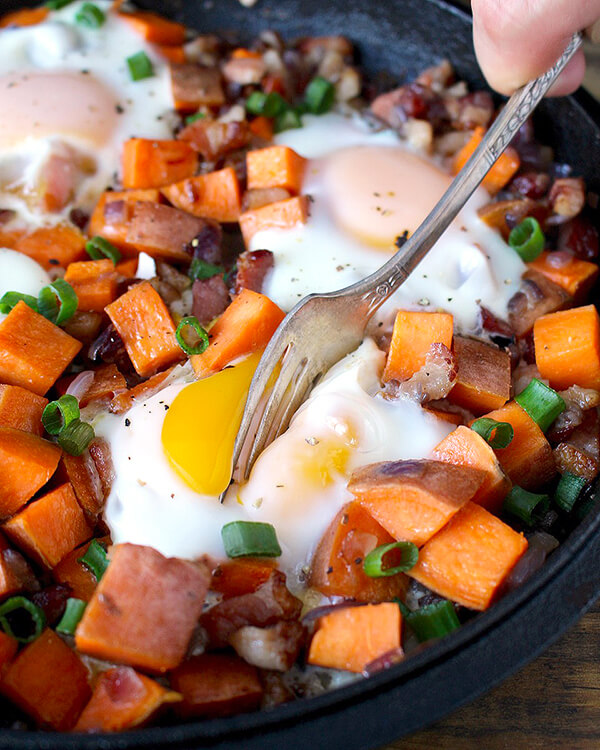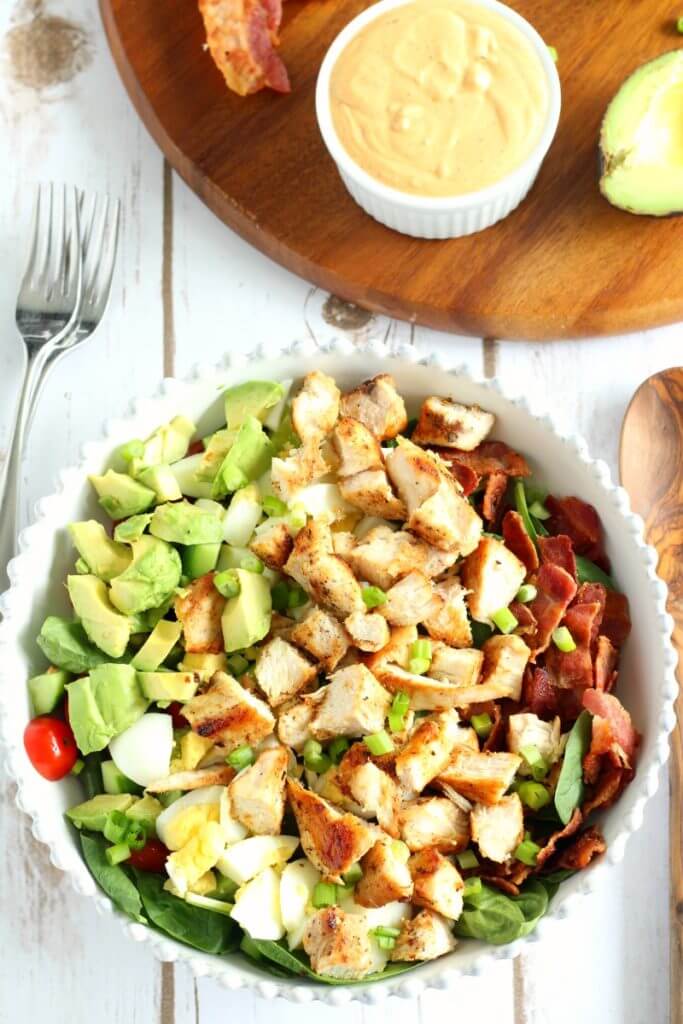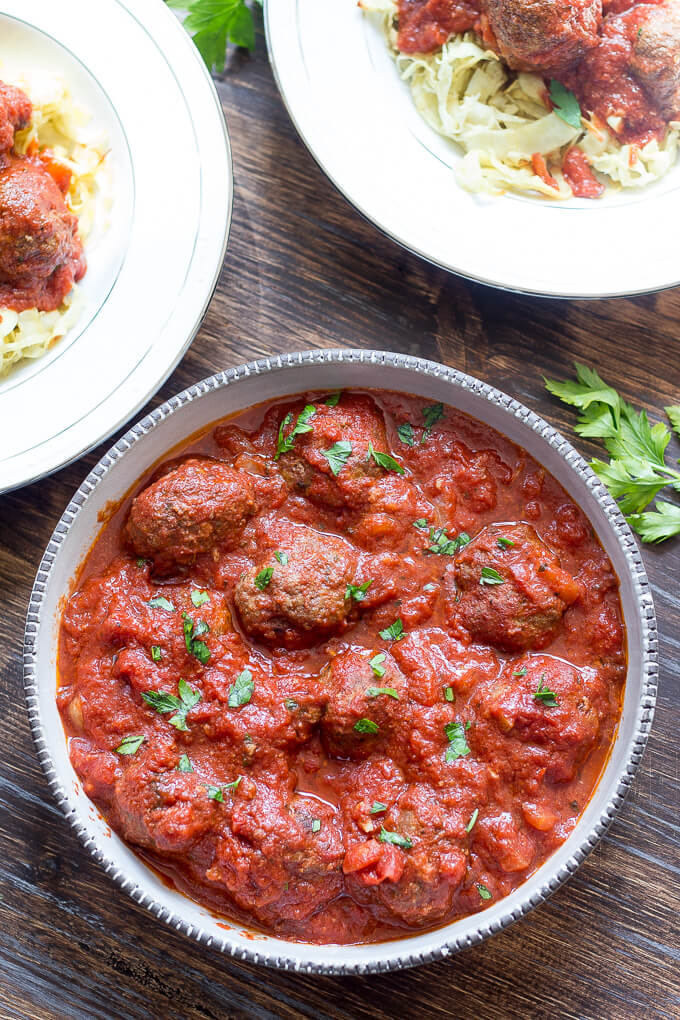 Breakfast 2
Easy Paleo roasted brussels sprouts with crispy savory bacon, rosemary and apples makes a tasty Paleo & Whole30 friendly side dish or even breakfast if you add fried eggs!
Lunch 2
Ahh you guys, there is seriously nothing I love more than delicious sizzling chicken fajitas!  I could eat them pretty much on any given weeknight… and lunch… or breakfast.
Dinner 2
It is a great vehicle for delicious sauces and reminds you enough of the original to keep you very satisfied!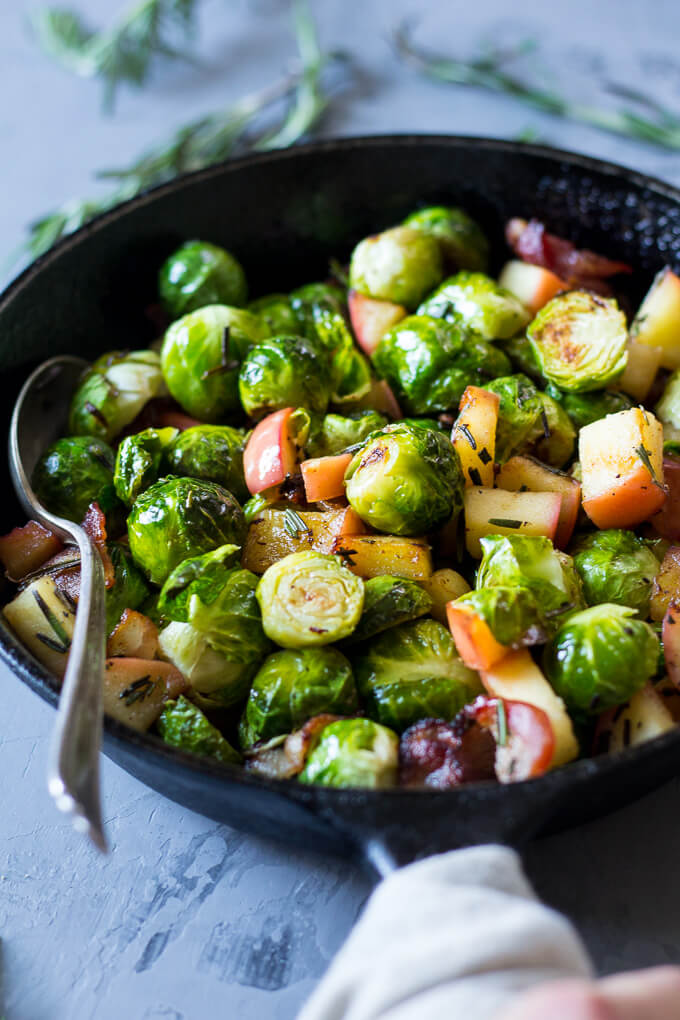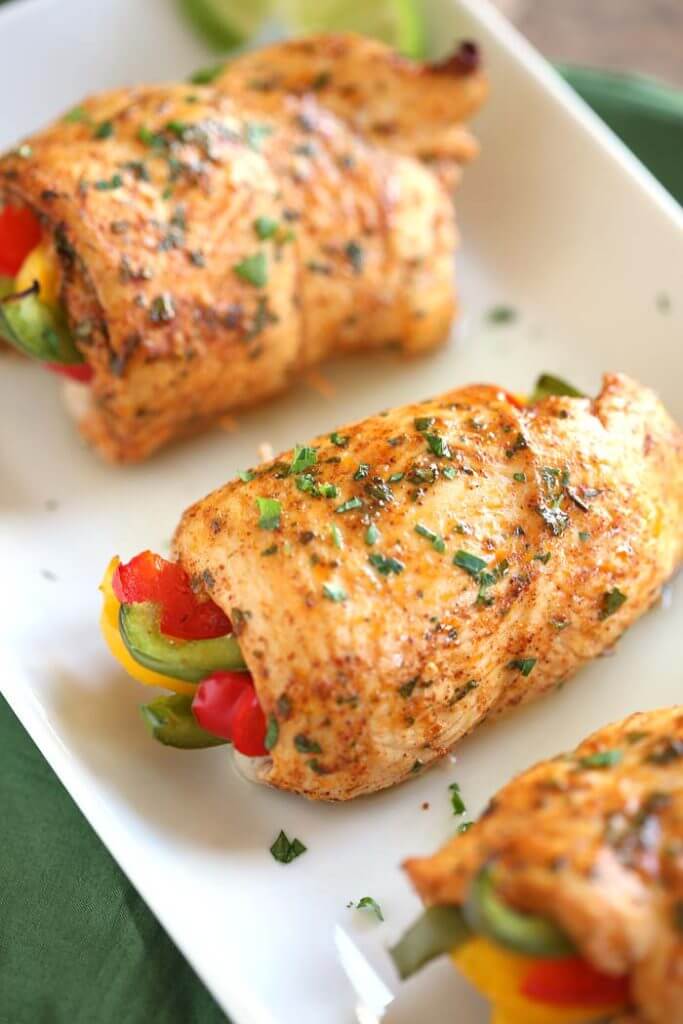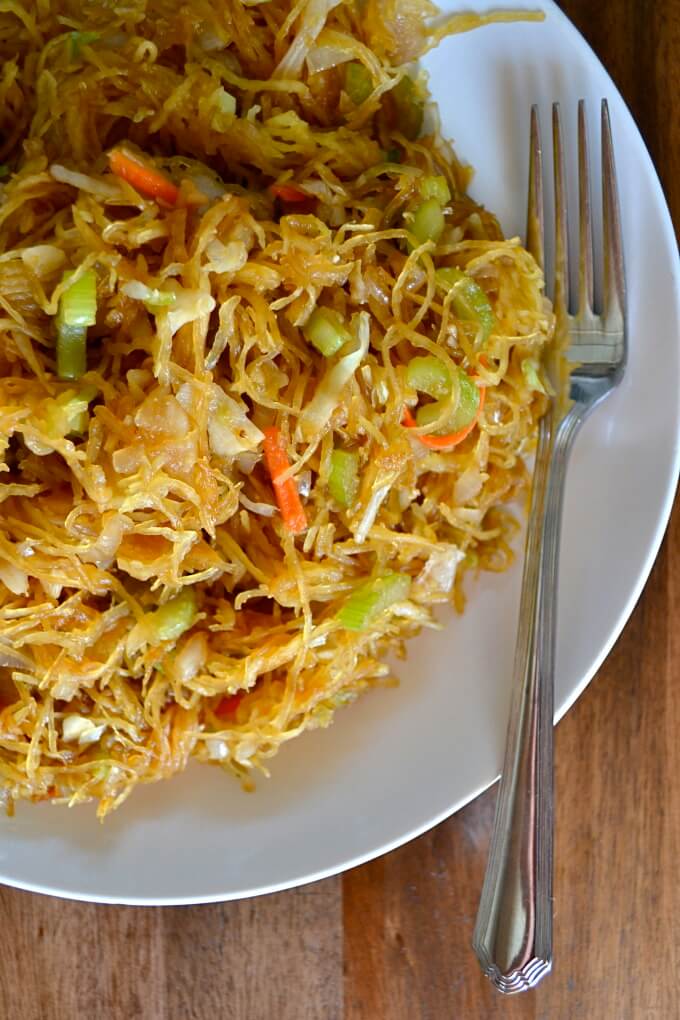 Breakfast 3
This Roasted Vegetable Medley with Sausage is an easy, tasty, healthy meal! Baked on one sheet and ready in 30 minutes! A meal the whole family will love!
Lunch 3
These Roasted Brussels Sprouts with Garlic Bacon Aioli will surely be a hit and you can serve them right along side of all of the traditional apps so that everyone remains happy.
Dinner 3
Balsamic Roasted Chicken with Cranberries prepped and cooked in ONE PAN! Your holiday table is complete. Paleo Cranberry Balsamic Roasted Chicken is a simple yet healthy dinner.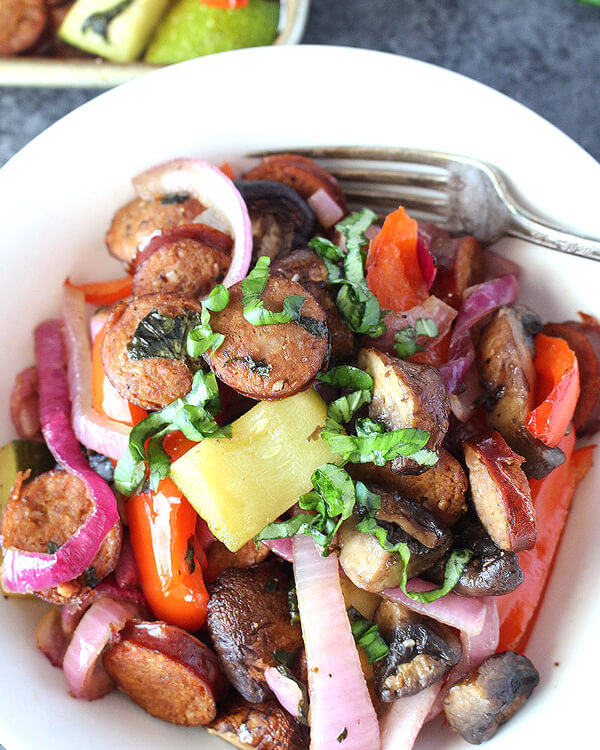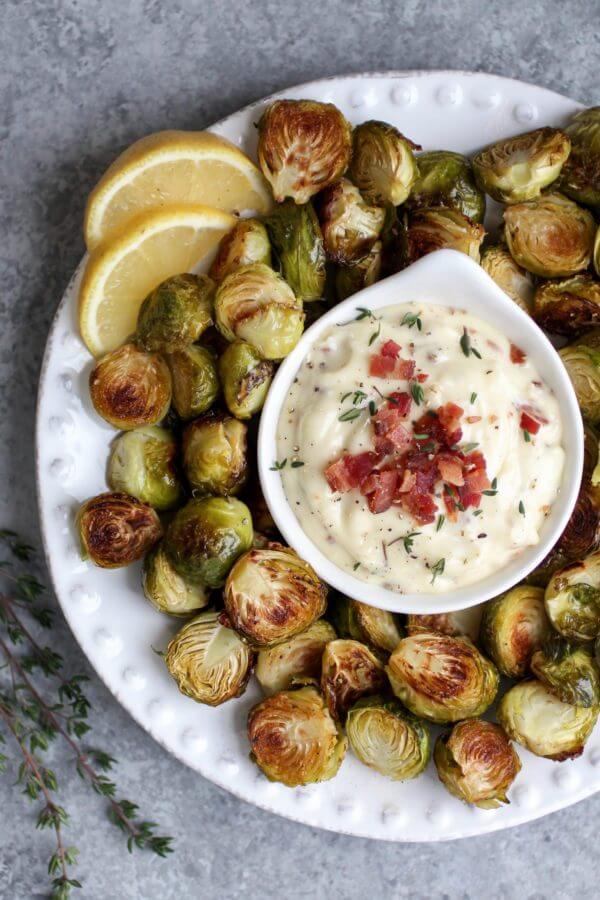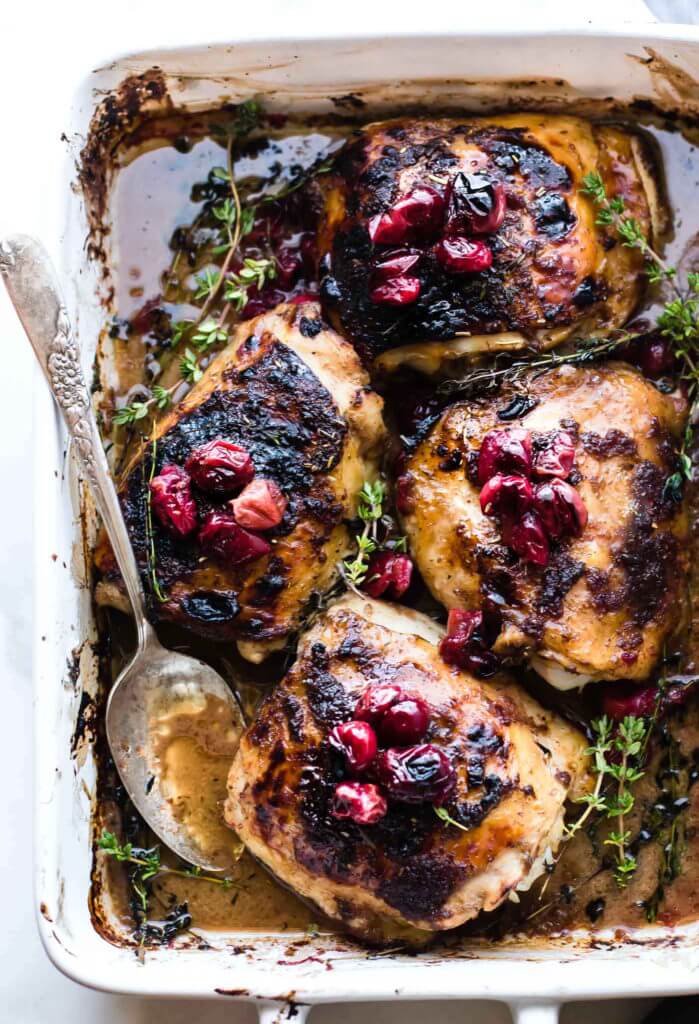 Breakfast 4
This Paleo and Whole30 Spinach Quiche combines all your favorites in one healthy, filling recipe!  An easy sweet potato crust topped with a savory mixture of spinach, bacon, onions, mushrooms and of course eggs!
Lunch 4
So smooth and creamy and happens to also be Whole30 compliant- basically just means squeaky clean!  Instead of mixing this into a salad I created a super simple & tasty weeknight spaghetti squash bake.
Dinner 4
Here's a recipe for you to add to you dinner or supper menu this week. The mix of heat from the Sriracha with coolness from the homemade ranch is perfect!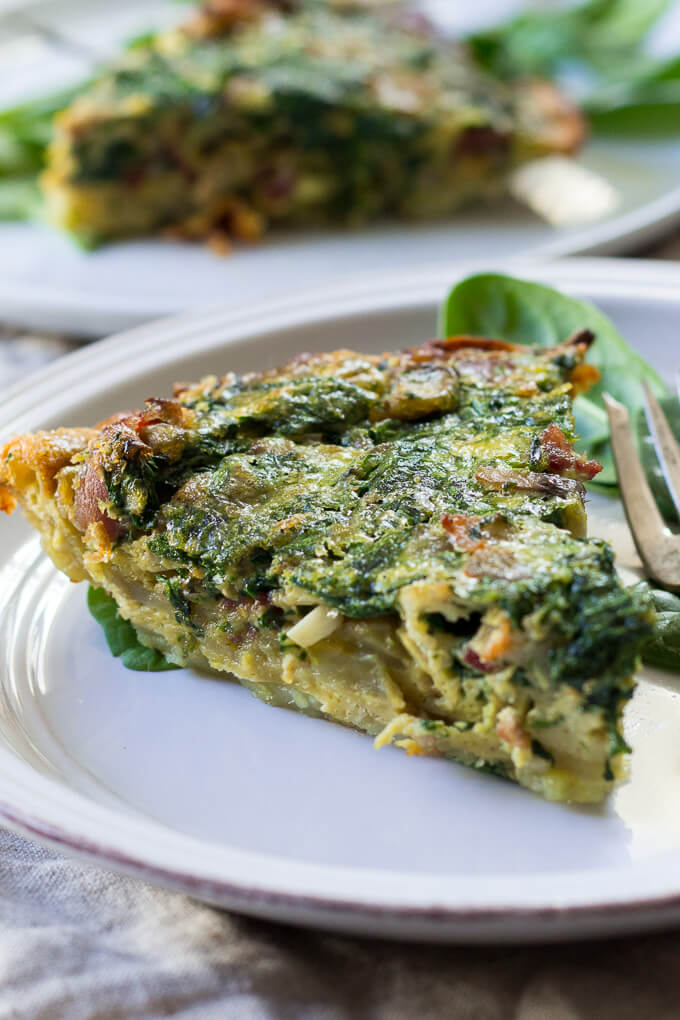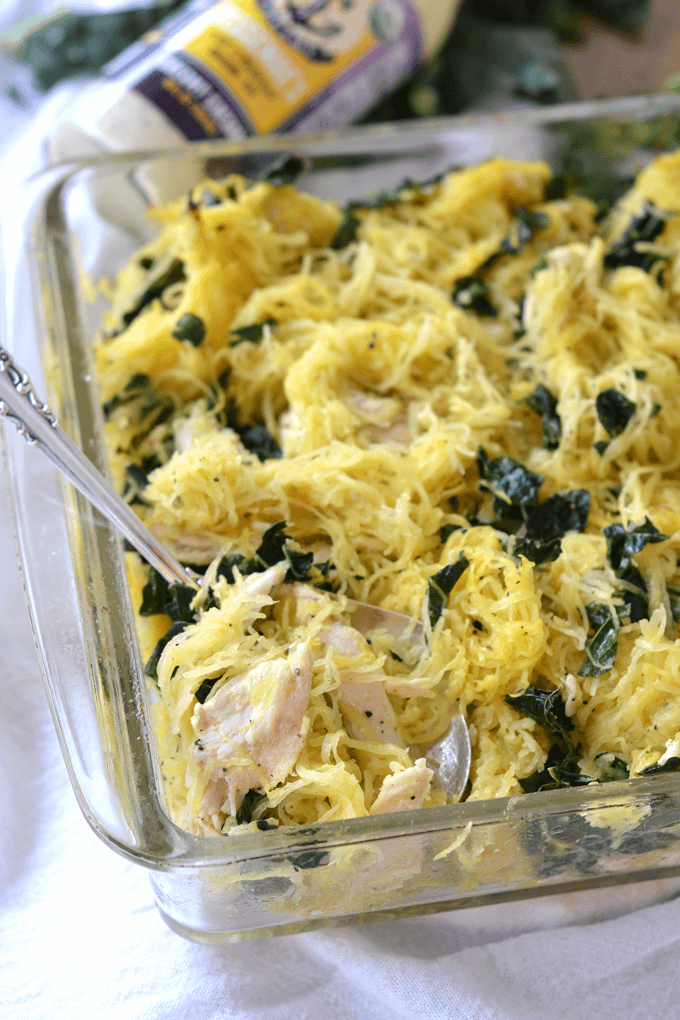 Breakfast 5
This Paleo Chicken Fajita Bowl is a healthy complete meal. Loaded with veggies and juicy chicken and easy to make. Whole30 compliant as well.
Lunch 5
Paleo Tuna Green Chile Zoodle Casserole. An EASY paleo tuna zucchini noodle casserole that's, high protein, low carb. Hearty yet healthy, this dish can feed a family!
Dinner 5
Are you looking for a gorgeous, easy Paleo dinner recipe? This is my Lemon Rosemary Chicken Recipe. It was shared on the Paleo Parents a few weeks ago, and today I'm sharing it with YOU!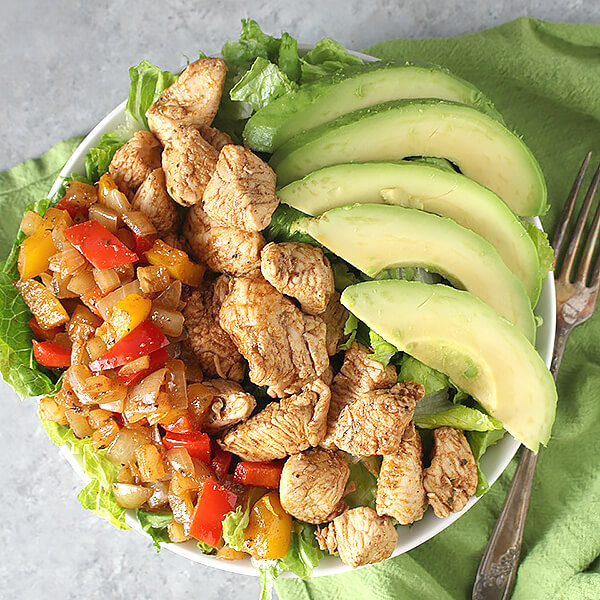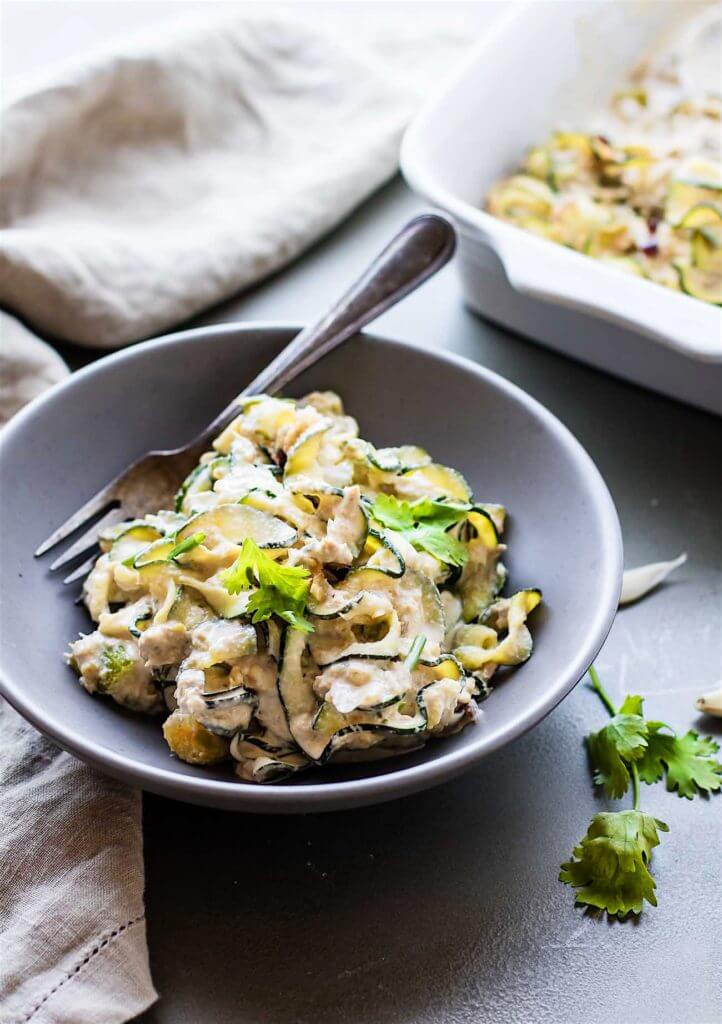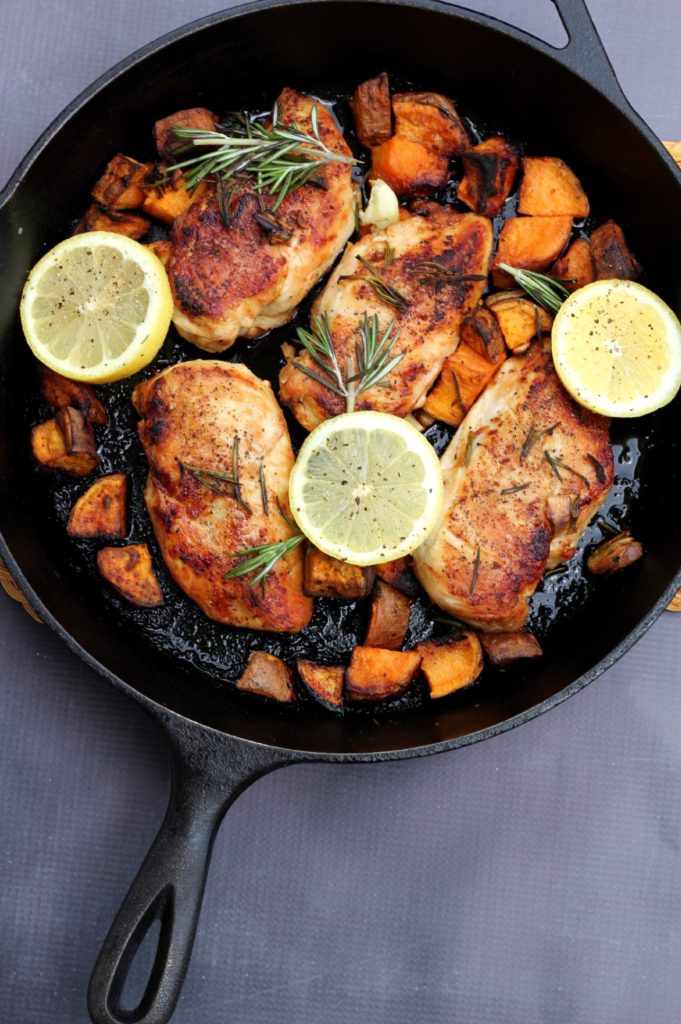 Breakfast 6
This "bacon burger & fries" Paleo breakfast bake combines savory, crispy bacon, grass-fed ground beef and crispy sweet potatoes with greens and baked eggs. Whole30 friendly, good for any meal!
Lunch 6
Sheet Pan Chili Lime Salmon with Fajita flavors, and a charred, crispy roasted trio of peppers for an easy and healthy weeknight meal. This is a recipe that's been on my long list of things to make (said list is up to 286 recipes — God help me).
Lunch 6
Easy, healthy, Paleo and Whole30 friendly Chili Stuffed Sweet Potatoes! These make a GREAT weeknight dinner -bake the sweet potatoes ahead of time – the chili is done in 20 minutes!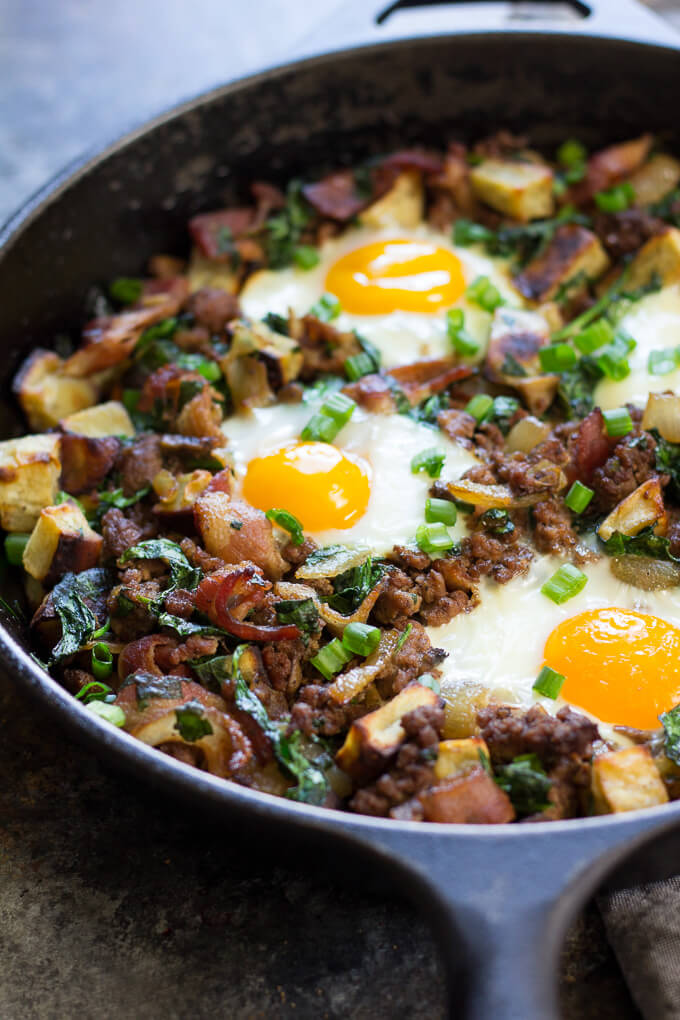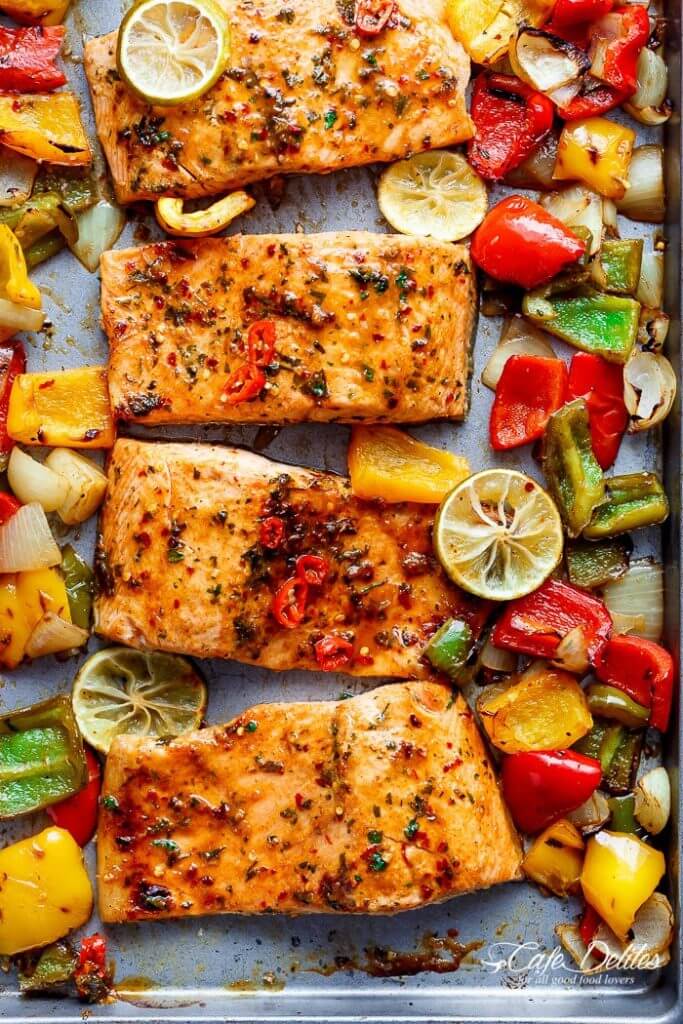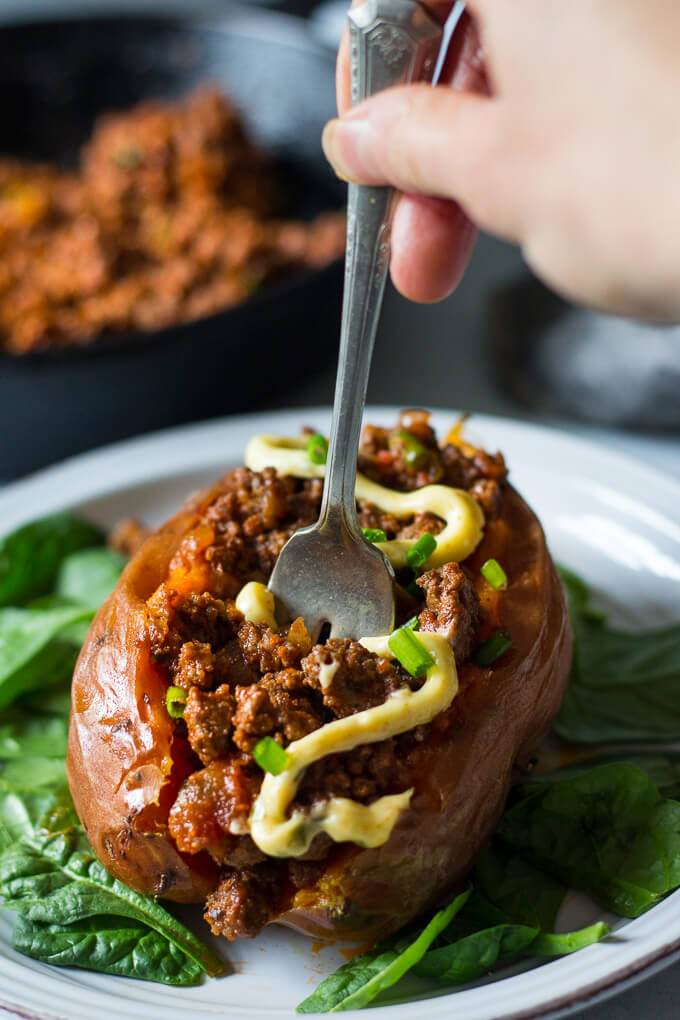 Breakfast 7
This Paleo Whole30 Sheet Pan Chicken is a fast, easy, healthy, meal that everyone will love.
Lunch 7
This curry is sooo freaking good. And seriously one of the most flavor-packed, easiest things you'll ever make.
Dinner 7
This Paleo Whole30 Beef and Broccoli is a fast, easy, healthy meal. Gluten free, dairy free, and so much better than take-out!