Best Whole 30 Menu Plan
---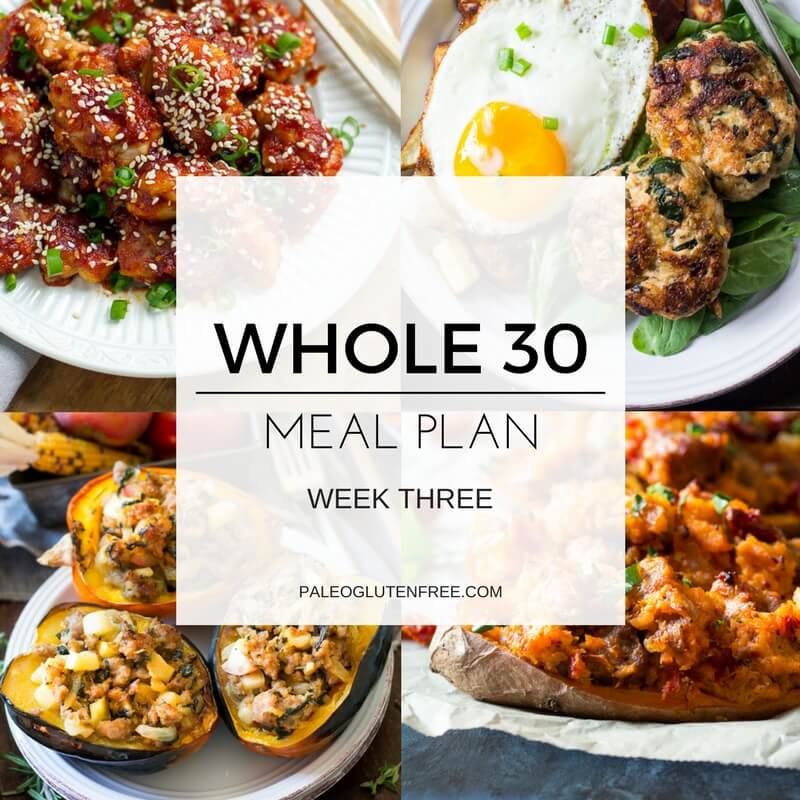 The best whole 30 meal plan for easy cooking and instructions. All the meals are mapped out for you and all you have to do is refer to the menu! Healthy breakfasts, lunches, and dinners for every day of your whole 30 journey!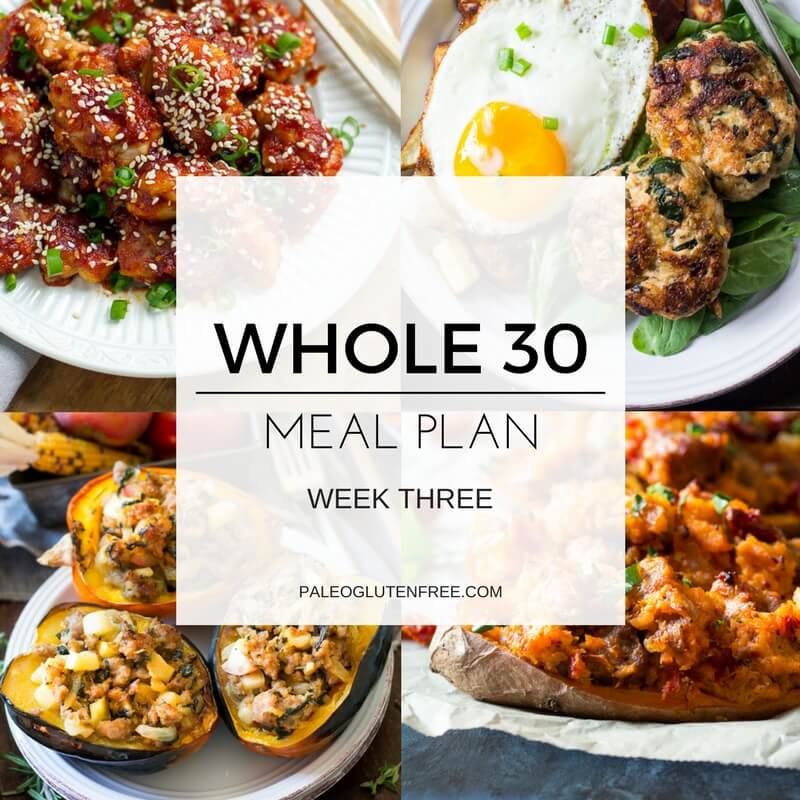 Whole 30 Week 3 menu
Welcome to week threeeeeee!! Two down, two to go. Who's ready for this weeks menu? I'm not going to go on and on, like in my last whole 30 post, but I do want to say that I am thrilled to be doing this with all of you! Don't forget to sign up for week four of this whole 30 menu plan. Be the first to get it in your inbox.
Now. We eat.

Breakfast 1
Easy homemade breakfast sausage recipe. Paleo, whole30 friendly sausage, and ready in 10 minutes! Perfect served alongside eggs of a pile of greens. Full of flavor, fresh herbs, and lean turkey meat.
Lunch 1
Healthy sweet and sour chicken with cauliflower rice. Paleo, whole30, and made without sugar! An easy weeknight dinner recipe, freezer friendly, and makes for fast meal prep!
Dinner 1
Spicy spaghetti squash noodles with creamy-flavor-packed-coconut-cream sauce! Whole30, paleo, and made in just minutes! An easy healthy family recipe everyone will love. Perfect for meal prep; can be made ahead and frozen- pulled out at your convenience!
Breakfast 2
This naturally sweet, Paleo & Whole30 friendly Sweet Potato Apple Breakfast Bake is quick and easy to put together and great to make ahead too!
Lunch 2
Crispy spiced sweet potato fries, baked southwest chicken strips, creamy garlic avocado dipping sauce, and vibrant greens. Lunch, dinner, or even, breakfast! Paleo, whole30, and gluten free. The whole family is going to love this meal! Put it on the table… and there will be none left.
Dinner 2
*Warm and addicting comfort food alert! Cream of mushroom casserole (paleo, whole30, and dairy free). Layers of creamy sauce, cauliflower rice, herbed mushrooms, and lots of fresh basil! Made in minutes, then it's in the oven!
Breakfast 3
This Paleo Breakfast Casserole is loaded with so many goodies and is perfect for brunch or to make ahead!  Roasted sweet potatoes form the "crust" and are topped with crispy bacon.
Lunch 3
Healthy Lo Mein made with delicious carrot noodles! An Easy 15 minute whole30 meal the whole family will enjoy! Grain free, paleo, and gluten free.
Dinner 3
Unbelievably easy oven baked Paleo turkey meatballs and sage cream sauce. (Gluten free, whole30, paleo). Perfect for a weeknight dinner or breakfast! On the table in LESS than 25 minutes!
Breakfast 4
This sweet plantain apple bacon breakfast hash is sure to become your new favorite! Crisp and sweet pink lady apples and ripe plantains are caramelized: yum!
Lunch 4
This season brings around my favorite things – apples, squash, allll of the root vegetables and don't forget – pumpkin pie spice!! I love all of these things!
Dinner 4
Today I'm sharing the recipe from the cookbook for One-Pan Herb-Crusted Roasted Salmon with Roasted Broccoli Steaks!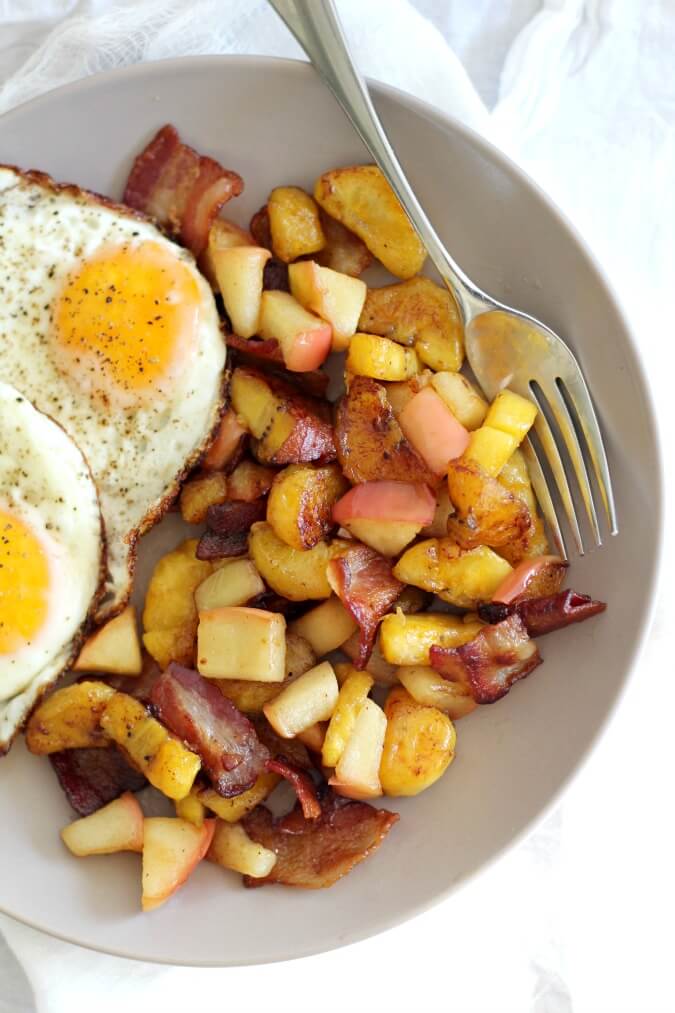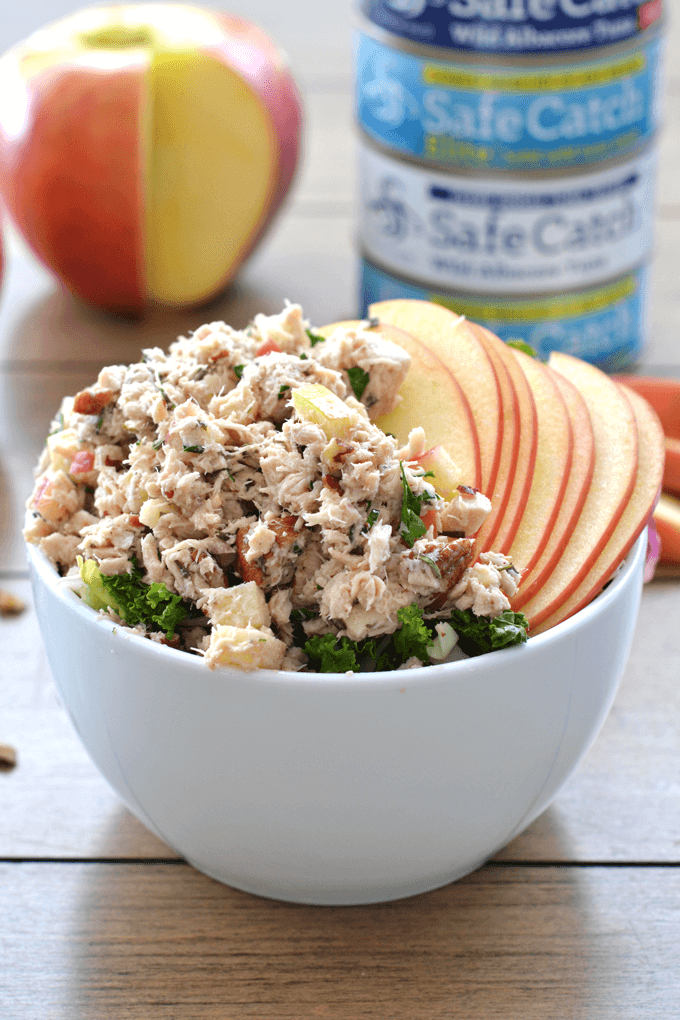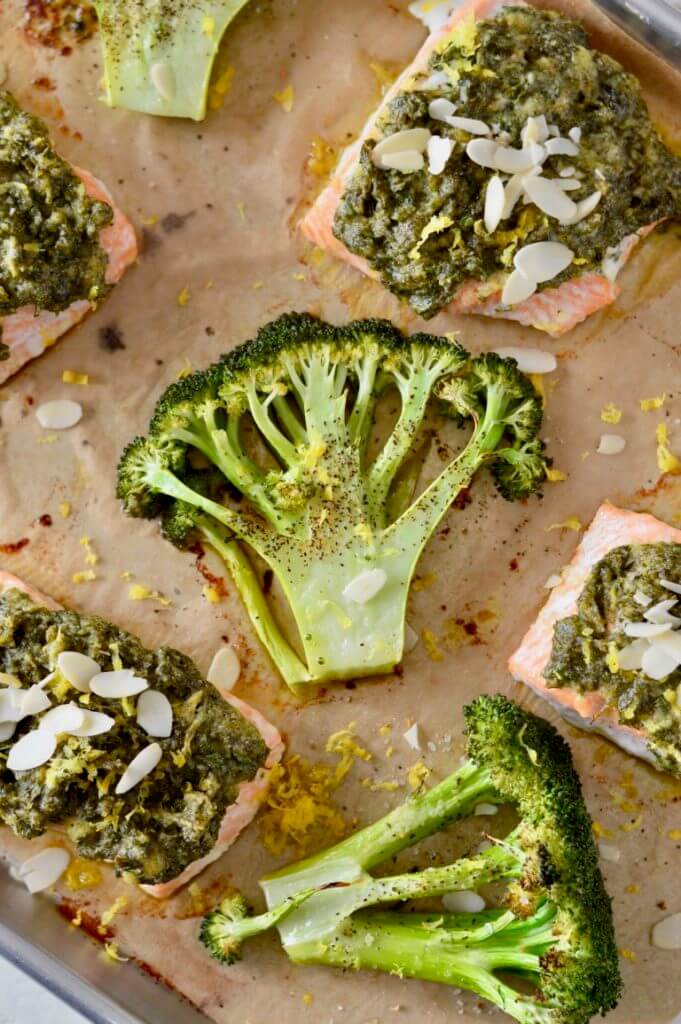 Breakfast 5
Easy Salmon with Crispy Roasted Lemon Dill Potatoes and Brussels sprouts that makes a great complete and convenient Paleo seafood dinner that's ready in 30 minutes!
Lunch 5
Snappy Italian Sweet Potato Spaghetti made with spiralized sweet potatoes in zesty tomato sauce. This dish is easy to make to one pot with simple paleo/vegan friendly ingredients already in your pantry!
Dinner 5
I hope you don't mind me combining two of my all-time favorite recipes from the blog together in one, slapping them on some chicken wings, and calling it a new recipe.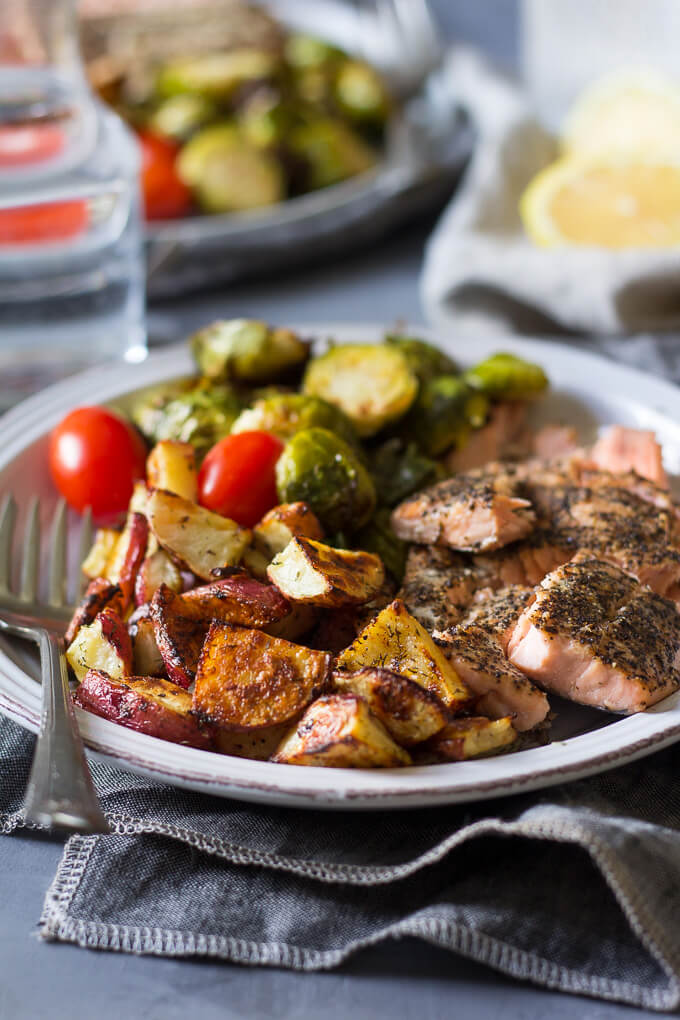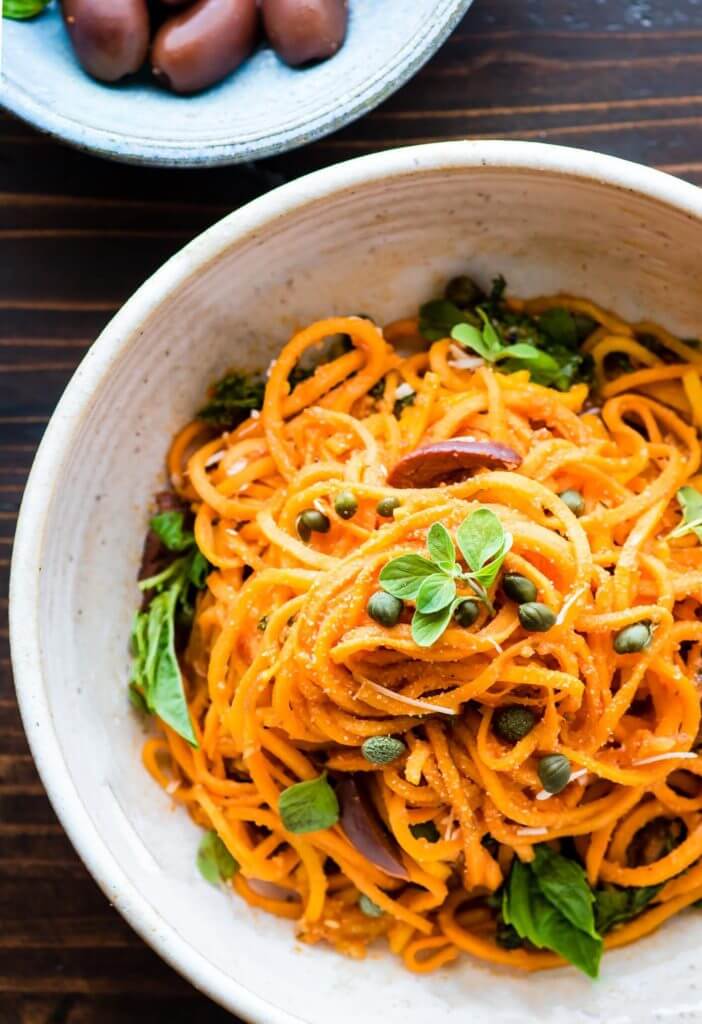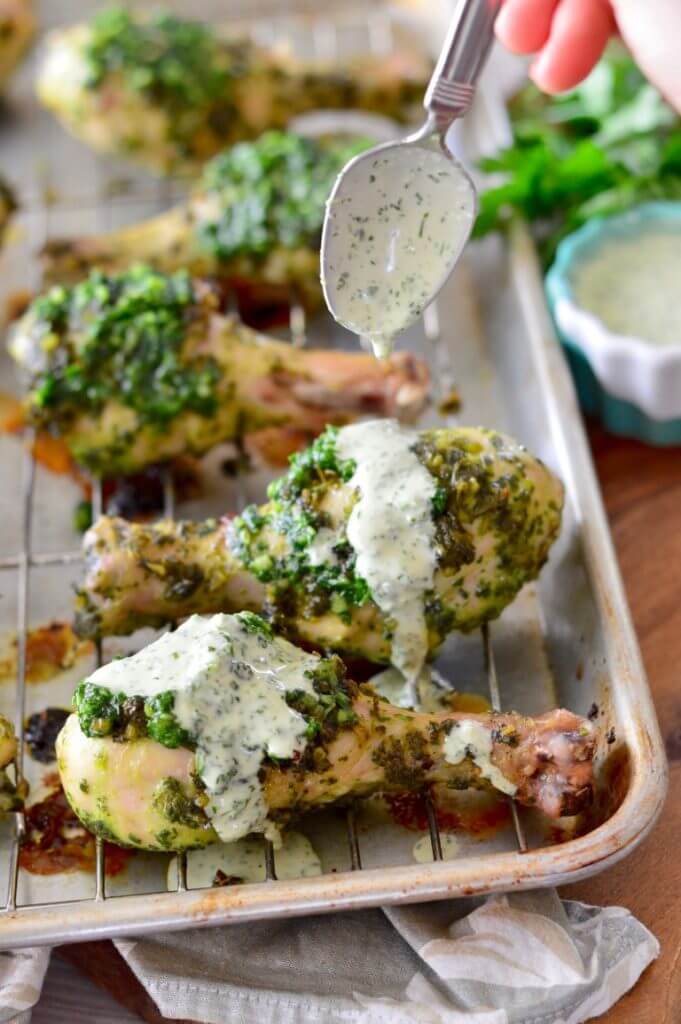 Breakfast 6
Easy Homemade Chicken Sausage Patties with Spinach and Caramelized Onions that you can make ahead of time and serve with any meal!  They're made with real, whole ingredients and are sugar free.
Lunch 6
Easy and healthy Sausage Stuffed Acorn Squash packed with an abundance of sweet and savory flavor!  Caramelized onions, apples, sweet Italian sausage, spinach and fresh herbs stuffed inside perfectly.
Dainner 6
These are the ultimate Paleo and Whole30 Twice Baked Sweet Potatoes!  With an addicting filling that tastes just like sausage pizza, they're a great weeknight dinner (do the first baking ahead of time), healthy, filling, and kid friendly.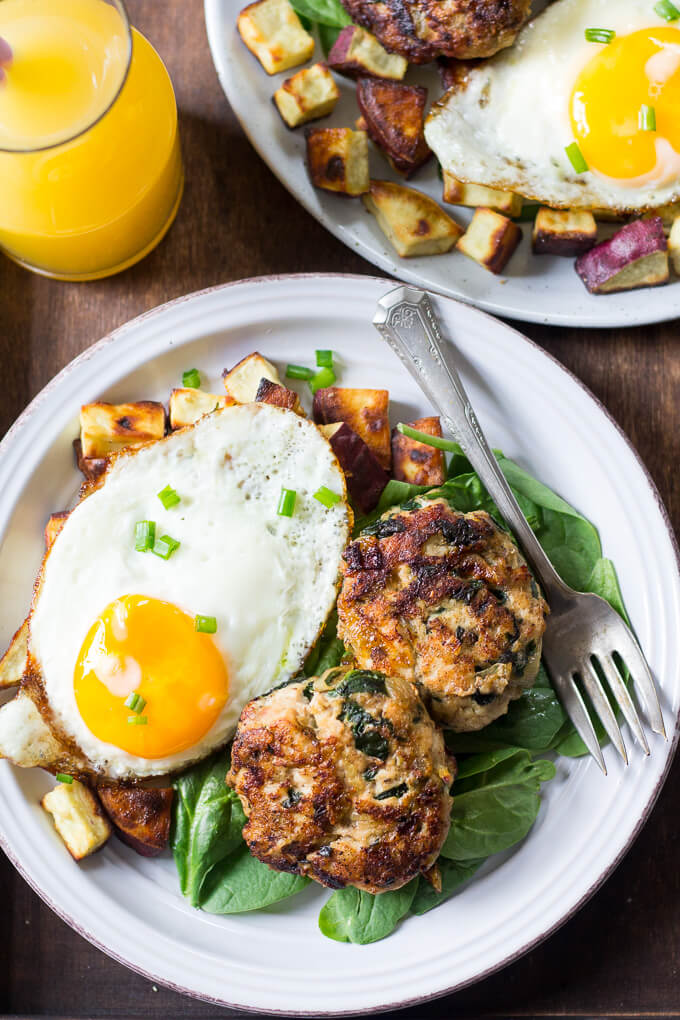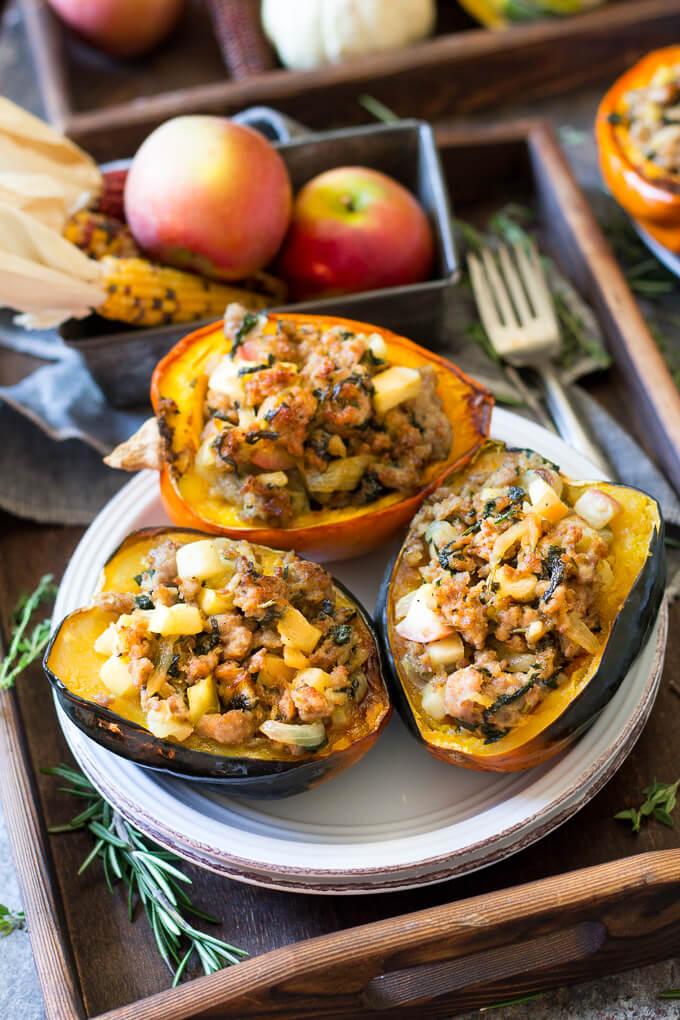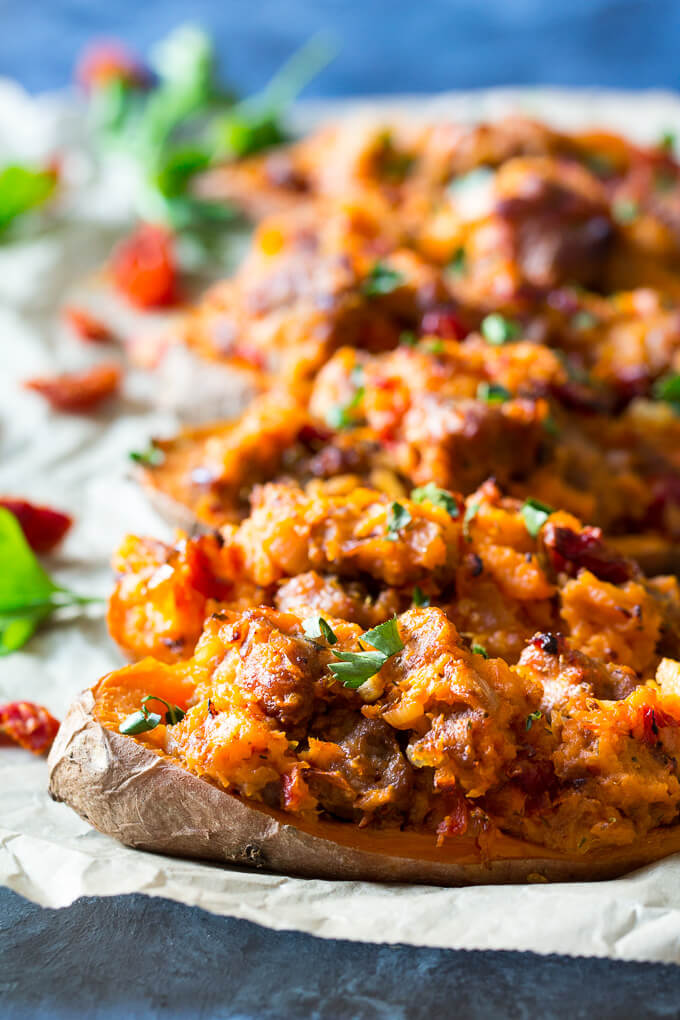 Breakfast 7
This fresh and vibrant smoothie bowl is dairy free, vegan, and paleo. Made with fresh seasonal blackberries and three other simple ingredients.
Lunch 7
Super easy one-pan Paleo Pesto Baked Chicken that's kid friendly, Whole30 friendly, healthy and seriously delicious!  Ready in 30 minutes and perfect for weeknights.
Dinner 7
These Paleo lamb burgers are perfectly seasoned and topped with dairy free tzatziki made with coconut cream.  Serve wrapped in greens or with Greek salad for a healthy flavor packed menu!