---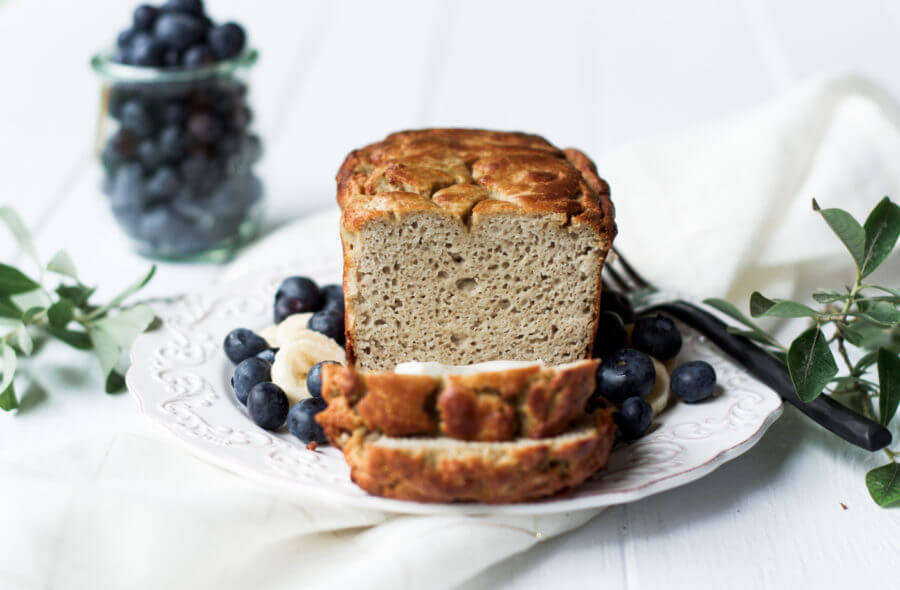 This Grain Free & Paleo Banana Bread is incredibly easy to make and it's made in a blender! Light and airy bread with a delicious crust, this banana bread only takes 5 minutes to whip up and then it's in the oven.

Print Recipe 5 Minute Paleo Banana Bread This Grain Free & Paleo Banana Bread is incredibly easy to make and it's made in a blender! Light and airy bread with a delicious crust, this banana bread only takes 5 minutes to whip up and then it's in the oven. Ingredients Info Cook Time 1 hour Prep Time 5 minutes Servings slices (1 small loaf) MetricUS Imperial Course Side Dish Votes: 240
Rating: 3.16
You: Rate this recipe! Recipe Notes

Be sure to cook this loaf in a 3 1/2" by 5" bread pan. If you cook it in a larger loaf pan it will turn out flat because it will spread farther in the pan.

Info Cook Time 1 hour Prep Time 5 minutes Servings slices (1 small loaf) MetricUS Imperial Course Side Dish Votes: 240
Rating: 3.16
You: Rate this recipe! Recipe Notes

Be sure to cook this loaf in a 3 1/2" by 5" bread pan. If you cook it in a larger loaf pan it will turn out flat because it will spread farther in the pan.

Ingredients Instructions
Preheat the oven to 375 degrees and line a small baking pan (3 1/2" by 5") with parchment paper.
Combine all of the ingredients in a high powered blender or food processor (this combines all of the ingredients into the smoothest texture and makes a big difference in the consistency and texture, so it is highly suggested to use a blender or food processor in combining).
Once the batter is smooth, pour it into the loaf pan and cook on 375 degrees Fahrenheit for 1 hour until golden brown on top.
Nutrition Facts 5 Minute Paleo Banana Bread Amount Per Serving Calories 186 Calories from Fat 153 % Daily Value* Total Fat 17g 26% Saturated Fat 3g 15% Polyunsaturated Fat 0.1g Monounsaturated Fat 0.1g Sodium 127mg 5% Potassium 0.01mg 0% Total Carbohydrates 6g 2% Dietary Fiber 3g 12% Sugars 1g Protein 6g 12% Calcium 10% Iron 6% * Percent Daily Values are based on a 2000 calorie diet.
Read more