---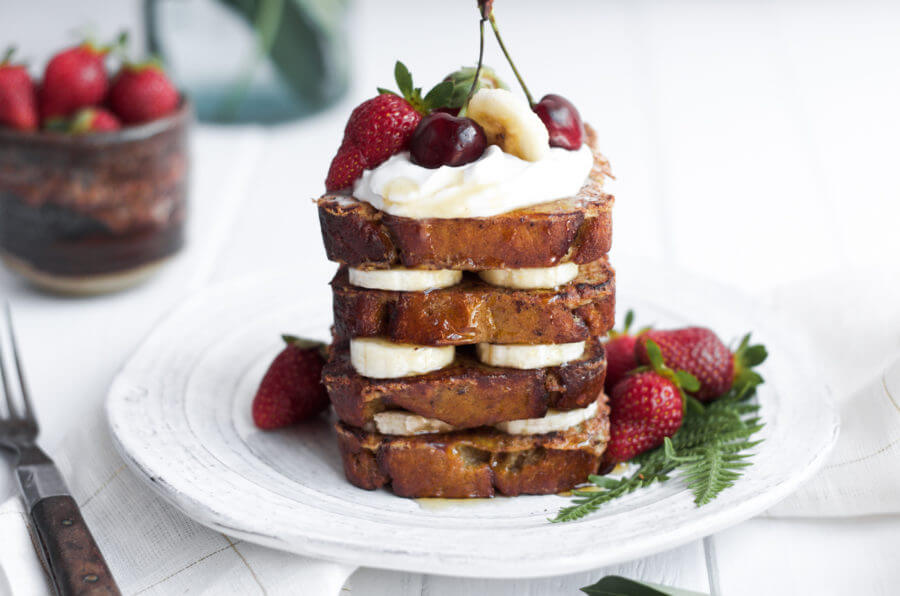 This Gluten Free and Paleo banana bread is soft, light, moist, and absolutely delicious. Made with all whole food ingredients, this recipe is incredibly easy to make- the banana bread is made in the blender… So easy!

Print Recipe Paleo Banana Bread French Toast This Gluten Free and Paleo banana bread is soft, light, moist, and absolutely delicious. Made with all whole food ingredients, this recipe is incredibly easy to make- the banana bread is made in the blender... So easy! Ingredients Info Cook Time 2-4 minutes for each slice Prep Time 5 minutes (plus time to make the banana bread if you don't have it pre-made Servings pieces MetricUS Imperial Course Main Dish Votes: 0
Rating: 0
You: Rate this recipe! Recipe Notes

You can top this french toast with whipped cream or coconut whipped cream, fresh berries, and/or maple syrup or honey.

Info Cook Time 2-4 minutes for each slice Prep Time 5 minutes (plus time to make the banana bread if you don't have it pre-made Servings pieces MetricUS Imperial Course Main Dish Votes: 0
Rating: 0
You: Rate this recipe! Recipe Notes

You can top this french toast with whipped cream or coconut whipped cream, fresh berries, and/or maple syrup or honey.

Ingredients Instructions
Slice the banana bread into about 8 slices.
Heat a fry pan or electric griddle over medium low heat.
Whisk together the egg, coconut milk, cinnamon, and vanilla until the batter is well combined.
Grease the fry pan or electric griddle with coconut oil.
Dip each side of the banana bread into the egg liquid and then set on the fry pan or griddle.
Cook on each side for 1-2 minutes until golden.
Serve with your favorite toppings.
Nutrition Facts Paleo Banana Bread French Toast Amount Per Serving Calories 19 Calories from Fat 18 % Daily Value* Total Fat 2g 3% Saturated Fat 2g 10% Polyunsaturated Fat 0.1g Monounsaturated Fat 0.1g Sodium 0.3mg 0% Potassium 3mg 0% Total Carbohydrates 0.5g 0% Dietary Fiber 0.3g 1% Sugars 0.01g Protein 0.02g 0% Vitamin C 0.3% Calcium 1% Iron 1% * Percent Daily Values are based on a 2000 calorie diet.
Read more