---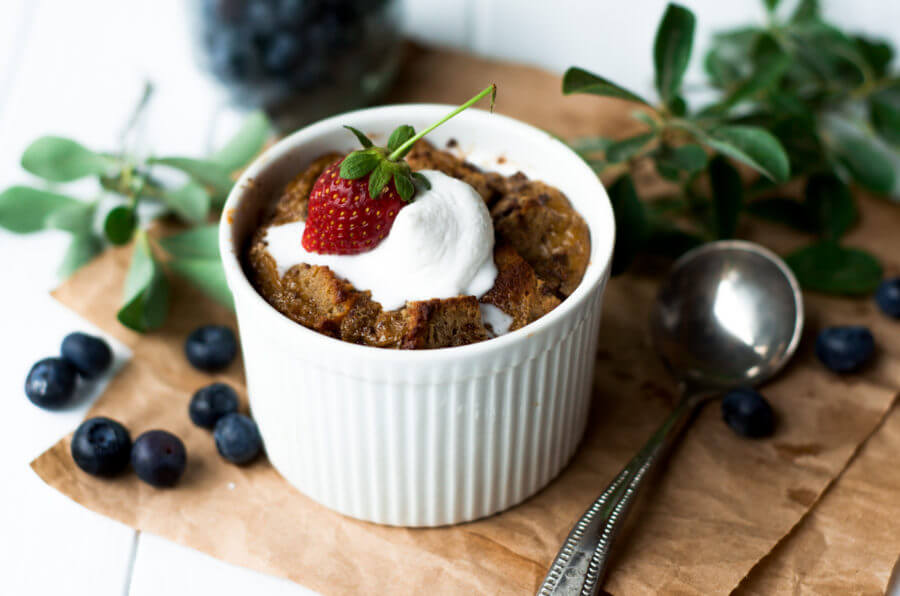 This decadent paleo bread pudding is made with a 5 minute paleo banana bread recipe. Moist, light, and and easy to make breakfast or sweet treat.

Print Recipe Paleo Breakfast Bread Pudding This decadent paleo bread pudding is made with a 5 minute paleo banana bread recipe. Moist, light, and and easy to make breakfast or sweet treat. Ingredients Ingredient Group 1 Main Dish Votes: 0
Rating: 0
You: Rate this recipe! Info Cook Time 40 minutes Prep Time 10 minutes (if the banana bread is pre-made) Servings people MetricUS Imperial Course Main Dish Votes: 0
Rating: 0
You: Rate this recipe! Ingredients Ingredient Group 1
Pre heat the oven to 375 degrees Fahrenheit and grease a 8 inch pyrex baking dish with the 1 1/2 tablespoons coconut oil (from ingredient group 2).
Dust the pyrex baking dish with 2 tablespoons coconut sugar (from ingredient group 2).
Cut the loaf of banana bread into 1 inch cubes and put in the pyrex baking dish.
Beat the eggs until smooth and combine with the rest of the ingredients from ingredient group 1 (minus the bread).
Pour the liquid mixture over the bread cubes and bake on 375 degrees for 40 minutes.
Serve with whipped cream, fresh fruit, and maple syrup or honey.
Nutrition Facts Paleo Breakfast Bread Pudding Amount Per Serving Calories 107 Calories from Fat 54 % Daily Value* Total Fat 6g 9% Saturated Fat 5g 25% Polyunsaturated Fat 0.2g Monounsaturated Fat 0.4g Sodium 155mg 6% Potassium 51mg 1% Total Carbohydrates 14g 5% Dietary Fiber 2g 8% Sugars 11g Protein 0.3g 1% Vitamin A 2% Vitamin C 2% Calcium 14% Iron 9% * Percent Daily Values are based on a 2000 calorie diet.
Read more