---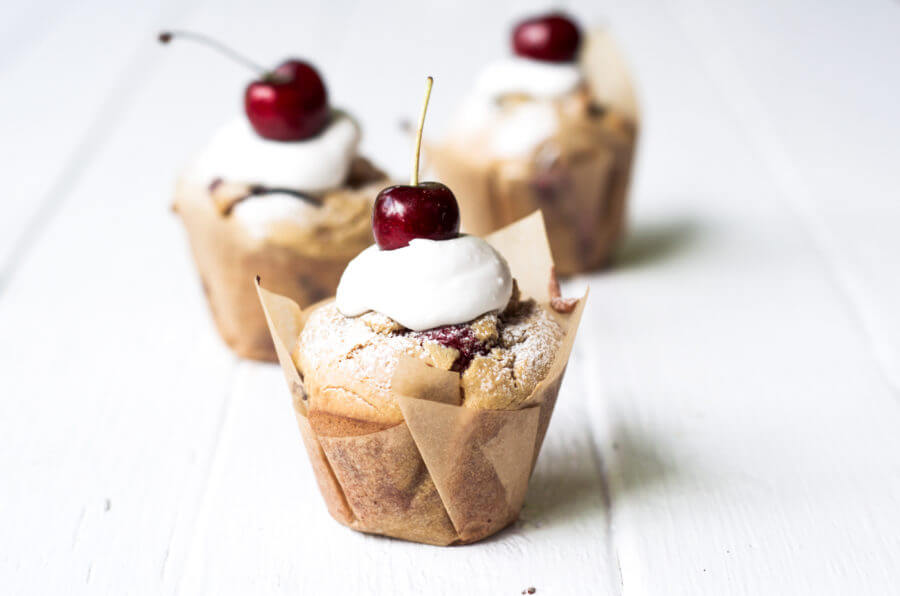 These easy breakfast muffins are soft, moist, cakey and paleo! Stuffed with fresh cherries and delicious served with fresh whipped cream, these easy to make grain free breakfast treats are an easy and healthy go-to recipe.

Print Recipe Gluten Free Paleo Cherry Muffins These easy breakfast muffins are soft, moist, cakey and paleo! Stuffed with fresh cherries and delicious served with fresh whipped cream, these easy to make grain free breakfast treats are an easy and healthy go-to recipe. Ingredients Info Cook Time 30 minutes Prep Time 10 minutes Servings muffins MetricUS Imperial Course Main Dish Votes: 1
Rating: 5
You: Rate this recipe! Recipe Notes

You can serve these muffins with whipped cream or coconut whipped cream and fresh cherries, if desired.

Info Cook Time 30 minutes Prep Time 10 minutes Servings muffins MetricUS Imperial Course Main Dish Votes: 1
Rating: 5
You: Rate this recipe! Recipe Notes

You can serve these muffins with whipped cream or coconut whipped cream and fresh cherries, if desired.

Ingredients Instructions
Preheat the oven to 350 degrees and line a muffin pan with paper liners (or grease with coconut oil).
Combine all the ingredients (minus the cherries) for the muffins together until we'll combined. Stir in the cherries once the batter is smooth.
Fill muffin liners and bake on 350 degrees for 30 minutes until the tops of the muffins begin to turn golden.
Nutrition Facts Gluten Free Paleo Cherry Muffins Amount Per Serving Calories 528 Calories from Fat 351 % Daily Value* Total Fat 39g 60% Saturated Fat 11g 55% Polyunsaturated Fat 0.4g Monounsaturated Fat 1g Sodium 177mg 7% Potassium 1mg 0% Total Carbohydrates 36g 12% Dietary Fiber 7g 28% Sugars 15g Protein 13g 26% Calcium 20% Iron 14% * Percent Daily Values are based on a 2000 calorie diet.
Read more