---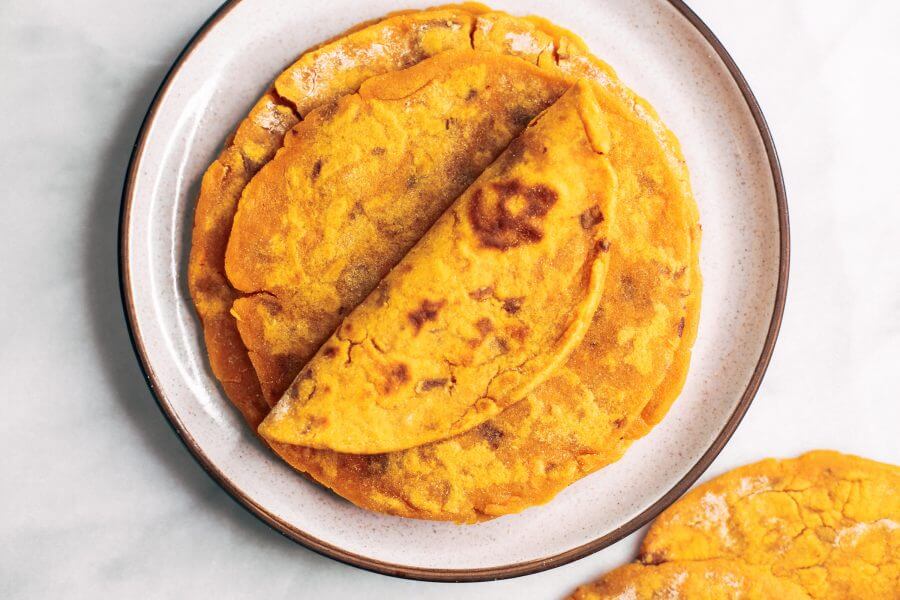 Two ingredient sweet potato paleo tortillas. An easy gluten free and paleo tortilla recipe. These tortillas are pliable, delicious, and easy to make!

Print Recipe Two Ingredient Sweet Potato Tortillas Two ingredient sweet potato paleo tortillas. An easy gluten free and paleo tortilla recipe. These tortillas are pliable, delicious, and easy to make! Ingredients Info Prep Time 15 minutes Servings tortillas MetricUS Imperial Course Bread Votes: 204
Rating: 3.57
You: Rate this recipe! Info Prep Time 15 minutes Servings tortillas MetricUS Imperial Course Bread Votes: 204
Rating: 3.57
You: Rate this recipe! Ingredients Instructions
Make mashed sweet potato (cut sweet potato into cubes, steam in a saucepan with 1" water until soft, then drain and use). Stir mashed sweet potato together with cassava flour in a bowl until smooth.
Divide dough into 8 equal pieces, dust a clean surface with cassava flour, and press/roll out into 1/4" thick tortillas.
Heat a skillet over medium heat, drizzle lightly with olive oil, and cook on each side until golden brown.
Nutrition Facts Two Ingredient Sweet Potato Tortillas Amount Per Serving Calories 92 Calories from Fat 1 % Daily Value* Total Fat 0.1g 0% Saturated Fat 0.03g 0% Polyunsaturated Fat 0.02g Monounsaturated Fat 0.02g Sodium 96mg 4% Potassium 269mg 8% Total Carbohydrates 22g 7% Dietary Fiber 2g 8% Sugars 3g Protein 1g 2% Vitamin A 168% Vitamin C 11% Calcium 2% Iron 2% * Percent Daily Values are based on a 2000 calorie diet.
Read more