---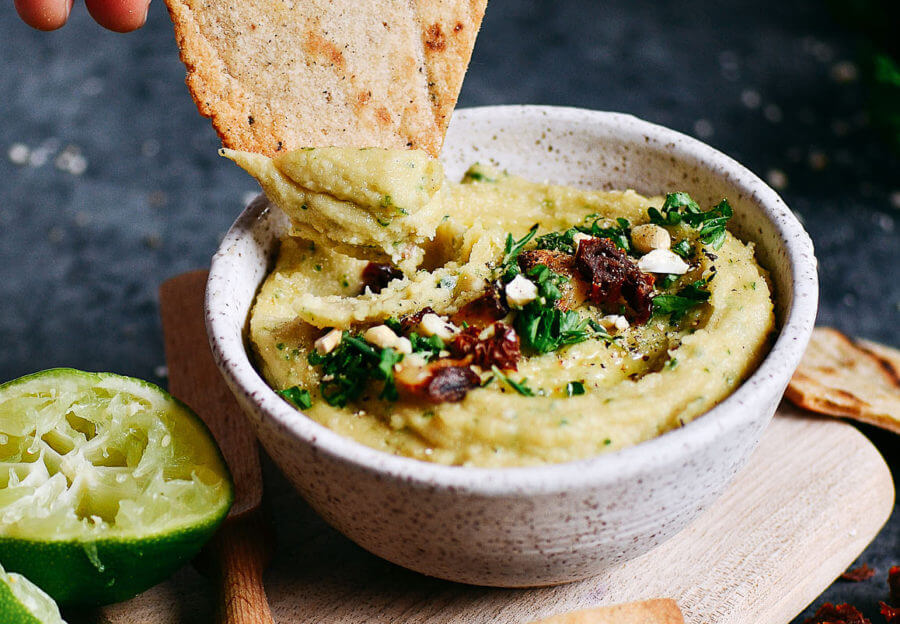 5 minute garlic lime cashew hummus is made without beans (gasp!). Deliciously creamy, smooth, and full of flavor! Whole30 and paleo friendly. Served with paleo cassava flour pita chips!

Print Recipe Garlic Lime Cashew Hummus 5 minute garlic lime cashew hummus is made without beans (gasp!). Deliciously creamy, smooth, and full of flavor! Whole30 and paleo friendly. Served with paleo cassava flour pita chips! Ingredients hummus Side Dish Votes: 2
Rating: 5
You: Rate this recipe! Recipe Notes

Make sure you have soaked cashews and have baked garlic on hand. If not, then take the time to do this first. Also, if you want to serve with paleo pita chips prepare the paleo cassava flour tortilla recipe, because it will be used to make pita chips. See instructions in recipe.

Info Prep Time 5 minutes Servings tablespoons MetricUS Imperial Course Side Dish Votes: 2
Rating: 5
You: Rate this recipe! Recipe Notes

Make sure you have soaked cashews and have baked garlic on hand. If not, then take the time to do this first. Also, if you want to serve with paleo pita chips prepare the paleo cassava flour tortilla recipe, because it will be used to make pita chips. See instructions in recipe.

Ingredients hummus
Begin by combining all ingredients for hummus in a food processor. Puree until smooth. Make sure you have soaked your cashews and baked the garlic. If not, then take the time to do this first.
Plate and top off hummus with optional toppings.
Optional Pita Chips- exclude if whole30
To make the pita chips, take the paleo tortillas, cut them in quarters, then spread out on a baking sheet. Cook the chips on 400F for about 20 minutes, turning on occasion to ensure even crisping. Leave the chips in the oven more or less depending on personal preference of crunchiness.
Nutrition Facts Garlic Lime Cashew Hummus Amount Per Serving Calories 143 Calories from Fat 108 % Daily Value* Total Fat 12g 18% Saturated Fat 4g 20% Polyunsaturated Fat 2g Monounsaturated Fat 6g Sodium 0.5mg 0% Potassium 5mg 0% Total Carbohydrates 6g 2% Dietary Fiber 1g 4% Sugars 2g Protein 4g 8% Vitamin A 1% Vitamin C 2% Calcium 2% Iron 8% * Percent Daily Values are based on a 2000 calorie diet.
Read more