white wine vinegar
Category
---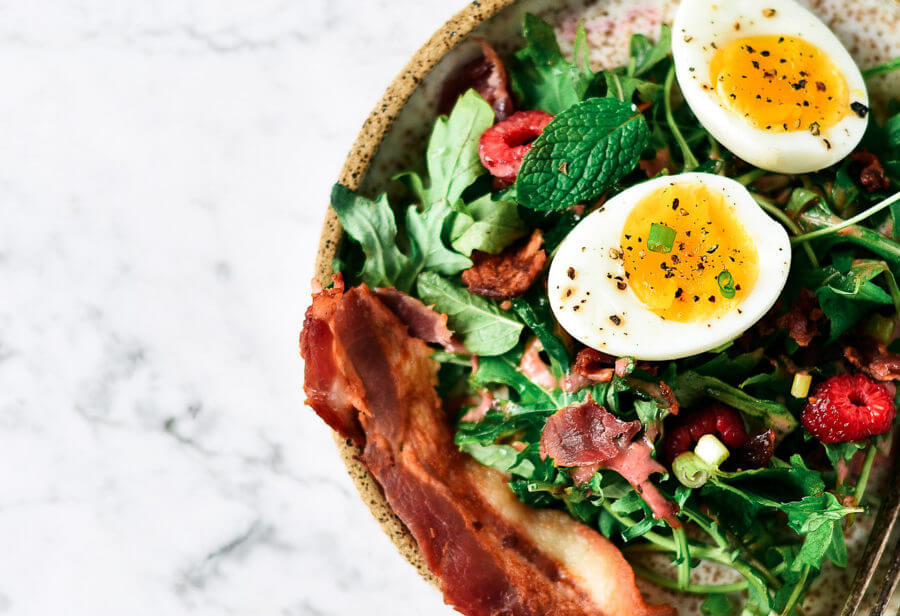 A healthy and happy way to start your morning! Whole30 breakfast plate with baby greens, bacon, eggs, and fresh raspberry dressing. Paleo, gluten free, and spring fresh!

Print Recipe Whole30 Baby Greens Bacon & Eggs Breakfast Plate A healthy and happy way to start your morning! Whole30 breakfast plate with baby greens, bacon, eggs, and fresh raspberry dressing. Paleo, gluten free, and spring fresh! Ingredients Greens Main Dish Votes: 2
Rating: 4.5
You: Rate this recipe! Info Prep Time 10-15 minutes Servings serving MetricUS Imperial Course Main Dish Votes: 2
Rating: 4.5
You: Rate this recipe! Ingredients Greens
Toss the greens together. Then plate.
Combine all the ingredients for the dressing in a blender and combine until completely smooth.
Top the greens with boiled eggs, bacon (or bacon bits), fresh avo, and raspberries.
Nutrition Facts Whole30 Baby Greens Bacon & Eggs Breakfast Plate Amount Per Serving Calories 367 Calories from Fat 234 % Daily Value* Total Fat 26g 40% Saturated Fat 6g 30% Polyunsaturated Fat 3g Monounsaturated Fat 13g Cholesterol 183mg 61% Sodium 461mg 19% Potassium 749mg 21% Total Carbohydrates 21g 7% Dietary Fiber 11g 44% Sugars 5g Protein 17g 34% Vitamin A 79% Vitamin C 53% Calcium 14% Iron 19% * Percent Daily Values are based on a 2000 calorie diet.
Read more