minced white sweet potato
Category
---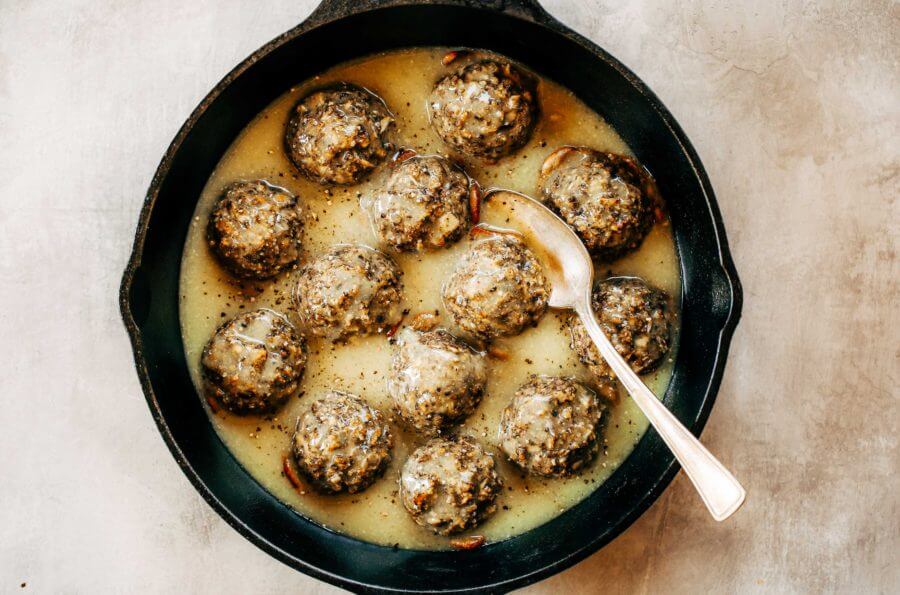 Meatless sweedish meatballs made with cauliflower and white sweet potato! These are the best- served with creamy herb sauce. Paleo, dairy free, and whole30 friendly. Made in minutes in the food processor. An easy family friendly dinner recipe.

Print Recipe Meatless Cauliflower Swedish Meatballs Meatless swedish meatballs made with cauliflower and white sweet potato! These are the best- served with creamy herb sauce. Paleo, dairy free, and whole30 friendly. Made in minutes in the food processor. An easy family friendly dinner recipe. Ingredients Meatballs Main Dish Votes: 3
Rating: 4
You: Rate this recipe! Recipe Notes

largelarge

Info Cook Time 20 minutes Prep Time 8 minutes Servings servings MetricUS Imperial Course Main Dish Votes: 3
Rating: 4
You: Rate this recipe! Recipe Notes

largelarge

Ingredients Meatballs
Preheat oven to 425F. Line a baking tray with parchment paper.
In a bowl mix ingredients for meatballs. Use a small ice-cream scoop and form 20 meatballs on the baking tray. Bake on 425F for 20 minutes.
Whisk ingredients for gravy together in a small saucepan- you can also use a hand blender for this. Bring gravy to a simmer and continue to whisk continuously until gravy thickens. Serve over meatballs.
Nutrition Facts Meatless Cauliflower Swedish Meatballs Amount Per Serving Calories 480 Calories from Fat 270 % Daily Value* Total Fat 30g 46% Saturated Fat 6g 30% Polyunsaturated Fat 1g Monounsaturated Fat 1g Cholesterol 140mg 47% Sodium 492mg 21% Potassium 590mg 17% Total Carbohydrates 41g 14% Dietary Fiber 9g 36% Sugars 7g Protein 18g 36% Vitamin A 184% Vitamin C 37% Calcium 15% Iron 21% * Percent Daily Values are based on a 2000 calorie diet.
Read more