crushed tomatoes
Category
---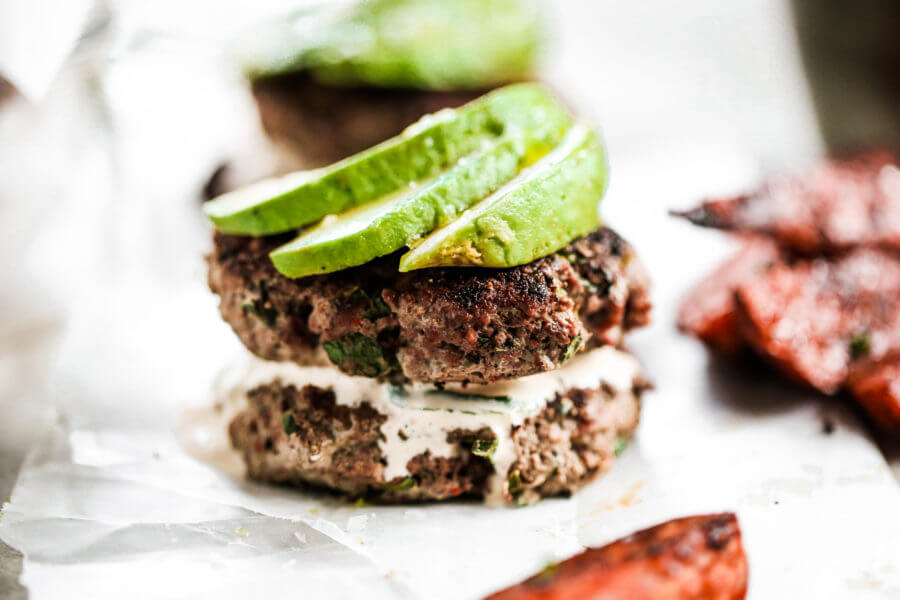 Zesty chile lime burgers- whole30 style! These healthy spiced up burgers are perfect served alongside a dish of sweet potato fries and some avo! Your family is going to love this southwestern whole30 dish!

Print Recipe Chile Lime Avocado Burgers Zesty chile lime burgers- whole30 style! These healthy spiced up burgers are perfect served alongside a dish of sweet potato fries and some avo! Your family is going to love this southwestern whole30 dish! Ingredients Info Cook Time 6 minutes Prep Time 10 minutes Servings burgers MetricUS Imperial Course Main Dish Votes: 6
Rating: 3.67
You: Rate this recipe! Recipe Notes

Find recipe for homemade paleo ranch here.

Info Cook Time 6 minutes Prep Time 10 minutes Servings burgers MetricUS Imperial Course Main Dish Votes: 6
Rating: 3.67
You: Rate this recipe! Recipe Notes

Find recipe for homemade paleo ranch here.

Ingredients Instructions
Heat a large skillet over medium heat on the stove.
In a bowl, mix ingredients together until well combined. Form 2 1/2" patties (makes 12).
Grease skillet and cook burgers four at a time (or however many you can fit on the pan) for about 3 minutes on a each side. Serve with avocado and my homemade paleo ranch dressing- link to recipe in recipe notes.
Nutrition Facts Chile Lime Avocado Burgers Amount Per Serving Calories 84 Calories from Fat 27 % Daily Value* Total Fat 3g 5% Saturated Fat 1g 5% Trans Fat 0.2g Polyunsaturated Fat 0.2g Monounsaturated Fat 1g Cholesterol 61mg 20% Sodium 91mg 4% Potassium 187mg 5% Total Carbohydrates 1g 0% Dietary Fiber 0.4g 2% Sugars 1g Protein 12g 24% Vitamin A 3% Vitamin C 1% Calcium 0.4% Iron 8% * Percent Daily Values are based on a 2000 calorie diet.
Read more